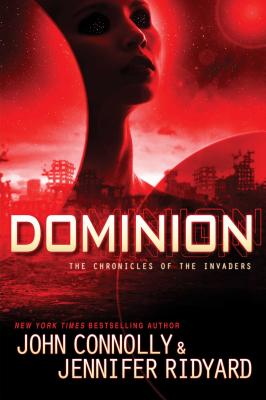 Dominion
The Chronicles of the Invaders
Hardcover

* Individual store prices may vary.
Other Editions of This Title:
Digital Audiobook (4/4/2016)
Paperback (1/3/2017)
Description
The third thrilling Chronicles of the Invaders adventure from New York Times bestselling author John Connolly and Jennifer Ridyard mixes classic sci-fi with rich, character-driven plot, as Paul and Syl fight to save Earth from an enemy who is closer than ever.

Syl Hellais and Paul Kerr have traveled through Derith, the mysterious wormhole from which no traveler has ever returned. Yet Derith's secrets are darker than they imagined, and trapped in a dimension beyond their own, they finally emerge to discover a universe that has moved on without them.

Years have passed, and Civil War rages among the Illyri. It is whispered that the Earth is lost, prey to the alien parasites known as the Others, and other worlds will soon follow. Most shocking of all, the sinister Archmage Syrene of the Nairene Sisterhood has disappeared into the bowels of the Sisterhood's lair.

But before she cloistered herself, Archmage Syrene chose her replacement. The Sisterhood has a new leader, with her own plans for the future of her race. Now Syl and Paul, teenagers in a deadly adult world, must find a way to change the course of history and save the lives of billions. They have but one hope.

For Syl Hellais is changing…
Praise For Dominion: The Chronicles of the Invaders…
"Densely plotted and decidedly grown-up, this is YA fiction for readers who are bored of fluff and sparkles."

"I love science fiction, I love solid, real characters, I love adventure, and I love to be continually surprised. Conquest has all of this and more. Feeling fresh from beginning to end, and written with a torrential, captivating pace, I highly recommend this book!"
— James Dashner, NYT bestselling author of THE MAZE RUNNER

"A striking novel, devoid of the usual Young Adult conventions and far better for it: from the choice of location to the complex and involving plot that defies the expectations of its target market, this is a novel that does not fear to take the reader to darker places than others of its ilk. The strong characterisation of Steven, Peter and our heroine Syl make their extraordinary adventure all the more believable, and bring an often imagined future for humanity very much to life. A brilliant beginning to what will no doubt become an epic series."
— Dean Crawford, author of COVENANT and IMMORTAL

"This novel is entertaining and addictive science fiction!"

"Conquest is over-flowing with originality, adventure and damn fine writing – fans and newcomers alike should be clamoring for it."

"I wish everything in the science fiction genre was like The Chronicles."
Atria/Emily Bestler Books, 9781476757186, 448pp.
Publication Date: April 5, 2016
About the Author
John Connolly is the author of the Charlie Parker series of mystery novels, the supernatural collection Nocturnes, the Samuel Johnson Trilogy for younger readers, and (with Jennifer Ridyard) the Chronicles of the Invaders series. He lives in Dublin, Ireland. For more information, see his website at JohnConnollyBooks.com, or follow him on Twitter @JConnollyBooks.

Jennifer Ridyard was born in England and grew up in South Africa, where she worked as a journalist for many years. Conquest and Empire are the first two novels in the Chronicles of the Invaders series with her partner, John Connolly, who she lives with in Dublin. Find Jennifer on Twitter @JennieRidyard. For more about this series, visit ChroniclesOfTheInvaders.com.
or
Not Currently Available for Direct Purchase