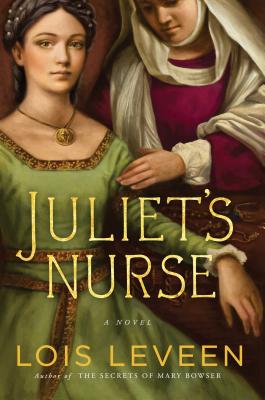 Juliet's Nurse
A Novel
Hardcover

* Individual store prices may vary.
Other Editions of This Title:
Digital Audiobook (9/22/2014)
Paperback (6/9/2015)
Description
The International Bestseller

An enthralling new telling of Shakespeare's Romeo and Juliet—told from the perspective of Juliet's nurse. "Lois Leveen's richly detailed, fascinating novel offers a wholly original and intriguing take on one of Shakespeare's most beloved plays" (New York Times bestselling author Jennifer Chiaverini).

In Verona, a city ravaged by plague and political rivalries, a mother mourning the death of her day-old infant enters the household of the powerful Cappelletti family to become the wet-nurse to their newborn baby. As she serves her beloved Juliet over the next fourteen years, the nurse learns the Cappellettis' darkest secrets. Those secrets—and the nurse's deep personal grief—erupt across five momentous days of love and loss that destroy a daughter, and a family.

By turns sensual, tragic, and comic, Juliet's Nurse gives voice to one of literature's most memorable and distinctive characters, a woman who was both insider and outsider among Verona's wealthy ruling class. Exploring the romance and intrigue of interwoven loyalties, rivalries, jealousies, and losses only hinted at in Shakespeare's play, this is a never-before-heard tale of the deepest love in Verona—the love between a grieving woman and the precious child of her heart.

In the tradition of Sarah Dunant, Philippa Gregory, and Geraldine Brooks, Juliet's Nurse is a rich prequel that reimagines the world's most cherished tale of love and loss, suffering and survival.
Praise For Juliet's Nurse: A Novel…
"Lois Leveen's richly detailed, fascinating novel offers a wholly original and intriguing take on one of Shakespeare's most beloved plays through the imagined life of Juliet's faithful nurse, whose secret loves and tragedies rival the young lovers' own."
— Jennifer Chiaverini, author of Mrs. Lincoln's Rival

"With the largest number of lines in Shakespeare's play after the two lovers, wet nurse Angelica takes center stage in Leveen's (The Secrets of Mary Bowser, 2012) second novel, which begins 14 years before the fateful five days spanned by the drama... Leveen's enthusiastic historical novel pushes the classic teenage romance aside to give greater weight to a mother's love and losses."
— Kirkus Reviews

"Wise, thoughtful,and utterly irresistible. A powerful story not just of youth seduced by love and destruction, but also of maturity left to pick up what is left and carry on."
— Eva Stachniak, Internationally bestselling author of The Winter Palace and Empress of the Night

"A beautifully written and sometimes chilling novel that's deliciously sensual and fittingly dark. Juliet's Nurse not only seems true to the classic but illuminates it. I couldn't stop reading. "
— Arthur L. Little, Jr., UCLA professor and author of Shakespeare Jungle Fever

"Clever, fast-paced, well-researched and beautifully written. Convincing historical details are sprinkled throughout, provoking in the reader the sense of how it must have been in the 14th century. I loved it."
— Roberta Rich, Internationally bestselling author of The Midwife of Venice and The Harem Midwife

"Juliet's Nurse is exactly what my high school English teacher promised: A complex and nuanced character, with lots of sex jokes."

"To Leveen's wonderfully crafted plot, add lovely language and a cast of truly complex characters. A sure bet for fans of Geraldine Brooks."

"Sumptuously researched . . . you'll never think about Romeo and Juliet quite the same way again"

"This book is rich in history and rich in Shakespeare's world with his characters coming to life in these pages more than they ever did for me even in high school English…More than they have in any on-screen telling I've ever seen."

"Lois Leveen's Juliet's Nurse is an engrossing and never-before-seen glimpse into life in Shakespeare's 'fair Verona.' With sumptuous language, well-researched period detail, and a cast of compelling characters, Leveen weaves a world in which love and deception lurk on every page and around every corner. Treat yourself to this new and richly imagined version of literature's most cherished and tragic love story."
— Allison Pataki, New York Times Bestselling Author of THE TRAITOR'S WIFE

"Intricate...impressive."

"Strongly written, funny and quite fascinating."

"Leveen did not disappoint…For Shakespeare or Romeo and Juliet fans, Juliet's Nurse is a must."

"One of the most interesting and fresh novels of 2014... creative and innovative. William Shakespeare would be proud!"

"There may be a few occasions when the reader experiences a twinge of skepticism that any gothic nursemaid – no matter how wise – could articulate her insights with such gorgeously rendered acuity. But if gorgeous writing is my worst complaint, I guess that tells you that Juliet's Nurse is top notch."

"If you're a fan of Shakespeare's Romeo and Juliet, than this book is a must-read!...Kudos to Lois Leveen for capturing such an iconic time period."

"Earthy, witty, emotionally vibrant and all too human, Angelica makes Juliet's Nurse a compelling read, sometimes delightful, sometimes heart-wrenching."

"Both convincing and intimate . . . Juliet's Nurse makes for very shrewd and intelligent reading."

"With her newest book, Juliet's Nurse, Leveen revisits literary history . . . Heap credit on Leveen for bringing her own innovation to the archives and creating an impressive [story], all her own."

"Remarkable...Leveen adds rich new layers to the story we know so well."

"Lyrically affecting . . . this is a wonderfully fun story with unforgettable characters that breathes new life into one of literature's masterpieces."

"An unforgettable prequel to the classic love story that will make you want toreread Shakespeare."

"A stunning success...Leveen has clearly captured the spirit of the age (historically speaking)...creating a new lens by which to experience the time-tested love story."

"Lois Leveen has crafted a startlingly original take on an iconic love story, and with grace and insight presents Shakespeare's Verona and its characters in a wonderfully new and surprising light. Angelica's unabashed sensual nature is balanced by her understanding of the complexities of the human predicament, and in the end, her resilience inspires us all to be more tolerant of our own wounded hearts."
— Linda Holeman, author of THE DEVIL ON HER TONGUE and THE LOST SOULS OF ANGELKOV
Atria/Emily Bestler Books, 9781476757445, 384pp.
Publication Date: September 23, 2014
About the Author
Award-winning author Lois Leveen dwells in the spaces where literature and history meet. Her work has appeared in numerous literary and scholarly journals, as well as The New York Times, the Los Angeles Review of Books, Chicago Tribune, Huffington Post, Bitch magazine, The Wall Street Journal, the Atlantic, and on NPR. Lois gives talks about writing and history at universities, museums, and libraries around the country. She lives in Portland, Oregon, with two cats, one Canadian, and 60,000 honeybees. Visit her online at LoisLeveen.com and Facebook.com/LoisLeveen.
or
Not Currently Available for Direct Purchase