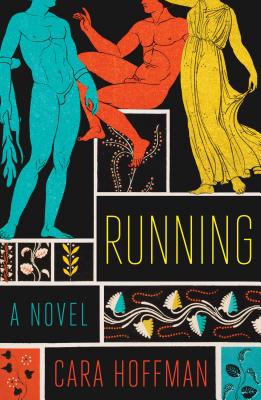 Running
A Novel
Hardcover

* Individual store prices may vary.
Other Editions of This Title:
Paperback (2/20/2018)
Compact Disc (2/28/2017)
Hardcover, Large Print (6/28/2017)
MP3 CD (2/28/2017)
Description
From the critically acclaimed author of Be Safe I Love You comes a dark and breathtaking novel of love, friendship, and survival set in the red light district of Athens in the 1980s that Garth Greenwall calls "a ferocious, brilliant book."

Running brings together an ensemble of outsiders who get by as "runners"—hustlers who sell tourists on low-end accommodations for a small commission and a place to stay.

Bridey Sullivan, a young American woman who has fled a peculiar and traumatic upbringing in Washington State, takes up with a queer British couple, the poet Milo Rollack and Eton drop-out Jasper Lethe. Slipping in and out of homelessness, addiction, and under-the-table jobs, they create their own kind of family as they struggle to survive.

Jasper's madness and consequent death frame a narrative of emotional intensity. In its midst this trio become linked to an act of terrorism. The group then splinters, taking us from Athens to the cliffs of the Mediterranean, and to modern-day New York.

Whether in the red light district of Athens or in the world of fire jumpers in the Pacific Northwest, we are always in a space of gorgeously wrought otherness. Running shows novelist Cara Hoffman to be writing at the peak of her craft.
Praise For Running: A Novel…
PRAISE FOR RUNNING:

"Beautiful and atmospheric. . . . A haunting novel, original and deeply sad." —Kirkus Reviews

"Hoffman impressively evokes the combination of nihilism, idealism, rootlnessness, psychic and economic necessity, lust and love that might set a young person adrift. Unlike the runaway heroes of many queer narratives these characters are not cast out but looking to get lost...The Athens on display here is peopled with rebels and runaways of all kinds, idealists, revolutionary operatives, con men, wayward young scholars, squatters...In Bridey and Milo Hoffman has created memorable anti-heroes: tough and resourceful scarred, feral and sexy. The book and the characters refuse to conform and Running, like all good outlaw literature, takes sharp aim at the contemporary culture's willingness to do so." —The New York Times Book Review

"Gritty. . . .Hoffman writes like a dream—a disturbing, emotionally charged dream that resolves into a surprisingly satisfying and redemptive vision." —The Wall Street Journal

"Hoffman's haunting, original narrative weaves a gauzy portrait of youthful longing, sticky romance, and regret." —New York Magazine

"Haunting...beneath the deceptive lyricism of her prose, Cara Hoffman has long shown a healthy fascination with upending the social order...Her observations have the keen immediacy of lived scenes, similar to drawings sketched from life. " —Seattle Times

"Running creeps towards a page-turning finale that shocks while provoking important questions about feminism and violence in the Western world. " —VICE

"Genius...Running has plenty of dazzle; it races atop remarkable sentences." —Lambda Literary

"Explores the lingering echoes of our young, passionate friendships through time." —Newsweek

"Hoffman is fearless and trusting of her readers, and her precise prose captures the novel's many settings—Greece, Washington State, New York City—and her characters' feelings and actions, vividly." —Booklist (starred review)

"This uncompromising, incendiary novel holds true to the same fierce commitments as its haunting, haunted characters: it follows risk beyond all rules, and makes a kind of meaning I haven't seen before. Caught between acts of radical violence and radical love, Hoffman's poets and conmen are lost souls with no interest in being found, a queer family bound by affinity and nerve. I fell in love with them, and with this ferocious, brilliant book." —Garth Greenwell, author of What Belongs to You

"Strange and shocking and sad—Hoffman's language is so deft and precise. I love the empathy with which she writes about the lives of outsiders, depicting the tenderness and fragility of their friendships so beautifully. Running is wonderful." —Paula Hawkins, author of The Girl on the Train

"Running is an unstoppable spark racing along a fuse. There is no escaping the heat, grime, or glittering promise of violence of Athens's underbelly, but the bond between three young drifters is infused with moments of transcendence. I devoured this beautiful book, and Hoffman's writing is a revelation." —Rae Meadows, author of I Will Send Rain

"Reading this novel was a conversion experience. I was immediately with the narrator, and I didn't care where we were going. Every sentence lit up with silver rain and smoke and the beauty of arriving in a foreign city and the defiance of needing almost nothing—and how strangely impossible it is when you lose that. Running is like taking a trip into a story you never knew you needed. You should take it, at once." —Alexander Chee, author of The Queen of the Night
Simon & Schuster, 9781476757575, 288pp.
Publication Date: February 21, 2017
About the Author
Cara Hoffman is the author of the critically acclaimed novels So Much Pretty, Be Safe I Love You, and now, Running. She lives in New York City.
or
Not Currently Available for Direct Purchase