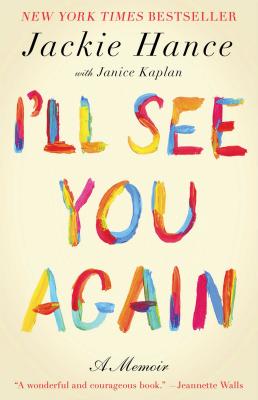 I'll See You Again (Paperback)
Gallery Books, 9781476758008, 288pp.
Publication Date: March 4, 2014
Other Editions of This Title:
Digital Audiobook (4/22/2013)
Hardcover (4/23/2013)
CD-Audio (4/23/2013)
Hardcover, Large Print (8/7/2013)
* Individual store prices may vary.
Description
In this "wonderful and courageous" (Jeannette Walls) memoir, Jackie Hance shares her story of unbearable loss, darkest despair, and—slowly, painfully, and miraculously—her cautious return to hope and love.

Until the horrific car accident on New York's Taconic State Parkway that took the lives of her three beloved young daughters, Jackie Hance was an ordinary Long Island mom, fulfilled by the joyful chaos of a household bustling with life and chatter and love. After the tragedy, she was "The Taconic Mom," whose unimaginable loss embodied every parent's worst nightmare. Suddenly, her lifelong Catholic faith no longer explained the world. Her marriage to her husband, Warren, was ravaged by wrenching grief and recrimination. Unable to cope with the unfathomable, she reinvented reality each night so that she awoke each morning having forgotten the heartbreaking facts: that Emma, age 8; Alyson, age 7; and Katie, age 5, were gone forever. They were killed in a minivan driven by their aunt, Jackie's sister-in-law, Diane Schuler, while returning from a camping weekend on a sunny July morning. I'll See You Again chronicles the day Jackie received the traumatizing phone call that defied all understanding, and the numbed and torturous events that followed—including the devastating medical findings that shattered Jackie to the core and shocked America. But this profoundly honest account is also the story of how a tight-knit community rallied around the Hances, providing the courage and strength for them to move forward. It's a story of forgiveness, hope, and rebirth, as Jackie and Warren struggle to rediscover the possibility of joy by welcoming their fourth daughter, Kasey Rose Hance. The story that Jackie Hance shares for the first time will touch your heart and warm you to the power of love and hope.
About the Author
Jackie Hance lives with her family in New York. For more information about The Hance Family Foundation, visit Blog.HanceFamilyFoundation.com.

Janice Kaplan was the editor-in-chief of Parade magazine and an award-winning television producer. She is also the bestselling coauthor of novels, including The Botox Diaries, and author of the popular Lacey Fields mysteries. She lives in New York City and Kent, Connecticut. Visit JaniceKaplan.com.
Praise For I'll See You Again…
"Jackie Hance wills herself to live through unspeakable loss. Told with grace and courage, I'll See You Again gives profound insight into the humanity of grief, marriage and motherhood."
— RoseMarie Terenzio, New York Times bestselling author of Fairy Tale Interrupted

"I was immediately pulled into this beautifully moving, painfully honest, and ultimately uplifting memoir. I found myself fighting alongside Jackie, and rooting for her, as she comes out of the darkness and into a place where she is able to forgive, live, and hope again, and know that our loved ones are never far from us."
— Wendy Lawless, New York Times bestselling author of Chanel Bonfire

"With sharp-edged observations and a clear voice, Hance carries the reader through the maelstrom of heart wrenching loss to a place where hope still glimmers."
— Jennifer Gardner Trulson, author of Where You Left Me

"Maybe you don't believe in heaven. Maybe you don't believe in hell. But you will believe in both after you read Jackie Hance's I'll See You Again. Unflinching pain and unwavering hope burn into this story line by line. You'll read this book in one breath, and, left breathless, you will never forget."
— Jacquelyn Mitchard, #1 New York Times bestselling author of The Deep End of the Ocean

"A wonderful and courageous book, I'll See You Again is a story of unimaginable loss, extraordinary compassion, and ultimately, redemption and rebirth. Thank you, Jackie Hance, for sharing your story."
— Jeannette Walls, #1 New York Times bestselling author of The Glass Castle

"I'll See You Again details the heartbreaking story of Jackie and Warren Hance. Their story is one of hope, faith in God, friendships, and ultimately in each other."
— Carole Radziwill, New York Times bestselling author of What Remains