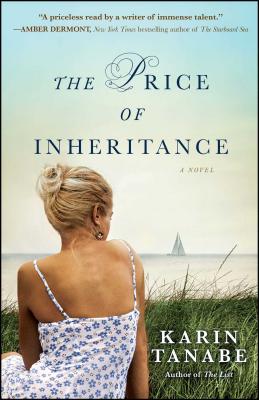 The Price of Inheritance
A Novel
Paperback

* Individual store prices may vary.
Other Editions of This Title:
Digital Audiobook (12/1/2014)
MP3 CD (12/2/2014)
Compact Disc (12/2/2014)
Description
In this enthralling new novel from the author of The List (a "smartly paced and dishy debut," Publishers Weekly, starred review), a young woman working in the high-end art world stumbles upon a rare antique—and an irresistible man with a dark past.

After eight years in the American Furniture department at Christie's, twenty-nine-year-old Carolyn Everett is a rising star. But one wrong decision and a scandal leaves her unemployed and broken. Desperate to piece her life back together, Carolyn leaves New York City to work in a tiny antique store in Newport, Rhode Island.

One day at a small county auction, she discovers a piece of Middle Eastern pottery, which she purchases for twenty dollars on a hunch. Curiosity sends her on a mission to find its original owner, and she eventually winds up in the town's United States Navy Base—and in a relationship with notorious womanizer Marine Sergeant Tyler Ford, who claims the relic came to him as a gift from his translator during the early days of the Iraq War. From two different worlds, Tyler and Carolyn become obsessed with the mysterious relic—and each other—until the origin of the art comes under intense scrutiny and reveals a darker side of Tyler's past. Carolyn still feels like there's more to the story, but can she risk attaching herself to another scandal—and does she truly know the man she's fallen in love with?

The Price of Inheritance is a rare find of a novel. Engaging, suspenseful, and full of intrigue, it delves into the elite world of big bucks deals and dangerous black market promises, where one woman must decide whether she's willing to gamble her greatest asset—her heart.
Praise For The Price of Inheritance: A Novel…
"Readers will find plenty to savor...Carolyn is a winning character with a quick wit and the opulent environs she inhabits are definitely worth a visit."
— The Washington Post

"A compelling novel of financial and emotional high stakes."
— In Touch

"Tanabe's absorbing novel blends equal parts mystery, wit, and romance."
— Booklist

"Karin Tanabe's The Price of Inheritance is a deeply enjoyable and riotously funny takedown of the high-stakes New York art world and its most glamorous and illicit auction houses. Matching the spirit and wit of Steve Martin's An Object of Beauty, Karin Tanabe focuses her shimmering humor and laser eye on the dangerous lengths the very wealthy will journey to own a costly piece of history. Lushly detailed and ambitious in scope, The Price of Inheritance is rich in romance, war stories and betrayals. A priceless read by a writer of immense talent."
— Amber Dermont

"This absorbing, quick-turning story takes us behind the doors of the big auction houses into the homes of the art-collecting elite and onto the international marketplace with sure-handedness, and in fascinating detail. Karin Tanabe writes with passion, intelligence, and a lot of wit, and the book is insanely difficult to put down."
— Jessica Lott

With The Price of Inheritance, Karin Tanabe pulls off a triple-coup: she gives us a juicy insider's look at the high-stakes auction business, a late-coming-of-age (and enticingly New York) love story, and a truly suspenseful mystery that crosses borders from Rhode Island to Iraq. Any one of these on its own would have been a compelling read. But all three at once? I couldn't put it down."
— Allison Lynn

"In The Price of Inheritance, Karin Tanabe weaves a tangled web of romance and intrigue, while exposing the underbelly of the art world. This smart and captivating read will have you turning pages faster than you can say forgery."
— Emily Liebert

"A biting, hilarious send-up of D.C.'s elite."
— People on THE LIST

"Hildy Johnson would recognize a kindred spirit in 28-year-old Adrienne Brown, a Beltway-bred, New York-trained reporter who sacrifices sleep, sanity, and sex to feed the wonky digital/paper beast the Capitolist – or "The List" as its rabidly ambitious scribes call it. Adrienne slaves in relative obscurity as a "Style section girl" at this Beltway must-read, blasting out celebrity interviews on her never-turned-off Blackberry. But within a month of her arrival, she also stumbles on what will become a blockbuster, front-page story involving List superstar and shrewish White House reporter Olivia Campo. To untangle the details of the hot-sheets affair between the married Olivia and famously family-man U.S. senator—and two mysterious deaths—Adrienne enlists the help of her pushy big sister, Payton. She not only gets a career-boosting story but the respect of her perfect sibling, high-powered parents, and sharp-elbowed peers. Former Politico reporter Tanabe's roman-a-clef is a hilarious skewering of digital journalism – and how news is tweeted and blogged at a dizzying pace by armies of underpaid and overworked 20-something journos—as well as smartly paced and dishy debut, part political thriller, part surprisingly sweet coming-of-age tale, and part timeless ode to dogged reporters with good instincts and guts of steel. Hildy would be proud."
— Publishers Weekly, starred review on THE LIST

"A contemporary, politically astute novel that is both wickedly humorous and enticing...[with] complex characters, an intriguing plot, and tightly brilliant execution. When word gets around about The List, readers will clamor for their copy and devour this book."
— New York Journal of Books on THE LIST

"Tanabe gleefully skewers digital media sweathshops...[but] despite its breezy, chick-lit tone, The List has more in common with newsroom satires."
— The Washington Post on THE LIST

"The List is mandatory reading for anyone who wonders about the impact of new media on Washington's political culture. Tanabe has written a novel that is delicious fun and incredibly revealing about life at the intersection of politics and journalism."
— Nicolle Wallace

"A gorgeous book—I loved it. Funny, intriguing, and utterly unputdownable."
— Penny Vincenzi on THE LIST

"The List is a wonderfully witty insider's romp through Washington. Karin Tanabe has as sharp a tongue as she does an eye for detail, about everything from political scandal to office politics. And I thought New York was a tough town!"
— Cristina Alger

"Appealing…everything a die-hard chick-lit fan could want: plenty of fluff, sibling rivalry, deceit and intrigue, and a spunky heroine."
— Kirkus on THE LIST

"The List is a breezy, dishy romp through Washington, DC politics, journalism, and scandal—a witty and caffeinated glimpse into a world few of us ever see, let alone know as intimately as Karin Tanabe surely does. But underneath the considerable pleasures of its glimmering surface, it's a surprisingly moving coming of age story about a young woman navigating the bumpy terrain between ambition and ethics, between her hunger for professional success and the quiet truth of her own heart."
— Lauren Fox

"Part coming of age, part political thriller, Karin Tanabe's The List is a mordantly funny send-up of quadruple espresso fueled journalism in the internet age, with the most irresistible heroine since Bridget Jones at its center. This is Evelyn Waugh's Scoop for the 21st century."
— Susan Fales-Hill

"Karin Tanabe's energetic, humorous debut is narrated by a young reporter trying to prove herself by chasing the biggest story of the year. The List perfectly captures the frenetic, all-consuming pace of political reporting, with a healthy dose of scandal, glamour and intrigue thrown in. Think The Devil Wears Prada meets Capitol Hill."
— Sarah Pekkanen
Washington Square Press, 9781476758602, 384pp.
Publication Date: August 5, 2014
About the Author
Karin Tanabe is the author of A Woman of Intelligence, The Gilded Years, The Price of Inheritance, A Hundred Suns, The Diplomat's Daughter, and The List. A former Politico reporter, her writing has also appeared in the Miami Herald, Chicago Tribune, Newsday, and The Washington Post. She has made frequent appearances as a celebrity and politics expert on Entertainment Tonight, CNN, and The CBS Early Show. A graduate of Vassar College, Karin lives in Washington, DC. To learn more visit KarinTanabe.com.