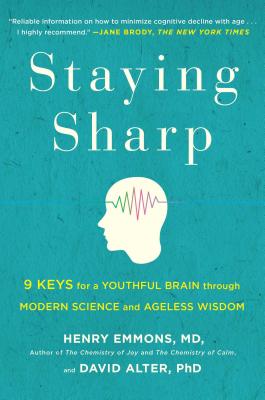 Staying Sharp (Hardcover)
9 Keys for a Youthful Brain through Modern Science and Ageless Wisdom
Touchstone, 9781476758947, 288pp.
Publication Date: September 15, 2015
* Individual store prices may vary.
Description
From the author of The Chemistry of Joy and The Chemistry of Calm comes a practical guidebook for building and maintaining a sharp, healthy, and vibrant mind.

A strong memory and a healthy brain aren't as difficult to maintain as one might think; combining the latest neuroscience research with age-old wisdom about resilience, mindfulness, and stress reduction, Drs. Henry Emmons and David Alter show that vibrant aging is within reach. Together they demonstrate how to blend the best of modern science and Eastern holistic medicine together to form a powerful drug-free program to maintain a youthful mind and a happy life.

With more than fifty-five years of combined experience in the fields of neuroscience and psychiatry, Dr. Emmons and Dr. Alter have taken their expertise and translated the fundamentals of brain science into an easily accessible collection of the nine key lessons proven to preserve and strengthen mental acuity. Filled with easy to understand theories and practical exercises to work out your brain and mind, Staying Sharp provides you with a blueprint to live more joyfully, age more gracefully, and build intimacy in your relationships, no matter what your age.
About the Author
Henry Emmons, MD, is a psychiatrist who integrates mind-body and natural therapies, mindfulness and allied Buddhist therapeutics, and psychotherapeutic caring and insight in his clinical work. Dr. Emmons is in demand as a workshop and retreat leader for both healthcare professionals and the general public.

David Alter, PhD, is a clinical psychologist whose thirty-year practice combines mind-body medicine, strategic therapeutic interventions, and clinical hypnosis to address the presenting concerns of his clients. He integrates health psychology, neuropsychology, and clinical hypnoses to bring a holistic perspective to his clinical work. He conducts his practice at Partners in Healing, the center for holistic health that he cofounded in Minneapolis, MN.
Praise For Staying Sharp: 9 Keys for a Youthful Brain through Modern Science and Ageless Wisdom…
"Reliable information on how to minimize cognitive decline with age … I highly recommend."
— Jane Brody, The New York Times

"Based on leading edge research, Staying Sharppresents information that is nothing short of vital. Read this book today andyou will pave the way for future brain health."
— David Perlmutter, MD, FACN, author of Brain Maker: The Power of Gut Microbes to Heal and Protect Your Brain--for Life

"Staying Sharp will change your mind and your brain inthe best possible way. I highly recommend this book."
— Christiane Northrup, M.D., author of Goddesses Never Age: The Secret Prescription for Radiance, Vitality, and Wellbeing

"In Staying Sharp, Drs. Emmons and Alter combinecutting-edge neuroscience with proven mind/body/spirit techniques to offer 9practical, actionable ways to preserve memory and promote brain health – it'sessential reading for anyone who wants a drug-free approach to a sharper mindand a happier life."
— Dr. Frank Lipman, author of Revive: Stop Feeling Spent and Start Living Again

"Staying Sharp is so comprehensive and accurate it caneasily replace a dozen books on the subject. I heartily recommend thisbody-mind-spirit approach to maintaining and increasing mental acuity."
— Larry Dossey, MD, author of One Mind: How Our Individual Mind Is Part of a Greater Consciousness and Why It Matters

"A fascinating read which provides keen insights and a road map to brain health and vitality. Staying Sharp is a must-read adventure in how to maintain healthy brain function as we age."
— Dr. Peter J. D'Adamo, naturopathic physician and author of Eat Right 4 Your Type

"In StayingSharp: 9 Keys for a Youthful Brain through Modern Science and Ageless Wisdom, ...coauthors Henry Emmons, a psychiatrist, and David Alter, apsychologist, focus on how to train one's mind with the aim of living ahealthy, relaxed, and engaged life. They explain the neuroscience and holisticmedicine upon which they base their advice, and they aren't dogmatic. What theysuggest requires a certain amount of discipline but few dollars. Theirsuggestions are reasonable goals at any age: Get enough sleep and exercise andnurture your curiosity about the world."
or
Not Currently Available for Direct Purchase