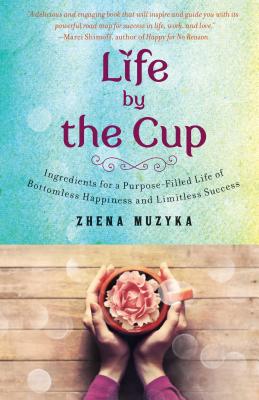 Life by the Cup (Hardcover)
Ingredients for a Purpose-Filled Life of Bottomless Happiness and Limitless Success
Atria Books, 9781476759609, 288pp.
Publication Date: June 17, 2014
Other Editions of This Title:
Paperback (6/16/2015)
* Individual store prices may vary.
Description
"[Zhena] Muzyka's charisma leaps off the pages of this unconventional, touching, and personal guide to success" (Publishers Weekly), featuring seventeen soulful lessons and simple rituals for finding your life's purpose, improving your relationships, and becoming healthier—all in the time it takes to drink a cup of tea.

Drawing on lessons she's learned throughout her amazing and sometimes difficult life journey, the social entrepreneur and founder of Zhena's Gypsy Tea shares seventeen soulful lessons to help you overcome obstacles, clarify your purpose, and bring awareness to each moment of your life. An inspiring roadmap for discovering the secrets of happiness and success for yourself at any stage in life, Life By the Cup's message is that, no matter where you are, you can change your circumstances and live your dreams.

As a twenty-four-year-old single mom, Zhena had an infant in need of life-saving surgery and only six dollars in her wallet. She also had two other powerful motivators: hope and a passion to share her unique tea blends with the world. Combining her kitchen hobby of blending tea, her knowledge of herbs and aromatherapy, and her gypsy grandmother's wisdom, Zhena started selling custom teas from a cart on California street corners. Now, over a decade later, her son is healthy and Zhena's Gypsy Tea is a multimillion-dollar brand.

Zhena's insights and gentle guidance will inspire you to increase your compassion toward others as well as yourself. You'll also gain wisdom on how to hone your intuition, ask for help, and live out your true purpose without drastically changing the way you live. Discover your calling, bolster your courage, develop your own flavor of success, and you'll see your own passion make a meaningful difference in the world.
About the Author
Zhena Muzyka is a socially responsible business leader who founded Zhena's Gypsy Tea in 2000 and pioneered fair trade in the industry. An inspirational speaker, meditation teacher, and podcast host, she is celebrated for her work in sustainable business practices. Zhena was named one of Coco Eco's "20 Most Inspiring Women," Country Living Women Entrepreneur Honoree, and has received the Enterprising Women of the Year Award and the Socially Responsible Business Award, among others. Zhena lives in California and can be found at www.Zhena.TV.
Praise For Life by the Cup: Ingredients for a Purpose-Filled Life of Bottomless Happiness and Limitless Success…
Life by the Cup is as delightful and satisfying as the teas the author has created.
— Christiane Northrup, M.D., author of Women's Bodies, Women's Wisdom and The Wisdom of Menopause

"In Zhena Muzyka's soulful new book the satisfactions of a handcrafted life come steeped in service to others. There is a world out there that needs tending to, and Life by the Cup gently shows us a way."
— Barnet Bain, Producer of What Dreams May Come and The Celestine Prophecy

"Zhena's new book opens a delicious world where expansion and fulfillment can occur one cup at a time. She shows you how caring for your deep self fuels your deepest success in all aspects of your life. Whether you are a mother, entrepreneur, or are simply passionate about expressing your creative self most fully, Life By the Cup serves delectable sips of magic."
— Kathlyn Hendricks, co-author of Conscious Loving

"Recipes for overcoming adversity swirl through these pages like the inspiriting ingredients in Zhena's tea concoctions. I sipped from her book every night at bedtime, and invariably solutions for my own life steeped in my dreams."
— Terri Jentz, author of Strange Piece of Paradise

"I love this book! Zhena's journey and the lessons she shares in Life by the Cup will inspire and empower women to start businesses that matter and can change the world."
— Cynthia Kersey, Chief Humanitarian Officer of Unstoppable Foundation

"It's rare to encounter a book that's powerful, useful AND fun to read, but that's just what Zhena has brought to the world. Read it and get inspired, to build your business and to live a life of passionate engagement."
— Gay Hendricks, author of Conscious Loving and The Big Leap

"Life by the Cup is a true story that stretches from single motherhood and hard times through unique personal success. Pour a cup of tea, open to the first page and find a friend who will teach you: Your hopes are a form of planning."
— Gloria Steinem

"It wasn't enough for Zhena to create one of the hottest brands in the tea industry. She did it by forging a soulful, life-changing partnership with tea farmers halfway around the world. And now, through this remarkable book, she's given us all a seat next to her on this magical journey. Zhena reminds us that we each can make a difference in the world through something as simple and delicious as a cup of tea."
— Paul Rice, President and CEO of Fair Trade USA

"This is a book with heart. Zhena Muzyka has poured herself into it, so that you can stop, sip, and enjoy not only a cup of tea but a cup of life."
— Byron Katie

"Life By the Cup is a world-changing, unique, and beautifully written book that will benefit every aspect of the reader's life. Zhena Muzyka reflects on her complex and inspirational life by artfully weaving savory tea antidotes, unforgettable personal stories, and her savvy business prowess. I laughed, sobbed, and was inspired to make the world a better place while reading Life By the Cup over many delicious cups of tea. Muzyka inspires readers to create more meaningful rituals in their daily lives and to become the most deeply joyful, fearless, and empowered version of themselves."
— Erin Cox, Enlightened Business Strategist and bestselling author of One Hot Mama: The Guide to Getting Your Mind and Body Back After Baby

"Life by the Cup is a delicious and engaging book that will inspire and guide you. It offers a powerful roadmap for success in life, work and love. Within the pages are many gems that ensure you have the tools to live your dreams."
— Marci Shimoff

"This sensuous read captures the romance and pleasure of tea. Who could resist?"
or
Not Currently Available for Direct Purchase