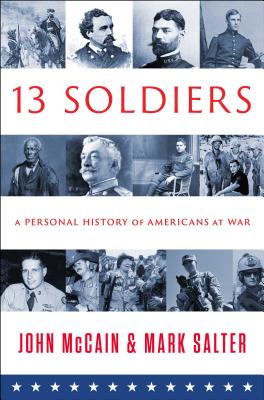 Thirteen Soldiers (Hardcover)
A Personal History of Americans at War
Simon & Schuster, 9781476759654, 384pp.
Publication Date: November 11, 2014
* Individual store prices may vary.
Description
John McCain's evocative history of Americans at war, told through the personal accounts of thirteen remarkable soldiers who fought in major military conflicts, from the Revolutionary War of 1776 to the wars in Iraq and Afghanistan.

As a veteran himself, a member of the Senate Armed Services Committee, and a long-time student of history, John McCain brings a distinctive perspective to this subject. Thirteen Soldiers tells the stories of real soldiers who personify valor, obedience, enterprise, and love. You'll meet Joseph Plumb Martin, who at the tender age of fifteen fought in the Revolutionary War; Charles Black, a freeborn African American sailor in the War of 1812; and Sam Chamberlain, of the Mexican American War, whose life inspired novelist Cormac McCarthy. Then there's Oliver Wendell Holmes, an aristocratic idealist disillusioned by the Civil War, and Littleton "Tony" Waller, court-martialed for refusing to massacre Filipino civilians.

Each account illustrates a particular aspect of war, such as Mary Rhoads, an Army reservist forever changed by an Iraqi scud missile attack during the Persian Gulf War, and Monica Lin Brown, a frontline medic in rural Afghanistan who saved several lives in an ambushed convoy. From their acts of self-sacrifice to their astonishing bravery, these thirteen soldiers embody the best America has to offer.
About the Author
Senator John McCain (1936—2018) entered the Naval Academy in June of 1954. He served in the United States Navy until 1981. He was elected to the US House of Representatives from Arizona in 1982 and to the Senate in 1986. He was the Republican Party's nominee for president in the 2008 election. He is the author of Faith of My Fathers, Worth Fighting For, Why Courage Matters, Character Is Destiny, Thirteen Soldiers, and The Restless Wave.

Mark Salter has collaborated with John McCain on all seven of their books, including Faith of My Fathers, Worth the Fighting For, Why Courage Matters, Character is Destiny, Hard Call, and Thirteen Soldiers. He served on Senator McCain's staff for eighteen years.
Praise For Thirteen Soldiers: A Personal History of Americans at War…
"Inspirational accounts of 13 Americans who fought in various wars….McCain and Salter aptly reveal humanizing moments in such theaters of cruelty."

"Messrs. McCain and Salter have chosen a thoughtful array of subjects....the authors have drawn a diverse group portrait of 'ordinary Americans'....Following ancient and medieval precedent, their hope is simply to use each soldier's deeds to represent a particular aspect of war: fear, duty, honor, comradeship, sacrifice and so on....We can all agree...to admire Messrs. McCain and Salter's 'ordinary people doing extraordinary things.'"

"Discerning and praiseworthy."

"The wide variety of characters involved makes for many fascinating accounts….The bulk of each section contains the history of the featured individual's engagements, pleasantly interwoven with their personal experiences. The text as a whole offers insights into life during battle….Casual readers interested in a wide sampling of U.S. military history should enjoy this book."

"Written with thrilling immediacy, insight, and reverence for the men and women who have risked and sacrificed their lives for their country. Much more than a military history, Thirteen Soldiers brings famous battles and campaigns down to the individual scale, enhances our understanding of the costs and consequences of battle, and introduces a human dimension to the history of armed conflict."

"Deeply personal stories that track real soldiers through conditions of trying morale…. A patriotic though unsentimental look at the major wars fought by the United States as told through the difficult experiences of ordinary soldiers…. Arizona Sen. McCain and his longtime staffer and co-author Salter again sound the themes of courage and honor represented by the regular Americans of all branches of the military."

"These are great and powerful stories that deserve to be retold, and McCain and Salter do an admirable job of showing us why."

"An intriguing read covering a wide swath of military history, much of it probably little known to many Americans. It takes a microscopic, individualized look at famous battles, describing them from the point of view of the soldiers who fought them…. "13 Soldiers" whets the appetite for history lovers, blending lesser-known facts into well-known battles. But it's approachable for novices, too…. McCain and Salter, a long time storytelling duo, have crafted a worthwhile read that abstains from romanticizing war yet instills a sense of pride that will touch any reader."

"Highly enlightening."

"This instructive book is crammed with battlefield details, struggles, and strategies, along with an intriguing cast of characters and their untold stories."

"McCain and Slater tell the historical story of the ordinary Americans that went to war, told in a way that may help the average reader understand the sacrifice, the lost blood and treasure of sending our sons and daughters to war."
Coverage from NPR
or
Not Currently Available for Direct Purchase