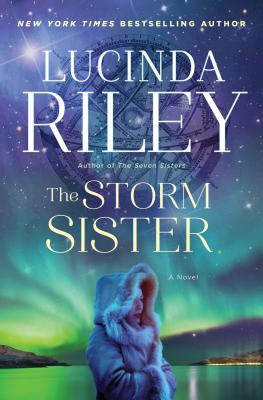 The Storm Sister (Hardcover)
Book Two (The Seven Sisters #2)
Atria Books, 9781476759920, 512pp.
Publication Date: March 22, 2016
* Individual store prices may vary.
Description
A sweeping and spellbinding love story spanning the warm waters of the Mediterranean to the cold, clear skies of Norway—the second in an epic new series of novels by #1 internationally bestselling author Lucinda Riley.

Ally D'Aplièse is about to compete in one of the world's most perilous yacht races when she hears the news of her adoptive father's sudden, mysterious death. Rushing back to meet her five sisters at their family home, she discovers that her father—an elusive billionaire affectionately known to his daughters as Pa Salt—has left each of them a tantalizing clue to their true heritage.

But the timing couldn't be worse: Ally had only recently fallen into a new and deeply passionate love affair, but with her life now turned upside down, she decides to leave the open seas and follow the trail that her father left her, which leads her to the icy beauty of Norway…

There, Ally begins to discover her roots and how her story is inextricably bound to that of a young unknown singer, Anna Landvik, who lived over a century before and sang in the first performance of Grieg's iconic music set to Ibsen's play Peer Gynt. As Ally learns more about Anna, she also begins to question who her father, Pa Salt, really was—and why is the seventh sister missing?

Following the internationally bestselling novel The Seven Sisters, this novel, "full of drama and romance" (Daily Mail), continues Lucinda Riley's spellbinding series inspired by the mythology surrounding the famous star constellation.
About the Author
Lucinda Riley is the New York Times bestselling author of over twenty novels, including The Orchid House, The Girl on the Cliff, and the Seven Sisters series. Her books have sold more than thirteen million copies in over thirty languages globally. She was born in Ireland and divides her time between England and West Cork with her husband and four children. Visit her online at LucindaRiley.com.
Praise For The Storm Sister: Book Two (The Seven Sisters #2)…
Praise for THE STORM SISTER:

"The second installment of Riley's sweeping series doesn't disappoint, jumping from present-day Europe to nineteenth-century Norway and back again. Riley's talent for blending current events with detailed backstories will intrigue historical-fiction readers, while fans of Kristin Hannah and Paulette Giles will appreciate the engrossing and introspective story of belonging, heartache, and acceptance."


"This is the second in a series about glamorous adopted sisters brought up in a castle on Lake Geneva. Their mysterious benefactor, Pa Salt, has died unexpectedly (or has he?) and left them clues about their origins… A great page-turner, full of drama and romance."

Praise for THE SEVEN SISTERS:

"Riley has written another intricately plotted, compelling family saga, which presents historical and cultural attitudes of the time and place in which her characters live. Like the famous statue that brought the lovers together and hovers over Rio today, the story is elegantly sculpted and rich with history... the book will please fans of romance as well as historical fiction lovers."

"A brilliant page-turner, soaked in glamour and romance."

"Riley is a skilled storyteller of epic romances, intertwining established history with imagined backstories. An engrossing, sweeping tale, the first in a new series that explores the mythology behind the constellation, The Seven Sisters will appeal to fans of Kristin Hannah and Linda Gillard while leaving readers anxious to learn about the histories of the stars' other namesakes."

"Lucinda Riley is one of the strongest authors in this genre of historical fiction. Her ability to weave stories together, using modern-day and historical settings, is top notch...This novel will appeal to readers of multiple genres as it contains excellent historical detail, heart-wrenching romance, and an engaging mystery."

"Riley launches her most ambitious andexciting writing project to date...…a labyrinth of seductive time-switchstories, the enchanting brand of novel writing which has made Riley one of thebest women's fiction authors on the market… An epic start to an epic series."

Praise for THE MIDNIGHT ROSE:

"A bit of a ghost story, a little romance, some historical fiction, and plenty of family drama mix into one wonderful story... A sure bet for fans of Lauren Willig, Kate Morton, or Maeve Binchy."

"An extraordinary story, a complex, deeply engaging tale filled with fascinating characters whose slowly revealed secrets carry readers to the very end. Spanning four generations and moving from the great palaces of India to the stately country home of an English lord, this is a sweeping tale of love lost and found."

Praise for THE ORCHID HOUSE:

"A sweeping, poignant saga that will enthrall fans of The House at Riverton, Rebecca, and Downton Abbey."

Praise for THE GIRL ON THE CLIFF:

"Tautly paced yet picturesque, The Girl on the Cliff is a compelling and romantic novel of recovery, redemption, new opportunities, and lost love."