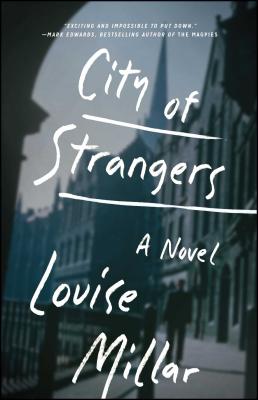 City of Strangers
A Novel
Paperback

* Individual store prices may vary.
Description
From the author of Accidents Happen, The Hidden Girl, and The Playdate—called "a supremely accomplished debut thriller by a writer to watch" (Booklist, starred review)—comes a new, heart-pounding novel about a journalist set on discovering the identity of a stranger who has turned her life upside down.

When Grace and her childhood sweetheart Mac come home from their honeymoon in Thailand, they're shocked to find a dead body beside their pile of unopened wedding presents. The police are unable to ID the man, so it is assumed that he was a burglar who died from natural causes. Little do they know that evidence for a rather different story is hidden right beneath their apartment…

Three months later, Grace finds a card that, in place of well wishes, bears the message: "That man was Lucian Grabole." A newspaper reporter fearing for her job, Grace lands on an idea that could answer some questions, and save her career as well. She'll pitch a story to her boss called "Who was the man in my kitchen?"

Soon Grace is trekking across Europe, talking to strangers and piecing together clues as she tries to unravel the mystery of who Lucian Grabole was, and why he met such a macabre end. Suddenly, with two more deaths linked to the case, it becomes clear that Grabole most certainly did not die a natural death. And the answer to the mystery of who the killer is, and why, lies back in Grace's apartment...
Praise For City of Strangers: A Novel…
ONE OF THE BEST THRILLERS OF 2015: "Millar tells the story of Grace Scott, who goes on a chilling hunt to find the man's killer. A poignant spine-shivering moment occurs when she finds a clue pinned to a wedding gift in her own flat."
— Marie Claire (UK)

"An eminently satisfying thriller."
— Booklist

"From the land of Agatha Christie comes, instead, a suspense writer worthy of Patricia Highsmith."
— Suspense Magazine

"Exciting and impossible to put down—this beautifully-written thriller is packed full of danger, surprises and a heroine to root for."
— Mark Edwards, Author of The Magpies

"A twisty heart-stopper of a thriller."
— Red magazine

"Compelling...original and satisfying."
— The Daily Mail (UK)

"A page-turning thriller."
— The Sunday Times (UK)

"An engrossing, exhilarating ride. Pacy, action-packed, brilliantly written and with THE HOTTEST leading male character *fans self*."
— Tammy Cohen, Author of Dying for Christmas

"It does a really exciting thing, which is to take us from domestic noir to international thriller... fast paced, full of heart and with a central character who is discovering herself as she uncovers a labyrinthine international mystery."
— Julia Crouch, Author of Cuckoo

"A deliciously disturbing read, with paranoia seeping from every page."
— Alex Marwood

"Taut, chilling and utterly brilliant- my thriller of the year."
— Lisa Jewell

"As Millar makes truth elusive and builds suspense, she is establishing herself in the top tier of writers of psychological thrillers."
— Booklist (starred review)

"Louise Millar's Accidents Happen is everything I hope for in a suspenseful read – chilling, complex and intense. Millar's riveting novel,with its frightening premise and twists and turns kept me frantically turning pages late into the night."
— Heather Gudenkauf

"This seriously creepy psychological thriller set deep in the Suffolk countryside is Louise Millar's best book yet. With a twist I did not see coming, it will make urbanites dreaming of bucolic bliss think again."
— Alex Marwood, bestselling author of The Wicked Girls and The Killer Next Door

"Louise Millar possesses an awesome talent for penning menacing tales. THE HIDDEN GIRL is a tightly penned thriller with fully fleshed out characters, interesting and intelligent dialogue, and stellar plotting."
— Reader to Reader

"[An] intriguing psychological thriller…emotionally compelling."
— Publishers Weekly

"Millar turns the typically cozy village setting into something malevolent, generating considerable suspense in the process and adding a psychological thriller element reminiscent of Ruth Rendell."
— Booklist

"Millar does a great job of building slow, psychological suspense... I highly recommend that you give this one a try,"
— Book Hooked Blog

"A must read. This is in my top 5 books read in 2016. It was superbly crafted . . . I couldn't put it down because it was fast paced from beginning to end. I will definitely read more from Louise Millar."
— NetGalley, 5 Stars

"Full of twists, and it travels around the world beautifully, unraveling a story from town to town, person to person; Louise Millar has crafted a psychological thriller with an unforgettable, chilling tone that intensifies until all the pieces come together in a shocking reveal! NOT TO BE MISSED!"
— The Lovely Pages
Emily Bestler Books, 9781476760131, 400pp.
Publication Date: November 1, 2016
About the Author
Louise Millar began her journalism career in various music and film magazines and spent seven years at Marie Claire as senior editor and contributing editor. She has written for Mojo, Marie Claire, Red, Psychologies, The Independent, Glamour, and The Guardian, among others. She lives in London with her husband and daughters.