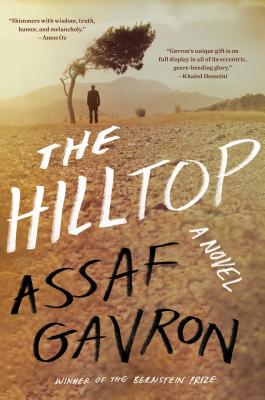 The Hilltop
A Novel
Hardcover

* Individual store prices may vary.
Other Editions of This Title:
Paperback (10/13/2015)
MP3 CD (11/4/2014)
Compact Disc (11/4/2014)
Description
Hailed as "The Great Israeli Novel" (Time Out Tel Aviv) and winner of the prestigious Bernstein Prize, The Hilltop is a monumental and daring work about life in a West Bank settlement from one of Israel's most acclaimed young novelists.

On a rocky, beautiful hilltop stands Ma'aleh Hermesh C, a fledgling community flying under the radar. According to the government it doesn't exist; according to the military it must be defended. On this contested land, Othniel Assis—under the wary gaze of the neighboring Palestinian village—plants asparagus, arugula, and cherry tomatoes, and he installs goats—and his ever-expanding family. As Othniel cheerfully manipulates government agencies, more settlers arrive, and, amid a hodge-podge of shipping containers and mobile homes, the outpost takes root.

One of the settlement's steadfast residents is Gabi Kupper, a one-time free spirit and kibbutz-dweller, who undergoes a religious awakening. The delicate routines of Gabi's new life are thrown into turmoil with the sudden arrival of Roni, his prodigal brother, who, years after venturing to America in search of fortune, arrives at Gabi's door, penniless. To the settlement's dismay, Roni soon hatches a plan to sell the "artisanal" olive oil from the Palestinian village to Tel Aviv yuppies. When a curious Washington Post correspondent stumbles into their midst, Ma'aleh Hermesh C becomes the focus of an international diplomatic scandal and faces its greatest test yet.

By turns serious and satirical, The Hilltop brilliantly skewers the complex, often absurd reality of life in Israel, the West Bank settlers, and the nation's relationship to the United States, and makes a startling parallel between today's settlements and the kibbutz movement of Gabi and Roni's youth. Rich with humor and insight, Assaf Gavron's novel is the first fiction to grapple with one of the most charged geo-political issues of our time, and he has written a masterpiece.
Praise For The Hilltop: A Novel…
An NPR Best Book of 2014

"Brilliantly attuned to the madhouse complexities of the current settlement crisis. . . . The superbly orchestrated chaos that results makes this an indispensable novel of, as one character dubs it, the 'Wild West Bank.'"
— Wall Street Journal

"Expansive, humorous . . . Gavron's satiric touches can be coruscating . . ."
— The New Yorker

"[A] brilliant book . . ."
— The New York Times Book Review

"The Great Israeli Novel. . . . Assaf Gavron stakes his claim to be Israel's Jonathan Franzen . . . Gavron writes realistic fiction with a comic edge that aims to take the temperature of his whole society, to tell us how Israelis live now . . . a cutting satire."
— Adam Kirsch

"A middle vision between the ridiculous and the sublime. . . . Highlights the way nothing (or no one) is isolated anymore. Investment bankers may become Israeli settlers; Palestinian villagers have lawyers in the family. . . . The pleasure of The Hilltop is that it doesn't offer easy outcomes . . ."
— David Ulin

"In The Hilltop, Gavron's unique gift is on full display in all of its eccentric, genre-bending glory. He treads the line between the serious and the absurd, the tragic and the comical, the sincere and the satirical, and creates a sweeping, complex story that raises more questions than it provides answers."
— Khaled Hosseini, author of The Kite Runner

"It is no exaggeration to say that Assaf Gavron is the most exciting, inventive, and though-provoking Israeli novelist of our generation. The Hilltop is a perfect example of the wry and satirical style that has made him a household name in Israel and it is sure to do the same for him here in the U.S. I loved this book."
— Reza Aslan, New York Times-bestselling author of Zealot and No god but God

"An ambitious novel, a distanced overview, meticulously realistic . . . Gavron represents a distinctly new generation of Israeli writing."
— The Times Literary Supplement (UK)

"Deals with Israel's overarching conflicts—Jew versus Jew, Jew versus Palestinian—and presents them with a nuanced complexity that feels very real. It's a funny and ultimately melancholy read."
— NPR

"Assaf Gavron allows us to understand the political situation in the Middle East in careful, profound and nuanced terms. He is unafraid to go into zones of conflict and find the essential human contradictions there. Gavron's work is engaging in the way that all good literature entertains – it is, in fact, very funny – but it also has lasting purpose. He is one of the most agile and necessary voices of contemporary Israeli literature."
— Colum McCann, National Book Award-winning author of Let the Great World Spin and TransAtlantic

"Writing with crisp insight and dry humor, Israeli author Gavron (Almost Dead, 2010, etc.) tells a lively tale of life in an embattled Jewish settlement on an arid, rocky West Bank hilltop in this award-winning novel. . . . Gabi's and Roni's stories unfold gradually, and in the midst of this wise and waggish tale, we may find ourselves feeling unexpectedly invested in these disparate brothers' fates. Slowly and incrementally, like those settlers on that craggy West Bank hilltop, Gavron's story gains a foothold in our hearts and minds and stubbornly refuses to leave."
— Kirkus (starred review)

"Wittily details the winks, nods, and semantic play that enable so many—officially illegal—settlements such as Ma'aleh Hermesh C. to remain and even expand. . . . Gavron's story is infused with gentle, everyday humor and flickers of kindness, including between Arabs and Jews."
— Financial Times (UK)

"Assaf Gavron is one of the most original and powerful writers on the Israeli scene. His clear and honest writing blasts right through the clichés and the politically correct surface to touch the chaotic, ambiguous core of the Israeli identity. The Hilltop is Gavron's latest and most impressive attempt to map the Israeli society. His perspective is a must-read for every seriously curious reader."
— Etgar Keret, author of The Nimrod Flipout and Suddenly, a Knock at the Door

"This many-storied, funny, shrewd, and tender satire dives into the heart of Israel, a land of trauma and zeal, fierce opinions and endless deliberation. From failed marriages to governmental dysfunction to the tragic Israeli-Palestinian conflict, Gavron's spirited desert saga embraces the absurd and the profound and advocates for compassion and forgiveness, even joy."
— Booklist (starred review)

"The Hilltop shimmers with wisdom, truth, humor, and melancholy. It's a beautiful novel to behold, even if the world it depicts is vigorously alive, like a poke to the eye."
— Amos Oz, New York Times-bestselling author of A Tale of Love and Darkness

"Sardonic and engaging. . . . Gavron excels at unmasking the contradictions that characterize Israeli society. . . . His hilltop may be fictionalized, but it embodies, perhaps more than any journalistic or documentary attempt in recent years, the mechanisms by which extremism crosses over and adopts the bureaucratic language and signifiers of the officially sanctioned."
— Haaretz

"The great novel of Israel's inner life."
— Frankfurter Allgemeine Zeitung

"In The Hilltop, Assaf Gavron tackles the intractable stew that is West Bank settlement. A book that further cements his place as one of today's truly committed, political Israeli novelists."
— Nathan Englander, author of What We Talk About When We Talk About Anne Frank

"A rich, complex story of Israeli settlers in the West Bank. . . . Gavron's novel is marked by its great depth of feeling and its disparate themes."
— Publisher's Weekly

"Gavron expertly works with a large cast of characters to create a resonant portrayal of life at the center of one of the world's main trouble spots. . . . This novel, an award winner in Israel, is very funny and entertaining."
— Library Journal

"Gavron deeply implicates America in Israel's troubles . . . Compelling . . . Touchingly human."
— The Forward

"Something entirely new—a comic settlement-saga that attempts to understand the terrible saga of the settlements."
— The Guardian (UK)

"A unique attempt to consider the phenomenon [of illegal settlements] not from a merely political point of view, but as a tale of human endeavor, in all its glory and its folly."
— The Jerusalem Post
Scribner, 9781476760438, 464pp.
Publication Date: October 7, 2014
About the Author
Assaf Gavron is the author of seven books, and his fiction has been translated into ten languages. He has won the Israeli Prime Minister's Creative Award for Authors, the Book fur die Stadt award in Germany, and the Prix Courrier International award in France. The son of English immigrants, he grew up in a small village near Jerusalem and currently lives in Tel Aviv.
or
Not Currently Available for Direct Purchase