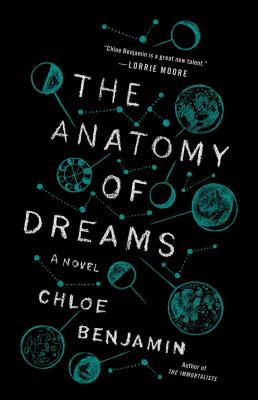 The Anatomy of Dreams
A Novel
Paperback

* Individual store prices may vary.
Other Editions of This Title:
Digital Audiobook (10/14/2019)
Paperback (9/4/2018)
Description
Winner of the Edna Ferber Prize

Long-listed for the 2014 Flaherty-Dunnan First Novel Prize

"A sly, promising and ambitious debut." —Publishers Weekly

"Chloe Benjamin is a great new talent." —Lorrie Moore, author of Bark: Stories

It's 1998, and Sylvie Patterson, a bookish student at a Northern California boarding school, falls in love with a spirited, elusive classmate named Gabe. Their headmaster, Dr. Adrian Keller, is a charismatic medical researcher who has staked his career on the therapeutic potential of lucid dreaming: By teaching his patients to become conscious during sleep, he helps them to relieve stress and heal from trauma. Over the next six years, Sylvie and Gabe become consumed by Keller's work, following him from the redwood forests of Eureka, California, to the enchanting New England coast.

But when an opportunity brings the trio to the Midwest, Sylvie and Gabe stumble into a tangled relationship with their mysterious neighbors—and Sylvie begins to doubt the ethics of Keller's research, recognizing the harm that can be wrought under the guise of progress. As she navigates the hazy, permeable boundaries between what is real and what isn't, who can be trusted and who cannot, Sylvie also faces surprising developments in herself: an unexpected infatuation, growing paranoia, and a new sense of rebellion.

In stirring, elegant prose, Benjamin's tale exposes the slippery nature of trust—and the immense power of our dreams.
Praise For The Anatomy of Dreams: A Novel…
"A debut novel of subtlety, depth, intrigue and tenderness. Chloe Benjamin is a great new talent."
— Lorrie Moore

"The way that Benjamin gives equal weight to both the romantic relationship and the novel's more cerebral, philosophical questions is impressive -- and a feat we hope to see in many more books to come."
— Nylon

"Uncertainty lingers through much of Benjamin's book, which has all the trappings of a scary thriller, but which skillfully converts itself into something more genteel and, in a way, more methodical: a study of the grim work of growing up."
— Washington Independent Review of Books

"After reading Chloe Krug Benjamin's The Anatomy of Dreams, you'll never dream the same way again. Benjamin's debut is a majestic collision of sci-fi thriller and love story that explores, as the title claims, the anatomy of dreams — their power, both chilling and beautiful— through the lens of a young couple. Sylvie and Gabe meet as teens at a California boarding school and, years later, become sleep researchers investigating lucid dreaming under the instruction of their former teacher, an intelligent and mysterious man with potentially sinister intentions. Though anchored in reality, their story takes surreal turns.It's a riveting tale that will instantly transfix readers, like a dream you're not quite ready to wake up from."
— Bustle

"A sly, promising, and ambitious debut."
— Publishers Weekly

"Mounting tension and [an] atmosphere of secrecy will definitely keep the pages of this taut psychological exploration turning right up until the tense, satisfying denouement."
— Booklist

"Rich in metaphor and hypnotic rhythms, the prose is lyrical and dreamlike."
— Isthmus

"Chloe Benjamin's ambitious debut novel matches the subtle surrealism of a dream with the underpinnings of a thriller. Back and forth in time like so many memories coming to light at once, Benjamin has produced a wholly original tale."
— Emma Straub, author of Laura Lamont's Life in Pictures

"A beautiful, haunting plunge into a mysterious world where the real and the dream are cleverly blurred. Sylvie's story drew me in from the first, and the subtle menace kept me turning pages to its surprising conclusion. Chloe Benjamin has crafted an eerie, compelling first novel which, like the lingering effects of a vivid dream, resonates long past its finish."
— Karen Brown, author of The Longings of Wayward Girls

"A vibrant, ambitious novel that wrestles with the big complexities of early adulthood—the impossibility of fully knowing a partner, the quixotic desire for meaningful work, and the surprisingly sudden nature of obsession. Chloe Benjamin's impressive debut shimmers and surprises with its wonderfully original fusion of compelling quirk and surreal mystery."
— Dean Bakopoulos, author of My American Unhappiness

"This stirringcoming-of-age story explores the murky landscape of the human psyche and forcesreaders to question the fine line that defines our moral limits. A subtle yetstartling debut, The Anatomy of Dreams is both a psychological thriller as wellas a love story that will transfix readers all the way to its portentous conclusion."
— Express Milwaukee

"In deft,tender-but-not-sentimental prose, Benjamin follows her protagonist SylviePatterson from a boarding school in northern California to the New Englandcoast to the Midwest along a journey influenced and shaped—in ways even Sylviedoesn't understand—by an enigmatic headmaster and medical researcher, and by Sylvie'sfirst love. Benjamin's novel envelops like a dream, but also provides a muchmore complete, satisfying story than a dream can."
— Kirkus

"This elegant first novel is both driving mystery and stirring love story…A fast-paced, satisfying read from a bright new talent."
— Refinery 29
Atria Books, 9781476761169, 320pp.
Publication Date: September 16, 2014
About the Author
Chloe Benjamin is the author of the New York Times bestseller The Immortalists and The Anatomy of Dreams, which won the Edna Ferber Fiction Book Award. She is a graduate of Vassar College and The University of Wisconsin-Madison MFA program. Learn more at ChloeBenjaminBooks.com.
or
Not Currently Available for Direct Purchase