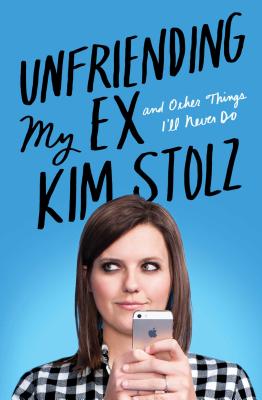 Unfriending My Ex (Hardcover)
And Other Things I'll Never Do
Scribner, 9781476761787, 224pp.
Publication Date: June 24, 2014
Other Editions of This Title:
Paperback (1/6/2015)
* Individual store prices may vary.
Description
An incisive, hilarious, and brutally honest memoir about life online and about how our obsessive connectivity is making us more disconnected—from former reality show contestant, MTV VJ, restauranteur, and go-to voice for millenials.

Social media and technology have fundamentally altered the way we do business, couple and break up, develop friendships, and construct our identities and our notions of aspiration and fame. We make decisions about where we'll go based on whether it's Instagrammable. We don't have friends, we have followers. For an entire generation, an experience not captured on social media might as well not have happened at all.

As someone whose identity has been forged by reality TV (as a contestant on America's Next Top Model) and social media and mobile technology, Kim Stolz is deeply obsessed with the subject. She has a hard time putting her phone down. And yet she remembers what life was like before technology-induced ADD, before life had become a string of late-night texts, Snapchats, endless selfies, that sinking feeling you get when you realize you've hit reply all by mistake. It's hard to imagine now, but there was once a time before we wasted a full hour emptily clicking through a semi-stranger's vacation pictures on Facebook, a time before every ex, every meaningless fling was a mere click away.

Unfriending My Ex (And Other Things I'll Never Do) is the first book to document the hilarity of the social media revolution from the inside; it chronicles a life filtered through our obsessive relationship with technology. The book is as eye-opening as it is entertaining as it proceeds through the various ways in which social media and mobile technology have generated empathy deficits and left us all with the attention spans of fruit flies…and the sad fact that in spite all of this, we find it impossible to switch our devices off.

Smart, hilarious, and completely relatable, Unfriending My Ex (And Other Things I'll Never Do) captures our crazy moment, shining a bright light on the trials and tribulations of life online.
About the Author
Kim Stolz is a former contest on America's Next Top Model, MTV News anchor, and current director of equities derivative sales at Bank of America-Merrill Lynch. She is a graduate of the Brearley School and Wesleyan University. In 2012, she was named one of the 100 most compelling People of the Year by Out magazine. She lives in New York City.
Praise For Unfriending My Ex: And Other Things I'll Never Do…
"Reading Kim Stolz's riveting, haunting Unfriending My Ex, I found myself wondering, why did it take until 2014 – this many years into the technological revolution - for someone to write a book like this?"
— Michael Cunningham, Pulitzer Prize-winning author of "The Hours" and "The Snow Queen"

"The cliche holds that anyone south of 30 years old is enriched by digital devices, and happily spends their waking hours on Facebook and Twitter, expanding their network, becoming empowered as writers and thinkers, achieving fame, overthrowing corrupt governments. In this reader-friendly and cogently argued book, Kim Stolz shares another story -- of her digital addiction and how it enslaved her, fraying friendships, and attention spans, and making her and members of her generation less, not more, connected. Unfriending My Ex is a punch in the nose, meant not to knock out technology, but to jolt us to seek more balance in our lives. Because it is so personally honest, it will rivet your attention."
— Ken Auletta, author of Googled

"Kim Stolz has written an exciting book about love and life in the era of the iPhone. Whether you're addicted to technology or totally anti-social media, she captures the reality of living a sexy, busy, buzzy life today. She's the ultimate cool chick, an authentic artist, and a natural born writer."
— Alyssa Shelasky, author of "Apron Anxiety"

"Stolz explores a topic so current and impactful that I only checked my Twitter and Instagram twice while reading it!"
— Caprice Crane, international best-selling author of "Stupid and Contagious" and "Confessions of a Hater"

"I remain hopeful that despite current trends, self-awareness and genuine human connection are achievable among the 'me' generation. Kim Stolz's Unfriending My Ex serves as an entertaining and much needed reminder that we can live without our phones (temporarily) and that being able to laugh at yourself and learn from your mistakes is crucial if you plan to thrive in this digitally connected, fast-paced society."

"As a self-confessed Web-aholic I am well aware that social networks have preyed upon humanity's innate need to connect, and the result is nothing short of a planetary epidemic of info-addiction. We are not only content to live in the Matrix but are increasingly driven to be a cognitive cog in its functionality. Kim Stolz has the mind of a scientist in the body of Millennial. Her experiences on reality television and MTV have made her something of a Jane Goodall of digital culture: she lives among them, ever observant, to catalog and understand their behavior patterns while attempting to determine the landscape of Mankind's future. On its present course, the signs seem to indicate 'not great.'"
— Chris Hardwick, host of Comedy Central's "@midnight" and author of "The Nerdist Way"

"From reality show contestant to MTVU VJ to MTV News correspondent to blogger and tireless tweeter, Kim has been at the nexus of all the tech and cultural, um, 'advances' that make the 21st century so unique. I've always known her to have a keen sense of what makes her generation tick – the good, the bad, and the sometimes kinda ugly. Our endlessly opinionated, notoriety-seeking, web connected world. It's hard to remember when it wasn't this way. How did we get here – and where are we headed? Kim Stolz tackles it all in Unfriending My Ex."
— Ruby Rose, TV Personality, MTV VJ

"In Unfriending My Ex, Kim Stolz gives us a clear-eyed, exceptionally intelligent look at a phenomenon at once mystifying and unavoidable. The thrall in which social media holds us feels so enchanting, we may be losing control of the most valuable parts of our lives to it. The author, while respectful of both progress and of her generation, seeks to restore that control. Here is the work of a grown-up young woman, hip enough to live successfully in the world as it is, yet thoughtful enough to identify its follies and delusions. If our times may be defined by a smart phone, we should be grateful that Unfriending My Ex is a hell of a lot smarter."
— Roger Rosenblatt, author of Rules for Aging: A Wry and Witty Guide to Life

"[A] lively memoir... [Stolz] investigates and considers the various effects of society's (and particularly her generation's) dependency upon technology, finding that texting and smartphones allow chatting without relationship-building, loneliness in spite of keeping in touch, and increased anxiety.

"[A] humorous take on how social networking has changed our society and on the pitfalls of obsessive connectivity."

"[Stolz] takes a look at the effects of technology-induced ADD on the individual level, reminding readers of social media's harms and hilarities alike...Hysterical and self-aware."

"In this candid and insightful new memoir, Kim Stolz discusses the trials and tribulations of our obsession with social media and mobile techology.... a Tweet-worthy, share-worthy, Instagramable look into our society and the lives we create online."
or
Not Currently Available for Direct Purchase