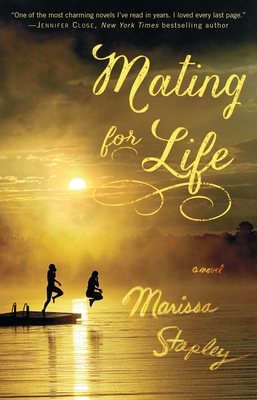 Mating for Life (Paperback)
A Novel
Washington Square Press, 9781476762029, 336pp.
Publication Date: July 1, 2014
* Individual store prices may vary.
Description
With pitch-perfect honesty and heartwarming humor, this captivating debut explores marriage, motherhood, identity, and what it takes to love someone—family members, friends, or spouses—for life.

Former folk singer Helen Sear was a feminist wild child who proudly disdained monogamy, raising three daughters—each by a different father—largely on her own. Now in her sixties, Helen has fallen in love with a traditional man who desperately wants to marry her. And while she fears losing him, she's equally afraid of abandoning everything she's ever stood for if she goes through with it.

Meanwhile, Helen's youngest daughter, Liane, is in the heady early days of a relationship with her soul mate. But he has an ex-wife and two kids, and her new role as a "step-something" doesn't come with an instruction manual. Ilsa, an artist, has put her bohemian past behind her and is fervently hoping her second marriage will stick. Yet her world feels like it is slowly shrinking, and her painting is suffering as a result—and she realizes she may need to break free again, even if it means disrupting the lives of her two young children. And then there's Fiona, the eldest sister, who has worked tirelessly to make her world pristine, yet who still doesn't feel at peace. When she discovers her husband has been harboring a huge secret, Fiona loses her tenuous grip on happiness and is forced to face some truths about herself that she'd rather keep buried.

Interweaving the alternating perspectives of Helen, her daughters, and the women surrounding them, "each new chapter brings a wise and tender look at single life, dating rituals, and marital unease" (New York Times bestselling author Jennifer Close). In this "absolute feat of storytelling" (bestselling author Grace O'Connell), Marissa Stapley celebrates the many roles modern women play, and shows that even though happy endings aren't one-size-fits-all, some loves really can last for life.
About the Author
Marissa Stapley is the author of the bestselling novel Mating for Life, and Things to Do When It's Raining, which has been published in nine countries and translated into seven languages. Her journalism has appeared in newspapers and magazines across North America. She lives in Toronto with her family. Visit her at MarissaStapley.com or follow her on Twitter @MarissaStapley.
Praise For Mating for Life: A Novel…
"Told from multiple points of view as the characters walk tightropes of tragedy, this intriguing and heartbreaking debut novel carefully illustrates the power that each of us has to define who we are and who we can become."

"An absorbing and entertaining meditation on romantic love, but, even more so, on the nature of motherhood and sisterhood."

"Heartbreaking and strikingly honest. Stapley challenges entrenched ideas of what it means to be a wife and mother, explores how modern women often struggle to maintain their own identities in the face of societal expectations, [and] excels at bringing the reader into the lives of these women."

"No, this is not a happily-ever-after tale. Nevertheless, Stapley is gentle and nonjudgmental with her characters, and readers…will find themselves pulling for them all."

"This novel does a fine job of exploring the complexities of modern relationships."

"A beautiful and honest story."

"The women in Mating for Life are clever, honest, funny, and forever analytical as they stumble through the search for love. Each new chapter brings a wise and tender look at single life, dating rituals, and marital unease. This is one of the most charming novels I've read in years, and I loved every last page."
— Jennifer Close

"Marissa Stapley makes a brilliant debut with Mating for Life. This intricate story of mothers and daughters, of family secrets and the devastation of infidelity, works an irresistible spell as it shatters apart three sisters' lives and then gathers the pieces together again, one by one. Acute and richly moving, Mating for Life triumphantly reaffirms the power of female relationships."
— Beatriz Williams

"Heartwarming and insightful, Marissa Stapley's unmissable debut is a sensitive, timely and compassionate exploration of family, friendship, self-discovery and the issue perhaps more at the crux of modern womanhood than any other - the struggle to keep hold of who you are while letting love in."
— Abigail Tarttelin

"An absolute feat of storytelling, Mating For Life not only features sisters, friends, mothers and confidants – it feels like one itself; a living, whispering, shouting, beauty of a book that bypasses easy answers and cracks open the deepest, most contradictory longings in all of us. Stapley is an heir to the likes of Wolitzer and Atwood, with an eye that misses nothing in the way we love, hurt, leave, support and sabotage each other and ourselves. This is vital and vibrant writing born of true insight into the human heart."
— Grace O'Connell

"Marissa Stapley searches through the layers women possess, how hard we work to hide the cracks, as we bury our secrets, pretend what's bad is good—and paper over the glaring flaws in our lives. In Mating for Life a mythologized fiery mother—and the daughters she grew up alongside—all face the realization that it's time to live with eyes wide open. Stapley renders their awakening with grace and honesty."
— Randy Susan Meyers

"Honest and tender, heartbreaking and irresistible, Marissa Stapley's Mating for Life is a gorgeous debut in which I saw myself, my sister, and every woman I adore. An absolute must read for every woman who has ever been swelled, or felled, by love."
— Tish Cohen

"Mating for Life is an immensely readable novel, with smart, engaging characters who come to life on the page -- the sort of characters you miss long after you've put the book down. You will see yourself in these women."
— Taylor Jenkins Reid

"An addictive, enthralling read, full of authentic, hopeful characters, each on a quest for their own version of true love. They seek it in family, friendship, partners and, ultimately, in themselves. I fell in love with the entire cast of characters Stapley has created, whose stories weave together beautifully and whose voices are so genuine, flawed and unique. They made me laugh, curse out loud and cry! This is an impressive, ambitious debut novel about love, forgiveness and acceptance which will undoubtedly warm your heart."
— Hannah Tunnicliffe

"I felt like I was sitting on the dock at a cottage, eavesdropping on the neighbours. Mating for Life is like overhearing all the juiciest family drama—without any fear of hearing your own name. I found myself slipping away at every spare moment to turn the next page. Marissa Stapley has created an interconnected story of unique, believable, relatable women. I absolutely loved this book."
— Chantel Guertin
or
Not Currently Available for Direct Purchase