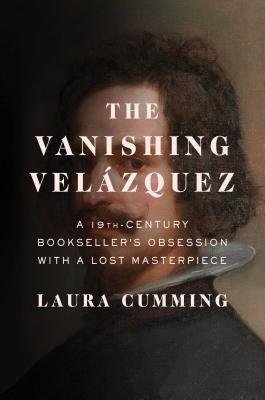 The Vanishing Velázquez (Hardcover)
A 19th Century Bookseller's Obsession with a Lost Masterpiece
Scribner, 9781476762159, 304pp.
Publication Date: April 12, 2016
Other Editions of This Title:
Digital Audiobook (4/11/2016)
Paperback (11/8/2016)
* Individual store prices may vary.
Description
NEW YORK TIMES BESTSELLER
A Wall Street Journal Top 10 Nonfiction Book of 2016

From one of the world's most expert art critics, the incredible true story—part art history and part mystery—of a Velazquez portrait that went missing and the obsessed nineteenth-century bookseller determined to prove he had found it.

When John Snare, a nineteenth-century provincial bookseller, traveled to a liquidation auction, he stumbled on a vivid portrait of King Charles I that defied any explanation. The Charles of the painting was young—too young to be king—and yet also too young to be painted by the Flemish painter to which the work was attributed. Snare had found something incredible—but what?

His research brought him to Diego Velazquez, whose long-lost portrait of Prince Charles has eluded art experts for generations. Velazquez (1599–1660) was the official painter of the Madrid court, during the time the Spanish Empire teetered on the edge of collapse. When Prince Charles of England—a man wealthy enough to help turn Spain's fortunes—ventured to the court to propose a marriage with a Spanish princess, he allowed just a few hours to sit for his portrait. Snare believed only Velazquez could have met this challenge. But in making his theory public, Snare was ostracized, victim to aristocrats and critics who accused him of fraud, and forced to choose, like Velazquez himself, between art and family.

A thrilling investigation into the complex meaning of authenticity and the unshakable determination that drives both artists and collectors of their work, The Vanishing Velazquez travels from extravagant Spanish courts in the 1700s to the gritty courtrooms and auction houses of nineteenth-century London and New York. But it is above all a tale of mystery and detection, of tragic mishaps and mistaken identities, of class, politics, snobbery, crime, and almost farcical accident. It is a magnificently crafted page-turner, a testimony to how and why great works of art can affect us to the point of obsession.
About the Author
Laura Cumming has been the art critic of the Observer since 1999. Previously, she was arts editor of the New Statesman magazine, literary editor of the Listener, and deputy editor of Literary Review. She is a former columnist for the Herald and has contributed to the London Evening Standard, the Guardian, L'Express and Vogue. Her book The Vanishing Velazquez was longlisted for the Bailie Gifford Prize and a New York Times bestseller.
Praise For The Vanishing Velázquez: A 19th Century Bookseller's Obsession with a Lost Masterpiece…
"A sumptuous, impressively erudite effort by Laura Cumming, the art critic at the Observer, in London, to retrace Snare's attempts to determine the painting's elusive pedigree. But it's a good deal more than that. The book is a pair of biographies (Snare, Velázquez), a series of critical essays, a history of King Philip's IV court, a cold-case mystery, a courtroom drama, an adventure story, a travelogue, a floor wax, a dessert topping. Whatever it is, it's extremely accomplished — a gleaming work of someone at the peak of her craft."

"Laura Cumming twists several genres around her supple fingers in order to tell the extraordinary story of how Snare fell under the spell of a painting and sacrificed everything – prosperity, reputation, a respectable death surrounded by loving family – so that he might live with it like a lover... Then there's the detective story, which gusts the plot along at a cracking pace... Cumming pulls us so deeply into the painter's world that it seems as if we can feel the breath of his subjects on our cheeks, and see the sheeny sweat on their brows... Cumming brings these worlds together with exactly the kind of ease that made Velázquez the subject of such envy in his own time, indeed in all times... In the same way, you put down The Vanishing Velazquez not quite sure how Cumming has been able to bring off this particular magic trick, but happy and grateful that she has."

"Hapless Victorians, bizarro royal courts, and incisive art criticism all feature prominently in Cumming's lively account... It is Cumming's spirited and clever narration that makes this enigma utterly engrossing."

"A true tale that demonstrates the power and seduction of art. Gracefully melding art history and biography… Cumming has fashioned an absorbing mystery."

"In this superb and original book, Cumming interweaves the gripping story of Snare with that of Diego Velázquez himself, painting at the court in Madrid in the 17th century. Sometimes, dual biographies can be a contrivance, but here the two stories enhance each other. Like Donna Tartt's novel The Goldfinch, this is about the particular forms of obsession that only art can generate. Cumming uses Snare's story as a way to explore the extraordinary personal connection Velázquez's art creates with its audience... This enthralling book is about what it means to create art so luminous that others would fight just to get close to it."

"The Vanishing Velazquez is a riveting detective story and a brilliant reconstruction of an art controversy, but it is also a homage to the art of Velazquez, written by a critic who remains spellbound by his genius, as readers will be spellbound by this book."
— Colm Toibin, author of Brooklyn and Nora Webster

"An extraordinary story... This terrific book is many things, a study in obsession, a paean of praise to an artist of genius, a detective story and, for the author, an exorcism of grief. Writing like Helen Macdonald in H is for Hawk, in the wake of the death of her father, Cumming pours heart and soul in The Vanishing Velazquez and she has produced something of which her artist father, James Cumming, would be more than proud."

"Interwoven into the narrative of Snare's tribulations, and of beautifully compelling accounts of Velázquez's paintings, are moving snippets of biography that reveal Cumming's own relationship to the great Spanish master."

"As compelling and entertaining as a detective novel, this is an engaging book... Ms Cumming paints a beguiling picture of lives lived for art.

"A brilliant tribute... [Snare's] ill-fated obsession lends shadow and suspense to [Cumming's] hymn of praise... Her pages pulse with the power of art to change lives."

"An exceptionally layered piece, blending history, criticism, and biography. Cumming's writing is lush, succinct, and captures the essence of art in a medium that depends on the imagination of the reader. Even further, she explores ruin, grief, death, and how art can bridge the gaps opened by the sheer breadth of time."

"Cumming writes an absorbing, quick-paced book . . . similar to Erik Larson's The Devil in the White City from the standpoint that the author transforms a little-known subject into one that is endlessly entertaining."

"Cumming writes with deep feeling, critical expertise and lovely prose, alternating between the career and thinly documented life of Diego Velázquez, a brilliant and humane artist who she believes can be intimately known through his art, and the story of an equally mysterious art lover who sacrificed everything to live with one great work."

"just as a portrait can carry its subject into the future, Laura Cumming has given the story of John Snare and his lost Velázquez a new life."

"Enchanting."

"Laura Cumming, art critic for the Observer, elegantly weaves a narrative that is equal parts criticism, detective story and pure enchantment. With 'The Vanishing Velázquez,' Laura Cumming spins a layered, irresistible tale, one that resonates today."

"Cumming's narrative acumen is such that she coaxes a compelling story seemingly out of thin air. Cumming has brought Velázquez and his work to life in a stunningly vivid way. The master painter might have been impressed."

"In this captivating double portrait, Cumming exhumes the little that is known of the Spanish artist and courtier through the peculiar tale of one of his most passionate devotees. Cumming intersperses this story with illuminating discussions of Velázquez's radical candor and originality as a painter."

"Combining Snare's unique story with a fine introduction to the work of Velázquez, Cumming thoroughly succeeds in conveying the Spaniard's astonishing genius while at the same time telling the endearing and deeply mysterious tale of Snare's personal obsession."