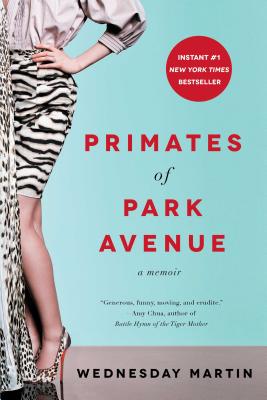 Primates of Park Avenue
A Memoir
Hardcover

* Individual store prices may vary.
Other Editions of This Title:
Digital Audiobook (6/1/2015)
Paperback (5/31/2016)
Description
Instant #1 New York Times Bestseller!

The book that has outraged the social elite!

"Eye-popping." —People

"Amusing, perceptive and…deliciously evil." —The New York Times Book Review

"Juicy, sexy, bawdy stuff." —New York Daily News

"Think Gossip Girl, but with a sociological study of the parents." —InStyle.com

An instant #1 New York Times bestseller, Primates of Park Avenue is an "amusing, perceptive and…deliciously evil" (The New York Times Book Review) memoir of the most secretive and elite tribe—Manhattan's Upper East Side mothers.

When Wednesday Martin first arrives on New York City's Upper East Side, she's clueless about the right addresses, the right wardrobe, and the right schools, and she's taken aback by the glamorous, sharp-elbowed mommies around her. She feels hazed and unwelcome until she begins to look at her new niche through the lens of her academic background in anthropology. As she analyzes the tribe's mating and migration patterns, childrearing practices, fetish objects, physical adornment practices, magical purifying rituals, bonding rites, and odd realities like sex segregation, she finds it easier to fit in and even enjoy her new life. Then one day, Wednesday's world is turned upside down, and she finds out there's much more to the women who she's secretly been calling Manhattan Geishas.

"Think Gossip Girl, but with a sociological study of the parents" (InStyle.com), Wednesday's memoir is absolutely "eye-popping" (People). Primates of Park Avenue lifts a veil on a secret, elite world within a world—the strange, exotic, and utterly foreign and fascinating life of privileged Manhattan motherhood.
Praise For Primates of Park Avenue: A Memoir…
"An eye-popping insider's guide."
— People

"An amusing, perceptive and, at times thrillingly evil takedown of upper-class culture by an outsider with a front-row seat…Martin's writing is confident and evocative…Her reading of the fashion attire of real estate brokers for 'triple mint' apartments is brilliant…at a time when a social comedy of the rich a la Tom Wolfe has been lost in national discourse…it's fun to dip into a sophisticated, if silly, look at the Upper East Side's Twilight Zone. Primates of Park Avenue is also a good reminder that as much as we may envy the wealthy, they fight every day for a place in their own social hierarchy, too."
— New York Times Book Review

"Juicy, sexy, bawdy stuff...the perfect summer beach book...the tasty tome we'll all be devouring when the weather warms."
— New York Daily News

"Applying the chimpanzee research of Jane Goodall or the observations of bonobos by Frans de Waal to one's neighbors and co-workers is great fun…Martin rewards those of us in humbler circumstances the undeniably pleasant frisson of superiority that comes with finding fault with those better endowed financially, socially, sartorially."
— Chicago Tribune

"Think privileged NYC wives are another species? Martin goes undercover in this dishy memoir and reminds us that we all have something in common."
— Glamour

"Hysterical and cutting."
— Harper's Bazaar

"Think: Gossip Girl, but with a sociological study of the parents."
— InStyle.com

"Put this book at the top of your summer reading list!...astute and entertaining."
— Miami Living

"Amusing...incisive...a wryly entertaining guide to this rarefied subculture."
— The Economist

"Recalls Betty Friedan's Feminine Mystique…Primates is pacy and skillfully weaves cultural insight with personal anecdote…This is an intriguing insight into a closed world. It is easy to dismiss the subjects as frivolous and mean, which many seem to be. But our envy and schadenfreude makes the rich a compelling curiosity."
— Financial Times

"Fascinating…The author has a Ph.D. and a background in anthropology and primatology, so it's not long before she's analyzing her fellow mommies in terms of what she knows about olive baboons. The book is at its best when Martin analyzes her population this way. Comparing a group of women to primates, their family planning to those of birds, their interactions with men to groups of mice—these make for compelling insights…Engrossing."
— The AV Club

"Picture 'Real Housewives,' add in pop-science, and you have Wednesday Martin's new book."
— Pittsburgh Post-Gazette

"A very funny, and slightly scary, look at the denizens of Manhattan's Upper East Side."
— Connecticut Post

"Any population is fair game for anthropological research, so why not the super-rich, super-thin, and oh-so-well-dressed mothers of New York's Upper East Side?... Illuminating and fun."
— BookPage

"Martin puts her academic background (anthropology classes and a doctorate in cultural studies) to witty good use in describing this wealthy tribe's extremes…it became clear to me, reading Martin's book, that our Bay Area tribes aren't so different from those of New York."
— San Francisco Chronicle

A Jane Goodall wielding an American Express Black Card, the author leads readers through the hierarchical benchmarks of Upper East Side mothers. This anthropological journey into the wilds of New York City's most exclusive zip code could have easily devolved into condescension, but instead it proves that mothers everywhere want the same thing: health and happiness for their progeny.
— Library Journal, starred review

"I absolutely loved this memoir and could not put it down! It's incredibly clever; Martin uses anthropology to analyze Upper East mothers, and it's astonishingly illuminating. Somehow, Martin manages to be caustically perceptive but also generous, funny, moving, and erudite all at the same time. This is one of the most fascinating books I've read in a long time."
— Amy Chua, Yale Law Professor and author of Battle Hymn of the Tiger Mother and The Triple Package

If anthropologist Jane Goodall had landed on Park Avenue with a Birkin bag instead of the wilds of Tanzania with a notebook, this is the book she would have written. Primates of Park Avenue is a smart, funny, and original dissection of the tribal rites of rich and striving New Yorkers as they migrate between Manhattan's Upper East Side and the Hamptons.
— Steven Gaines, author of Philistines at the Hedgerow

"I am a huge fan of everything Wednesday Martin writes - her astute observations are filled with wisdom and humor, and more than once have helped me see the world through different eyes."
— Jane Green, New York Times bestselling author of Saving Grace

"People aiming to study primates in the wild are carefully taught to avoid anthropomorphism. Reading human motivation into the behavior of free-living primates is a no-no. But what about using information from primate field studies to interpret human behavior "chimpomorphically"? Confronted with the need to cope with sociopathological conditions on New York's ultra-wealthy Upper East Side, Wednesday Martin delved deeply into her knowledge of primate behavior. The result is this book in which primatology leads to a deeper understanding of the human hearts that beat beneath their designer-clad exteriors. A tour de force"
— Robert Martin, Ph.D., Professor of Biological Anthropology and Curator Emeritus, Field Museum of Chicago and author of How We Do It: the Evolution and Future of Human Reproduction

"When mean girls and wannabes grow up, they become the women so perfectly depicted in Wednesday Martin's funny and intelligent memoir. How wonderful that she survived the jungle of Park Avenue with strong female friendships intact."
— Rosalind Wiseman, author of Queen Bees and Wannabes

"Dr. Wednesday Martin is a genius. This book is a must for anyone fascinated by people, trends, and tribes."
— Lucy Sykes, author of The Knockoff

"Upon relocating to New York City's Upper East Side, a wannabe socialite assimilates by anthropologically decoding the behaviors of mom natives in this memoir about fitting in while standing out."
— O Magazine
Simon & Schuster, 9781476762623, 256pp.
Publication Date: June 2, 2015
About the Author
Wednesday Martin, PhD, has worked as writer and social researcher in New York City for more than two decades. The author of Stepmonster and Primates of Park Avenue, she has appeared on Today, CNN, NPR, NBC News, the BBC Newshour, and Fox News as an expert on step-parenting and parenting issues. She writes for the online edition of Psychology Today and her work has appeared in The New York Times. She was a regular contributor to New York Post's parenting and lifestyle pages for several years and has written for The Daily Telegraph. Wednesday received her PhD from Yale University and lives in New York City with her husband and their two sons.
Coverage from NPR
or
Not Currently Available for Direct Purchase