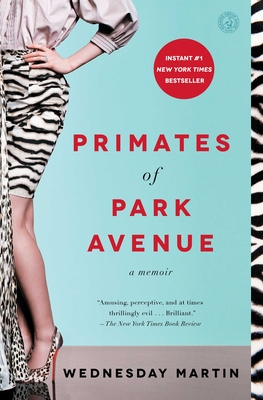 Primates of Park Avenue (Paperback)
A Memoir
Simon & Schuster, 9781476762715, 272pp.
Publication Date: May 31, 2016
Other Editions of This Title:
Digital Audiobook (6/1/2015)
Hardcover (6/2/2015)
* Individual store prices may vary.
Description
An instant #1 New York Times bestseller, Primates of Park Avenue is an "amusing, perceptive and…deliciously evil" (The New York Times Book Review) memoir of the most secretive and elite tribe—Manhattan's Upper East Side mothers.

When Wednesday Martin first arrives on New York City's Upper East Side, she's clueless about the right addresses, the right wardrobe, and the right schools, and she's taken aback by the glamorous, sharp-elbowed mommies around her. She feels hazed and unwelcome until she begins to look at her new niche through the lens of her academic background in anthropology. As she analyzes the tribe's mating and migration patterns, childrearing practices, fetish objects, physical adornment practices, magical purifying rituals, bonding rites, and odd realities like sex segregation, she finds it easier to fit in and even enjoy her new life. Then one day, Wednesday's world is turned upside down, and she finds out there's much more to the women who she's secretly been calling Manhattan Geishas.

"Think Gossip Girl, but with a sociological study of the parents" (InStyle.com), Wednesday's memoir is absolutely "eye-popping" (People). Primates of Park Avenue lifts a veil on a secret, elite world within a world—the strange, exotic, and utterly foreign and fascinating life of privileged Manhattan motherhood.
About the Author
Wednesday Martin, PhD, has worked as writer and social researcher in New York City for more than two decades. The author of Stepmonster and Primates of Park Avenue, she has appeared on Today, CNN, NPR, NBC News, the BBC Newshour, and Fox News as an expert on step-parenting and parenting issues. She writes for the online edition of Psychology Today and her work has appeared in The New York Times. She was a regular contributor to New York Post's parenting and lifestyle pages for several years and has written for The Daily Telegraph. Wednesday received her PhD from Yale University and lives in New York City with her husband and their two sons.
Praise For Primates of Park Avenue: A Memoir…
"Think privileged NYC wives are another species? Martin goes undercover in this dishy memoir and reminds us that we all have something in common."
— Glamour

"Amusing...incisive...a wryly entertaining guide to this rarefied subculture."
— The Economist

"Any population is fair game for anthropological research, so why not the super-rich, super-thin, and oh-so-well-dressed mothers of New York's Upper East Side?... Illuminating and fun."
— BookPage

"I absolutely loved this memoir and could not put it down! It's incredibly clever; Martin uses anthropology to analyze Upper East mothers, and it's astonishingly illuminating. Somehow, Martin manages to be caustically perceptive but also generous, funny, moving, and erudite all at the same time. This is one of the most fascinating books I've read in a long time."
— Amy Chua, Yale Law Professor and author of Battle Hymn of the Tiger Mother and The Triple Package