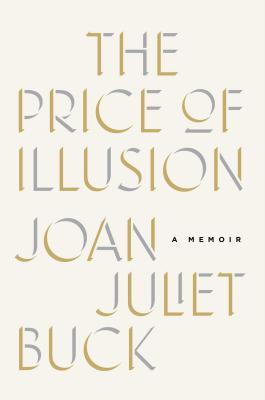 The Price of Illusion
A Memoir
Hardcover

* Individual store prices may vary.
Other Editions of This Title:
Paperback (11/7/2017)
MP3 CD (4/17/2018)
Compact Disc (4/17/2018)
Description
From Joan Juliet Buck, former editor-in-chief of Paris Vogue comes her dazzling, compulsively readable memoir: a fabulous account of four decades spent in the creative heart of London, New York, Los Angeles, and Paris, chronicling her quest to discover the difference between glitter and gold, illusion and reality, and what looks like happiness from the thing itself.

Born into a world of make-believe as the daughter of a larger-than-life film producer, Joan Juliet Buck's childhood was a whirlwind of famous faces, ever-changing home addresses, and a fascination with the shiny surfaces of things. When Joan became the first and only American woman ever to fill Paris Vogue's coveted position of Editor in Chief, a "figurehead in the cult of fashion and beauty," she had the means to recreate for her aging father, now a widower, the life he'd enjoyed during his high-flying years, a splendid illusion of glamorous excess that could not be sustained indefinitely.

Joan's memoir tells the story of a life lived in the best places at the most interesting times: London and New York in the swinging 1960s, Rome and Milan in the dangerous 1970s, Paris in the heady 1980s and 1990s. But when her fantasy life at Vogue came to an end, she had to find out who she was after all those years of make-believe. She chronicles this journey in beautiful and at times heartbreaking prose, taking the reader through the wild parties and the fashion, the celebrities and creative geniuses as well as love, loss, and the loneliness of getting everything you thought you wanted and finding it's not what you'd imagined. While Joan's story is unique, her journey toward self-discovery is refreshing and universal.
Praise For The Price of Illusion: A Memoir…
"A parade of stars and styles . . . . Think of anyone who had cachet in the world of movies, literature or fashion starting in 1970 or so, and chances are good that they pop up in this book. . . . Buck has been a fabulous Zelig in the world of memoirs."
— The New York Times

"Relentlessly candid and often absorbing account of a complex life spent in and out of the fashion spotlight."
— Kirkus Reviews

"Lapidary. . . elegant. . . psychedelic. . . brilliant."
— Publishers Weekly (starred review)

"[A] lush, charming memoir."
— People

"If you loved The Devil Wears Prada, you'll adore Joan Juliet Buck's The Price of Illusion, her deliciously written memoir of her golden life in Hollywood and at Paris Vogue, which became more and more about running as fast as she could until, in one of the best blow-by-blows of being fired you'll ever read, she finally began to figure out what matter."
— Elle

"Fans of high fashion and celebrity culture will enjoy this insider account."

— Library Journal

"Ms. Buck has been everywhere, done everything — the most delicious…pages I've read in months….sure to ravish the best-seller lists."
— Liz Smith, NewYorkSocialDiary.com

"Joan Juliet Buck had lived a more brilliant, stranger, more glamorous, sadder, happier, richer, poorer life by the age of twenty-five than most of us do in three times that long and then she went right on living it and then she wrote it down. I'm a sucker for good, smart writing and this book is nothing but good, smart writing and great stories. Terrific stuff."
— Salman Rushdie, bestselling author of Two Years Eight Months and Twenty-Eight Nights

"One knows from the opening paragraph that one is in the presence of a truly original, and compelling, voice; and that the scope of the book to come will be both ravishingly large and, at the same time, rife with perfect, telling details."
— Michael Cunningham, bestselling author of A Wild Swan and The Hours

"Brimming over with voluptuous details, this is delicious writing—intelligent, provocative, ironic, and so compulsively readable I simply could not put it down."
— Patricia Bosworth, New York Times bestselling author of Diane Arbus

"In this often hilarious yet ultimately profound memoir, Joan Juliet Buck explores life's most gorgeous surfaces and agonizing depths. She writes with brio even when she narrates times of difficulty, and achieves a remarkable mixture of modesty, exuberance, and pained confession. Buck's brilliant wit, her entirely original sense of style, her capacity to negotiate tragedy, and her gift for self-analysis make this book not only riveting, but also unforgettable."
— Andrew Solomon, bestselling author of Far From the Tree

"A startling and memorable memoir, filled with stars and scars, matters of business and affairs of the heart, successes and failures, all seen with Buck's seemingly photographic memory in infinite detail. A must for any lover of fashion and culture, and for all those who cherish a life lived to its fullest. The Price of Illusion is a great record of a truly remarkable life."
— Robert Goolrick, #1 New York Times bestselling author of A Reliable Wife

"Anybody could make a riveting life story of the events and rolodex of people in this book, but reading it, I was most reminded of James Salter's autobiography Burning the Days, the inquiry by a great writer into his own remarkable life. It is a moving, Bildungsroman-like account of the inner workings of fame and culture, houses built of cards, aspiration and loss, and a brave search for love. At once an unputdownable romp through sixty years of a world that no one will ever know better than Joan Juliet Buck, and a great literary accomplishment."
— Peter Nichols, bestselling author of The Rocks

"The Price of Illusion is a spilled treasure of a book. Unexpected sudden diamonds cascade across every page. The language is dazzling, but even more overwhelming is the Proustian level of observation. Fashion is laid bare of its artifice. Celebrated giants like Peter O'Toole and John Huston show up in human form. And Miss Buck's career and family flameouts dovetail into a single, heartbreaking tragedy. If you are drawn to glamour and pain, get ready to be mesmerized."
— John Patrick Shanley, winner of the Pulitzer Prize and author of Doubt

"Buck offers sharp, candid observations….the author is an appealing protagonist who never takes herself too seriously, nor those around her….By the end of this exquisitely written memoir, Buck emerges triumphant."
— USA Today, 4 Stars

A happy ending? Try this: As she recovers from her addiction to Conde Nast and fashion, Joan Juliet Buck is at last free to be the writer she always wanted to be."
— HEADBUTLER.COM

"A-"
— Entertainment Weekly

"Like a tin of caviar or a strand of heirloom pearls, Joan Juliet Buck's memoir...satisfies the appetite for luxury [and] poignant instrospection."
— O, The Oprah Magazine

"A juicy read that leaves no stone unturned in its critical view of the fashion and publishing worlds..."
— VF.com

Praise for Joan Juliet Buck:

"One of the most compelling personalities in the world of style...a shrewd and longtime chronicler of trends."
— New York Times
Atria Books, 9781476762944, 416pp.
Publication Date: March 7, 2017
About the Author
Joan Juliet Buck is an American novelist, critic, essayist, and editor. She served as editor-in-chief of Vogue Paris from 1994 to 2001. While a contributing editor to Vogue, Vanity Fair, Traveler, and The New Yorker, she wrote two novels, The Only Place to Be and Daughter of the Swan. Currently, she writes for W, Harper's Bazaar, and New York Times T Magazine.
or
Not Currently Available for Direct Purchase