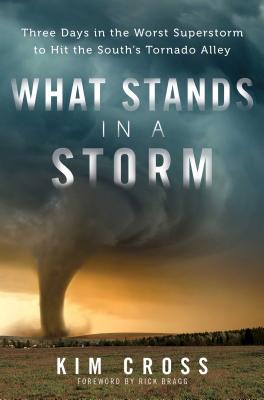 What Stands in a Storm (Hardcover)
Three Days in the Worst Superstorm to Hit the South's Tornado Alley
Atria Books, 9781476763064, 320pp.
Publication Date: March 10, 2015
* Individual store prices may vary.
Description
Immersive reporting and dramatic storytelling set you right in the middle of the horrific superstorm of April 2011, a weather event that killed 348 people.

April 27, 2011, marked the climax of a superstorm that saw a record 358 tornadoes rip through twenty-one states in three days, seven hours, and eighteen minutes. It was the deadliest day of the biggest tornado outbreak in recorded history, which saw 348 people killed, entire neighborhoods erased, and $11 billion in damage. The biggest of the tornadoes left scars across the land so wide they could be seen from space. But from the terrible destruction emerged everyday heroes, neighbors and strangers who rescued each other from hell on earth.

With powerful emotion and gripping detail, Cross weaves together the heart-wrenching stories of several characters—including three college students, a celebrity weatherman, and a team of hard-hit rescuers—to create a nail-biting chronicle in the Tornado Alley of America. No, it's not Oklahoma or Kansas; it's Alabama, where there are more tornado fatalities than anywhere in the US, where the trees and hills obscure the storms until they're bearing down upon you. For some, it's a story of survival, and for others it's the story of their last hours.

Cross's immersive reporting and dramatic storytelling sets you right in the middle of the very worst hit areas of Alabama, where thousands of ordinary people witnessed the sky falling around them. Yet from the disaster comes a redemptive message that's just as real: In times of trouble, the things that tear our world apart also reveal what holds us together.
About the Author
Kim Cross is an editor-at-large for Southern Living and a feature writer who has received awards from the Society of Professional Journalists, the Society of American Travel Writers, and the Media Industry Newsletter. Her writing has appeared in Outside, Cooking Light, Bicycling, Runner's World, The Tampa Bay Times, The Birmingham News, The Anniston Star, USA TODAY, The New Orleans Times-Picayune, and CNN.com. She lives in Alabama.
Praise For What Stands in a Storm: Three Days in the Worst Superstorm to Hit the South's Tornado Alley…
"The writerly brilliance—the terse dark poetry—of this debut book explodes from every page. Yet Kim Cross is too much of a writer to let mere masterful writing suffice. She has enlisted her sentences in the service of her tremendous reportorial mission: to recover and make sense of the thousands of fragmentary incidents, images, voices, and glimpses of human character ennobled by loss and imminent death—the sum and substance of the most catastrophic mass-tornado attack in recorded American history. This young writer has done the impossible: she has out-written apocalypse. A new star has appeared in our literary sky."
— Ron Powers, Pulitzer Prize-winning journalist and co-author of Flags of Our Fathers

"Turn off your cellphone. Call in sick. Tell your family whatever you need to tell them, because you're going to have to have eight hours of uninterrupted time once you begin Kim Cross's book. Her verbs pulsate, her narrative web sucks you in. Mostly, Cross makes you care about the people in What Stands in a Storm, their quirks and aspirations. You won't look at a coiling sky the same way after reading this powerhouse debut."
— Beth Macy, New York Times-bestselling author of Factory Man

"A splendid reporter, and even better writer, Kim Cross has taken a catastrophic 'act of God' that seemed to beggar description as well as explanation and rendered it as shimmering molecules of feeling and meaning. An outstanding debut."
— Diane McWhorter, author of the Pulitzer Prize-winning Carry Me Home

"Disaster has a soul, and it is deeply, desperately, bravely human. What Stands in a Storm is the human spirit. Kim Cross has brought the real people behind the headlines vividly to life in these stirring pages. She is an amazing writer, a great reporter with a novelist's gifts for character and scene."
— Lee Smith, author of Guests on Earth

"Cross takes us up close to a force of nature with a poetic, soul-searing narrative that keeps you turning page after page. She shows the resilience of people who time after devastating time learn about survival as well as death. Perhaps the most important lesson of all is that we can turn bad things into something positive. This book is one of the good things."
— Charlayne Hunter-Gault

"Amid so much terror and pain and death, there is an overflowing of life here, gathered together in a blessing of uncommon decency and indelible beauty. If you want to know what shape your heart's in, read this book and learn, through Kim Cross's extraordinary reportage and artistry, that stories are as much a gift as life itself. Stories, in fact, are our afterlife."
— Bob Shacochis, author of The Woman Who Lost Her Soul

"Whether you live in tornado country of not, everyone should read this book! Kim Cross goes behind the newsreels and shows us the devastating impact that one group of superstorms had on the people of Alabama in April of 2011 and what happened long after the newsreels stopped and moved on to cover another story. Heartbreaking and heroic."
— Fannie Flagg, author of Fried Green Tomatoes at the Whistlestop Cafe

"What Stands in a Storm" is a dramatic and carefully reconstructed account of nature's unexpected and explosive power and the strength of humans to bond together in its destructive wake."
— Peter Stark, author of Astoria and The Last Empty Places

"With exhaustive, on-the-ground reporting, spellbinding prose and voices of the living and the dead recounting every haunting moment of the storm's three-day reign of terror, Kim Cross has produced a spine-chilling narrative. What Stands in the Storm will tear apart, forever, our complacent sense of security when we look at a dark sky overhead."
— George Getschow, writer-in-residence

"Armchair storm chasers will find much to savor in this grippingly detailed, real-time chronicle of nature gone awry."

"A powerful book, unforgettable in its recreation of a horror that swallowed entire communities. Kim Cross brings to life the soul-searing experience of people standing prostrate as a monstrous storm tears their lives to shreds. But there joy in this horror. She shows us how ordinary people in the worst-hit areas discovered what they and their communities were made of as the sky fell around them."
— Winston Groom, author of Forrest Gump

"Gripping chronicle...Detail-oriented reporting anchors a novelist's flair for drama. Horrifying depictions of the monster storms...make other accounts...tame by comparison."

"A searing testament not only to the raw ferocity ofnature's destructive power, but also to the no less awesome power of humanbeings—and human narrative—to transcend destruction and to emerge, on its farside, shattered yet strangely complete. Kim Cross is gifted, whirlwind of awriter who weaves coherence, meaning, and yes, even beauty from chaos."
— Kevin Fedarko, author of The Emerald Mile

"In total effect, the book resembles not only the best recent models of storm reporting, but a nearly 70-year-old masterpiece that covered an entirely different sort of disaster: John Hersey's Hiroshima."

"Stories of those caught in tornado outbreak churn with power... Powerful new book recreates a three-day nightmare... At the core of What Stands in a Storm are the people, brave and noble in unimaginable situations, eager to help in the post-storm war zone, aching with loss when the depths of destruction are finally measured."

"What Stands in a Storm has every chance of being a best-seller. Cross's book reminds one of Sebastian Junger's 1997 blockbuster, "The Perfect Storm," in which Junger described to his reader the atmospheric conditions that combined to create the giant nor'easter, and then personalized the meteorology by telling of the fate of the crew of the "Andrea Gail" ... Cross does a splendid job of educating her readers about tornadoes, the sometimes dangerous myths and lifesaving scientific truths, and brings the story home emotionally with a superb job of reporting on individuals caught in climatic catastrophe. In his foreword, Rick Bragg rightly praises Cross' meticulous re-creation 'of the drumbeat of horrors of that terrible day.'"
— Don Noble

"Kim Cross made me cry. Or rather her book did. What Stands in a Storm is subtitled "Three Days in the Worst Superstorm to Hit the South's Tornado Alley," but I read it in hours, gripped from the very beginning… What a powerful and poignant book."
— Nancy Pate

"Kim Cross could teach of few novelists about how to tell a gripping, spell-binding, heart-wrenching tale... Painstakingly pieced together from interviews with survivors and meteorologists, news reports, public records, and even social media accounts, Storm is a superlative piece of journalism that also is written in such a masterful way that it rivals high fiction in its use of language, plot and suspense."
— Jim Ewing

"Cross weaves these disparate storylines together, building a tapestry of loss and survival out of the chaos of the storms' coming and going. The narrative remaining is so seamless, it's easy to forget it took her 'more than a year of research and one-hundred-plus hours of interviews with responders, meteorologists, survivors and the families of those who died' to put together."