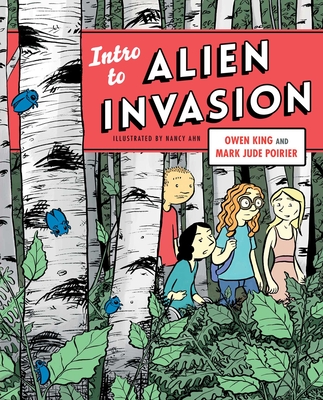 Intro to Alien Invasion
Paperback

* Individual store prices may vary.
Description
In this wildly entertaining collaboration, novelists Owen King and Mark Jude Poirier team up with illustrator Nancy Ahn to present a wickedly funny graphic novel about an alien invasion on a college campus.

Stacey, a brilliant, overachieving astrobiology major at Fenton College, had planned on just another lonely Spring Break on campus. But when a hurricane batters the small college town, downing power lines and knocking out cell phone reception, Stacey and her friends are stranded with no way to communicate with the outside world at the worst possible moment: in the midst of an alien invasion.

As space insects begin to burrow into students and staff—transforming them into slobbering, babbling monsters—a conglomeration of misfits must band together to prevent the infestation from spreading. Meanwhile, Stacey's long-stifled romantic feelings for her friend Charlotte begin to surface, while the professor she had admired and respected becomes the students' worst enemy.

Illustrated with enormous wit and dynamism—mixing classic tropes from science fiction, indie comics, B-movies, and campus culture—this graphic novel is something different, a large-scale action/adventure story as seen from the point-of-view of a contemporary, realistic heroine. The result is a funny and singular work unlike anything else you've ever read.
Praise For Intro to Alien Invasion…
"Fun, fresh, and witty, Intro to Alien Invasion is somehow both a hilarious send-up and a heartfelt, unfettered celebration of the genre."
— Jonathan Tropper, "New York Times" bestselling author of THIS IS WHERE I LEAVE YOU

"Intro to Alien Invasion smuggles a sly, affectionate portrait of today's train wreck college campus culture inside a fast-paced alien invasion saga. I couldn't stop reading it!"
— Patton Oswalt, "New York Times" bestselling author of "Silver Screen Fiend"

"How exactly do you write a hilarious B-movie alien invasion comic that somehow still contains a genuine love story? Put it in the hands of Owen King, Mark Jude Poirier, and Nancy Ahn, that's how. Intro to Alien Invasion is a hell of a lot of fun, plus it's kind of disgusting. Talk about a damn good time."
— Victor Lavalle, author of "Big Machine" and "The Devil in Silver"

"Anchored by a courageous heroine, and bursting with student drama, heart-popping action and gestating monsters, Intro to Alien Invasion is a non-stop thrill. I loved it and devoured it in one sitting."
— Stacey Richter, award-winning author of "Twin Study" and "My Date with Satan"

"Told with energy and a subversive charm somewhere between Edgar Wright and Eli Roth.... An enjoyablyirreverent diversion."
— Kirkus Reviews

"Full of fun, scares and the perfect amount of exploding alien goop."
— Matthew Diffee, "New Yorker" cartoonist and author of "Hand Drawn Jokes for Smart Attractive People"

A highly successful spoof of B-list monster movies, this story ticks all the boxes: horny college students, damsels in distress, megalomaniac evildoers, and aliens that are simultaneously cheesy and convincing...Campy sci-fi fun."
— Booklist

"Fun and acerbic, yet poignant....Intro to Alien Invasion is a graphic novel that deserves a place on any dorm room table."
— Geek Chick Elite

"Aliens crunch and the dialogue pops in this hilarious, hip graphic novel by a troika of pop culture mavens...Destined to be a cult classic at a campus near you."
— Chronogram.com

"[A] hilarious send-up of college life."
— New York Post

"A fun romp."
— Phoenix New Times

"Genuinely funny."
— Critical Blast

"Very funny...will appeal to a lot people, like fans of "The Simpsons" and "Adventure Time."
— Comics Grinder

"A rollicking read."
— NPR.org

"Hilarious."
— USA Today
Scribner, 9781476763408, 224pp.
Publication Date: September 15, 2015
About the Author
Owen King is the author of the novel Double Feature and We're All in This Together: A Novella and Stories. He is the coauthor of Sleeping Beauties and Intro to Alien Invasion and the coeditor of Who Can Save Us Now? Brand-New Superheroes and Their Amazing (Short) Stories. He lives in Upstate New York with his wife, the writer Kelly Braffet, and their daughter.

Mark Jude Poirier is the author of two novels and two story collections. In 2014, IFC released Hateship Loveship, which he adapted from an Alice Munro story. He holds a Briggs-Copeland lectureship in the creative writing faculty at Harvard.

Nancy Ahn studied painting and writing at Bennington College. She lives in Brooklyn and wants to meet your dog.