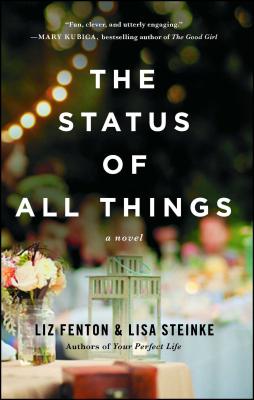 The Status of All Things
A Novel
Paperback

* Individual store prices may vary.
Other Editions of This Title:
Digital Audiobook (7/6/2015)
Digital Audiobook (7/6/2015)
MP3 CD (7/7/2015)
Compact Disc (7/7/2015)
Description
What would you do if you could literally rewrite your fate—on Facebook? This heartwarming and hilarious new novel from the authors of Your Perfect Life follows a woman who discovers she can change her life through online status updates.

Kate is a thirty-five-year-old woman who is obsessed with social media. So when her fiancé, Max, breaks things off at their rehearsal dinner—to be with Kate's close friend and coworker, no less—she goes straight to Facebook to share it with the world. But something's changed. Suddenly, Kate's real life starts to mirror whatever she writes in her Facebook status. With all the power at her fingertips, and heartbroken and confused over why Max left her, Kate goes back in time to rewrite their history.

Kate's two best friends, Jules and Liam, are the only ones who know the truth. In order to convince them she's really time traveled, Kate offers to use her Facebook status to help improve their lives. But her attempts to help them don't go exactly as planned, and every effort to get Max back seems to only backfire, causing Kate to wonder if it's really possible to change her fate.

In The Status of All Things, Liz Fenton and Lisa Steinke combine the humor and heart of Sarah Pekkanen and Jennifer Weiner while exploring the pitfalls of posting your entire life on the Internet. They raise the questions: What if you could create your picture-perfect life? Would you be happy? Would you still be you? For anyone who's ever attempted—or failed—to be their perfect self online, this is a story of wisdom and wit that will leave you with new appreciation for the true status of your life.
Praise For The Status of All Things: A Novel…
"Change your Facebook status, change reality? This book will be a like."
— Cosmopolitan

"Another page turner from Liz Fenton and Lisa Steinke, who are best friends in real life (and not just on Facebook)."
— PopSugar


"Pop culture references and a healthy sprinkling of magical realism combine to make The Status of All Things a timely reminder that all is not what it seems. With a sparkling narrative that will have you turning pages at a breakneck speed, this is women's fiction at its finest."

— Tracey Garvis Graves

"I raced through The Status of All Things at a breakneck pace. A perfect blend of what-if and what-should-be, Fenton and Steinke have found a rhythm together that works. They bring that little touch of magic we could all use in our own lives to the page with vibrancy and wit."
— Catherine McKenzie

"Written with heart and keen insight into the influences of social media, The Status of All Things tells the tale of one woman's quest to change the past. The story gives us magic, a touch of whimsy, and a reality that's hard to shake. Smart and true with a pitch-perfect ending, it will leave readers feeling satisfied and also asking 'what if?'"
— Michelle Gable

"You will fly through this book...!"
— Miami Living Magazine

"A new twist on modern day women's fiction…the integration of magical elements works surprisingly well in this witty story that is much more than charming romance. A fun and fast read for fans of Meg Cabot and Jennifer Weiner."

— Library Journal

"With their razor sharp wit and astute social commentary, Liz Fenton and Lisa Steinke—two of women's fiction's brightest stars—tackle the question: Would you be truly happy if you could rewrite your own fate via Facebook? And the answer is definitely not what you expect."
— Emily Liebert

"What a treat! The Status of All Things is a fun, clever and utterly engaging story of love, loss, the power of destiny and the importance of friends. A thoroughly enjoyable read. I loved everything about it, from beginning to end."
— Mary Kubica

Praise for Your Perfect Life:
"I loved Your Perfect Life from the very first line (which will go down in history as the funniest, bravest first line ever). Hilarious, honest and truly touching, Liz Fenton and Lisa Steinke are two important new voices in women's fiction who write about life in such a real, relatable way."
— Sarah Jio

"Your Perfect Life has all of the ingredients that I love in a book—relatable characters who make me laugh out loud, a delicious, page-turning premise, and sweet and surprising insights about the perfect life may be the one you've already got."
— Jen Lancaster

"Sassy, heartfelt, and smart, Your Perfect Life is a clever take on switched identities that will make you think hard about the choices you've made in your life and what matters most to us all in the end."
— Amy Hatvany

"For every woman who's ever wondered about the path not taken, Fenton and Steinke mine—with tremendous humor and insight—the mixed blessing of unexpected second chances."
— Emma McLaughlin and Nicola Kraus

"Liz Fenton and Lisa Steinke blend their voices seamlessly and hilariously and remind us that even though the grass often looks greener under our friends' lives, nobody gets happily ever unless they go after it. Your Perfect Life is clever, quirky, fresh, and ultimately, empowering!"
— Claire Cook

"Liz and Lisa's voices are warm and comforting, like a relaxed chat with great friends while wearing cozy PJ's and sipping wine. I highly recommend Your Perfect Life!"
— Beth Harbison

"Your Perfect Life puts a fresh twist on a 'Freaky Friday'-scenario: What if you switched bodies with your best friend, and got the life you'd always secretly coveted? I adore Liz Fenton and Lisa Steinke's witty, winning style and gobbled up their debut novel."
— Sarah Pekkanen
Washington Square Press, 9781476763415, 304pp.
Publication Date: June 2, 2015
About the Author
Liz Fenton and Lisa Steinke have been best friends for twenty-five years and survived high school and college together. Liz lives in San Diego with her husband and two children. Lisa, a former talk show producer, now lives in Chicago with her husband, daughter, and two bonus children.