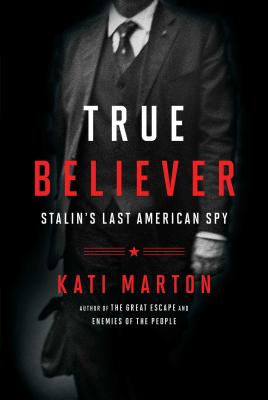 True Believer
Stalin's Last American Spy
Hardcover

* Individual store prices may vary.
Other Editions of This Title:
Digital Audiobook (9/5/2016)
Paperback (9/19/2017)
Description
"Relevant...fascinating...vividly reconstructed." —The New York Times Book Review

"Riveting reading...a mesmerizing look at Cold War espionage." —USA TODAY

This astonishing real-life spy thriller, filled with danger, misplaced loyalties, betrayal, treachery, and pure evil, with a plot twist worthy of John le Carré, is relevant today as a tale of fanaticism and the lengths it takes us to.

True Believer reveals the life of Noel Field, an American who betrayed his country and crushed his family. Field, once a well-meaning and privileged American, spied for Stalin during the 1930s and '40s. Then, a pawn in Stalin's sinister master strategy, Field was kidnapped and tortured by the KGB and forced to testify against his own Communist comrades.

How does an Ivy League-educated, US State Department employee, deeply rooted in American culture and history, become a hardcore Stalinist? The 1930s, when Noel Field joined the secret underground of the International Communist Movement, were a time of national collapse: ten million Americans unemployed, rampant racism, retreat from the world just as fascism was gaining ground, and Washington—pre FDR—parched of fresh ideas. Communism promised the righting of social and political wrongs and many in Field's generation were seduced by its siren song. Few, however, went as far as Noel Field in betraying their own country.

With a reporter's eye for detail, and a historian's grasp of the cataclysmic events of the twentieth century, Kati Marton captures Field's riveting quest for a life of meaning that went horribly wrong. True Believer is supported by unprecedented access to Field family correspondence, Soviet Secret Police records, and reporting on key players from Alger Hiss, CIA Director Allen Dulles, and World War II spy master, "Wild Bill" Donovan—to the most sinister of all: Josef Stalin. A story of another time, this is a tale relevant for all times.
Praise For True Believer: Stalin's Last American Spy…
"Relevant . . . fascinating . . . As vividly reconstructed by Marton, Noel Field's life is a window on the delusion and narcissism that fuel the self-radicalized of any era."
— The New York Times Book Review

"Riveting reading . . . True Believer is a mesmerizing look at Cold War espionage and a chilling reminder of the destructive power of fanaticism."
— USA Today

"Marton tells the incredible true story of Field's fanaticism with communism and Stalinism. Marton's own parents were the only Western journalists to ever interview Field and his wife, Herta Field. . . . The conspiracy, subterfuge, and cataclysmic destruction of Field's family and friends are all addressed in this well-researched book."
— Library Journal

"This is more than just a spy story of white hats versus black hats. Kati Marton has written a gripping but nuanced account of the fanaticism and betrayal by one of the most notorious American traitors in Cold War history."
— Amanda Foreman, author of A World on Fire

"A riveting account of how fanaticism arises, who's vulnerable to it, and why. A rich portrait of a lost era, with fascinating implications for our own."
— Cass R. Sunstein, Robert Walmsley University Professor, Harvard University, and author of Going to Extremes

"At a time when violent extremism and fanaticism seem automatically to have an Islamic prefix, True Believer reminds us of equally brutal causes that swept up deluded young men and women, shattered families and destroyed lives. Kati Marton gives us a gripping story with a timely moral."
— Anne-Marie Slaughter, President and CEO, New America, author of Unfinished Business: Women Men Work Family

"In the name of justice and socialist revolution, Noel Field lost his own humanity. His story is a chilling piece of history but also a timeless moral lesson about how unmoored idealism can abet murderous evil. Kati Marton tells it all powerfully, with sensitivity to the psychology as well as the politics of a ruined life."
— Sean Wilentz, author of The Politicians and the Egalitarians

"In this real-life thriller, Kati Marton brings a lost chapter of the Cold War back to vivid life. In telling the story of Noel Field, Marton—a distinguished chronicler of the vicissitudes of the 20th century, particularly in Europe—draws on a cast of characters ranging from Alger Hiss to Josef Stalin. This is a terrific piece of history."
— Jon Meacham, author of Destiny and Power and Thomas Jefferson

"Noel Field is one of the most fascinating spies produced by the Cold War. He twisted his soul trying to do good in the world. Marton's beautiful storytelling reminds us of the America that spawned traitors. If you can understand Field, you can understand America. A one of a kind book."
— Joe Weisberg, creator and executive producer of The Americans

"Marton tells Field's story beautifully, reminding readers of the potential horrors of well-meaning but unquestioning idealism."
— Publishers Weekly (starred review)

"A true story of intrigue, treachery, murder, torture, fascism, and an unshakable faith in the ideals of Communism. . . . exciting to read, a fresh take on espionage activities from a critical period of history."
— Washington Independent Review of Books

"[Noel Field's] sordid story is grippingly related by Kati Marton, whose parents, Hungarian journalists, covered various show trials that resulted in Field and other "traitors to the cause" being jailed. She also gained access to Field family papers and those of persons brought down with him."
— The Washington Times

"Fascinating"
— The Washington Free Beacon

"True Believer is both thorough and engaging…. Every generation has its share of such fanatics, secure in their belief that they are doing good even as they leave chaos and destruction in their wake. This portrait of a monster is an important lesson of what communism wrought."
— The Weekly Standard

"Marton, author of Enemies of the People, builds a detailed narrative with twists and turns galore....poignant and almost defies belief."
— Newsday

"Riveting page-turner"
— The National Review

"Fascinating and stirringly relevant...remarkable."
— Guardian US

"Kati Marton richly documents the story of the Swiss-born, Harvard-educated Noel Field....[Marton] builds a detailed narrative with twists and turns galore."
— Daily Gazette
Simon & Schuster, 9781476763767, 304pp.
Publication Date: September 6, 2016
About the Author
Kati Marton is the author of True Believer: Stalin's American Spy; Enemies of the People: My Family's Journey to America, a National Book Critics Circle Award finalist; The Great Escape: Nine Jews Who Fled Hitler and Changed the World; Hidden Power: Presidential Marriages That Shaped Our History; Wallenberg; The Polk Conspiracy; and A Death in Jerusalem. She is an award-winning former NPR and ABC News correspondent. She lives in New York City.
or
Not Currently Available for Direct Purchase