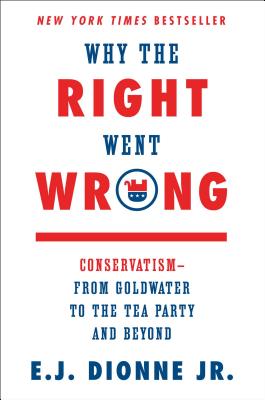 Why the Right Went Wrong
Conservatism--From Goldwater to the Tea Party and Beyond
Hardcover

* Individual store prices may vary.
Other Editions of This Title:
Paperback (9/6/2016)
MP3 CD (2/29/2016)
Compact Disc (2/29/2016)
Compact Disc (2/29/2016)
Description
"Dionne's expertise is evident in this finely crafted and convincing work." —The Los Angeles Times

From one of our most engaging political reporters and the author of Why Americans Hate Politics; the story of conservatism from the Goldwater 1960s to the present day Tea Party that has resulted in broken promises and an ideological purity that drives moderate Republicans away.

Why the Right Went Wrong offers a historical view of the right since the 1960s. Its core contention is that American conservatism and the Republican Party took a wrong turn when they adopted Barry Goldwater's worldview during and after the 1964 campaign. The radicalism of today's conservatism is not the product of the Tea Party, Washington Post columnist E.J. Dionne writes. The Tea Partiers are the true heirs to Goldwater ideology. The purity movement did more than drive moderates out of the Republican Party—it beat back alternative definitions of conservatism.

Since 1968, no conservative administration—not Nixon not Reagan not two Bushes—could live up to the rhetoric rooted in the Goldwater movement that began to reshape American politics fifty years ago. The collapse of the Nixon presidency led to the rise of Ronald Reagan, the defeat of George H.W. Bush, to Newt Gingrich's revolution. Bush initially undertook a partial modernization, preaching "compassionate conservatism" and a "Fourth Way" to Clinton's "Third Way." Conservatives quickly defined him as an advocate of "big government" and not conservative enough on spending, immigration, education, and Medicare. A return to the true faith was the only prescription on order. The result was the Tea Party, which Dionne says, was as much a reaction to Bush as to Obama.

The state of the Republican party, controlled by the strictest base, is diminished, Dionne writes. It has become white and older in a country that is no longer that. It needs to come back to life for its own health and that of the country's, and in Why the Right Went Wrong, he explains how.
Praise For Why the Right Went Wrong: Conservatism--From Goldwater to the Tea Party and Beyond…
"Dionne's expertise is evident in this finely crafted and convincing work. . . . Lucid, pragmatic and buttressed by a parade of supporting facts."
— The Los Angeles Times

"Talk about perfect timing. . . . an account of the GOP's internal tension. . . . Why the Right Went Wrong is particularly interesting in its assessment of the past decade. . . . The book is up to the moment."
— The Christian Science Monitor

"[Dionne] correctly identifies why we [Republicans] either fail to win power or, when we do, do not use that power to transform America. Conservatives who want to win and effectively use political power, then, must come to grips with the central question Dionne poses: does the intellectual legacy of Barry Goldwater prevent conservatism from being an effective governing movement? . . . Dionne's book for all its faults clarifies the challenge we face and poses the ultimate questions: If not us, who? If not now, when?"
— Henry Olsen

"Dependably intelligent . . . Dionne argues, with ample illustration decade by decade, that this right-wing populism would remain a Republican orthodoxy, latent or salient, throughout the time he covers. . . . Dionne comes closer to the facts with his tale of a ground bass of growls against moderation, swelling at times or diminishing, but continuously present."
— Garry Wills

"Dionne is right that America needs an intelligent conservative party, and the insights of this decent man who, as an award-winning journalist for The Washington Post, has unique access to politicians make wonderful reading."
— The Washington Post

"Substantial . . . Dionne demonstrates his thesis with a wealth of historical examples. . . . notably fair-minded."
— The New York Times Book Review

"So what went wrong? The questions itself might seem provocative. The fact that Dionne is an avowedly liberal columnist for The Washington Post would redouble suspicion. Yet it would be hard to find a more sympathetic non-conservative to attempt an answer. He has covered every election since the 1970s and is liked and trusted by Republicans and Democrats….[Dionne's] is a tempered book—suffused with the kind of moderation and balance he believes Republicans desperately need."
— Financial Times

"Dionne masterfully traces the influence of movement conservatism and its offshoots on the party of Lincoln, revealing how—despite all assertions of noble principles by conservative thinkers—the party's rightward turn first led to the election of candidates bent on undermining party leaders."
— The American Prospect

"Why the Right Went Wrong is an essential read for those looking to understand how the conservative movement has become what it is today."
— Huffington Post

"In Why the Right Went Wrong, one of America's most respected journalists has produced a thoroughly documented, eminently readable account of GOP conservatism up to the party's newest turn."
— National Catholic Reporter

"To understand why the current conservative crackup so confounds and confuses the Republican establishment, you have to recognize that the party is facing two separate revolts taking place simultaneously: one led by Ted Cruz, the other by Donald Trump. The first is well described by E.J. Dionne in his important new book, Why the Right Went Wrong."
— Fareed Zakaria

"Remarkably evenhanded . . . a policy wonk's delight . . . He demonstrates a delightful, low-key wit . . . Dionne's book expertly delineates where we are and how we got there."
— Chicago Tribune

"A terrific analysis . . . I recommend it without hesitation . . . very interesting and important."
— Tom Hall, WYPR Radio, Baltimore

"EJ Dionne Jr.'s fine new book . . . Dionne urges Republicans to embrace once more the imported traditions of Burke and the adaptive optimism of Eisenhower. But today, as Donald Trump celebrates victories in Michigan and Mississippi, this doesn't seem immediately probable."
— The Evening Standard (London)

"[A] masterly account"
— Martin Kettle

"Masterful . . . In meticulous and chronological detail, Dionne recounts how since the 1964 landslide defeat of Barry Goldwater, the Republicans' ultra-conservative nominee for president, GOP candidates and even presidents have promised radical conservative action they could never deliver. . . . what makes his 468-page book so compelling and necessary for an understanding of today's GOP goes beyond the overarching analysis to the research, reporting and clarity with which he tracks the party's path. And this Republican presidential cycle, featuring the phenomenal popularity and resiliency of Donald Trump, makes Dionne appear especially prescient."
— Capital Times

"His recounting in his new book of the last half-century of conservatism in America demonstrates expertise in public policy and polls, intimate familiarity with campaigns and the media, and an abiding interest in political ideas. He also stands out among his progressive peers for his willingness to at least acknowledge the value of 'conservatism's skepticism about the grand plans we progressives sometimes offer, its respect for traditional institutions, and its skepticism of those who believe that politics can remold human nature.'"
— Real Clear Politics

"[Dionne] remains one of the best political writers in America. . . . The book makes the case that contemporary conservativism must reverse course on a calamitous step that conservativism took 50 years ago. There are 16 persuasive chapters, brimming with good analysis in Why The Right Went Wrong, that argue to this point. This is a book with great insight, attention to detail and beautifully researched."
— The Buffalo News

"An important pundit delivers a thorough exegesis of the stubborn recurrence of the fringe right wing in response to a sense of 'lost social status in a rapidly changing country.'"
— Kirkus Reviews

Praise for E.J. Dionne Jr.:

"The best new liberal rethinkers, like Dionne . . . are fair and sophisticated about American conservatism."
— David Brooks

on WHY AMERICANS HATE POLITICS :


"A book destined to become a classic in American political history."
— Newsday

"Perfectly timed for the 2016 contest . . . an excellent primer. . . . a tempered book — suffused with the kind of moderation and balance [Dionne] believes Republicans desperately need."
— Financial Times

"Required reading for political insiders, for academics, for think-tank thinkers, for editorial writers."
— St. Louis Post Dispatch

"An astute, entertaining analysis of the reasons that contemporary political debates and divisions misrepresent American issues."
— The New Yorker

on THEY ONLY LOOK DEAD


"A luminously intelligent and quietly passionate polemic that deserves to alter the terms of American political debate."
— New York Times Book Review

"A sweeping, sophisticated and shrewd analysis of the radicalization of the Republican Party from the defeat of Goldwater to the rise of the Tea Party and the bizarre twists and turns of the GOP's presidential contest in the fall of 2015."
— Pittsburgh Post-Gazzette

on OUR DIVIDED POLITICAL HEART

"A richly researched tour of history . . . strong enough, serious enough and grounded enough to challenge those on the other side of the divide."
— The Washington Post

on SOULED OUT

"A deeply personal and searchingly intelligent reflection on the noble history, recent travails and likely prospects of American liberalism."
— The New York Times
Simon & Schuster, 9781476763798, 544pp.
Publication Date: January 19, 2016
About the Author
E.J. Dionne, Jr., is a bestselling author, a syndicated columnist who appears twice weekly in The Washington Post and nearly a hundred other newspapers, a senior fellow at the Brookings Institution, and a professor at Georgetown University. His Why Americans Hate Politics won a Los Angeles Times Book Prize and was a nominee for the National Book Award. He is a regular commentator on National Public Radio and on other radio and television programs. He lives in Washington, DC, with his wife, Mary Boyle, and their three children.
or
Not Currently Available for Direct Purchase