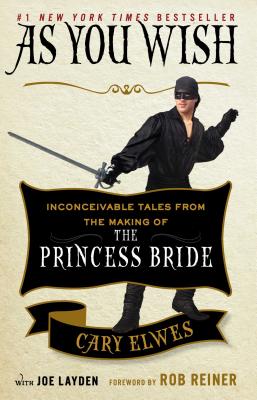 As You Wish
Inconceivable Tales from the Making of The Princess Bride
Paperback

* Individual store prices may vary.
Other Editions of This Title:
Digital Audiobook (10/13/2014)
CD-Audio (10/14/2014)
Description
From actor Cary Elwes, who played the iconic role of Westley in The Princess Bride, comes the New York Times bestselling account of the making of the cult classic film filled with never-before-told stories, exclusive photographs, and interviews with costars Robin Wright, Wallace Shawn, Billy Crystal, Christopher Guest, and Mandy Patinkin, as well as author and screenwriter William Goldman, producer Norman Lear, and director Rob Reiner.

The Princess Bride has been a family favorite for close to three decades. Ranked by the American Film Institute as one of the top 100 Greatest Love Stories and by the Writers Guild of America as one of the top 100 screenplays of all time, The Princess Bride will continue to resonate with audiences for years to come.

Cary Elwes was inspired to share his memories and give fans an unprecedented look into the creation of the film while participating in the twenty-fifth anniversary cast reunion. In As You Wish he has created an enchanting experience; in addition to never-before seen photos and interviews with his fellow cast mates, there are plenty of set secrets and backstage stories.

With a foreword by Rob Reiner and a limited edition original poster by acclaimed artist Shepard Fairey, As You Wish is a must-have for all fans of this beloved film.
Praise For As You Wish: Inconceivable Tales from the Making of The Princess Bride…
"Fans who want to maintain a fairy-tale image of how 'The Princess Bride' was made will find that his gentle recollections serve this goal perfectly. Watch the movie all over again with newfound knowledge."
— New York Times Book Review

"An engaging memoir that charts the film's tumultuous journey from a project stuck in development hell, to charmed production, to flop, to classic."
— Chicago Tribune

"Cary Elwes' book recounts the wacky antics of Billy Crystal, Rob Reiner, and others behind 'The Princess Bride'… . [A] delightful remembrance of the three months he spent making the unsung movie that went on to become a family classic."
— New York Daily News

"A tender, comical behind-the-scenes look at the 1987 classic."
— US Weekly

"Designed to hit all fan-service sweet spots for folks familiar with the film, as it's stuffed with photos, recollections, and interviews with relevant parties. The book's dust jacket is even a Shepard Fairey print, for crying out loud. I never had a chance."
— The A.V. Club

"Filled with fun tidbits from the cast about making a movie that became an unlikely classic."
— Los Angeles Magazine

"This is an entertaining tale of how 24-year-old Elwes learned how to ride a horse in the Rob Reiner adaptation of William Goldman's screenplay (and original, brilliant book)."
— Flavorwire.com

"[A] fascinating memoir…Cary Elwes has proved that he is as adept with the mighty pen as he is with the powerful sword. …A treasure trove of fascinating behind-the-scenes accounts…As You Wish is thoughtfully and seamlessly compiled."
— New Orleans Living Magazine

"The movie 'The Princess Bride' achieved a certain cinematic magic, which Elwes (Westley) captures in his warm and revealing behind-the-scenes account."
— Publishers Weekly

"Even if you don't have a crush on Cary Elwes, you'll enjoy this vivid behind-the-scenes account of the making of 'The Princess Bride'. His stories, especially those involving Andre the Giant, will leave you in stitches. Robin Wright, Mandy Patinkin, Billy Crystal, and others also recount their experiences. An amusing account of a group of performers who came together to make a heartfelt film that is loved by many."
— Library Journal
Atria Books, 9781476764047, 272pp.
Publication Date: October 4, 2016
About the Author
Cary Elwes is a celebrated English actor who starred in The Princess Bride before moving on to roles in Robin Hood: Men in Tights, Glory, Days of Thunder, Twister, and Saw, among many other acclaimed performances. He will always be indebted to The Princess Bride, he says, for changing his life and giving him a career that has spanned decades. He lives in Hollywood, California, with his family. Find out more about Cary Elwes on Twitter @Cary_Elwes.

Award-winning journalist and bestselling author Joe Layden has written more than thirty books for adults and children, including the critically acclaimed title, The Last Great Fight and the #1 New York Times bestseller The Rock Says. He lives in Saratoga Springs, New York, with his wife, Susan, and their two children.