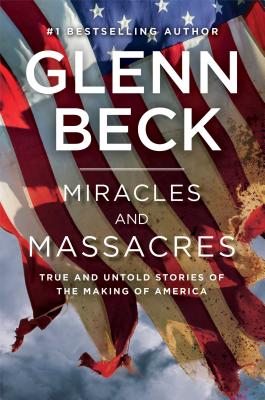 Miracles and Massacres
True and Untold Stories of the Making of America
Hardcover

* Individual store prices may vary.
Other Editions of This Title:
Digital Audiobook (11/18/2013)
Paperback (8/12/2014)
CD-Audio (11/19/2013)
Description
#1 bestselling author Glenn Beck gives us inspiring, courageous, and little-known stories from American history, from the Founders through September 11.

Don't miss the huge bestseller Miracles and Massacres, history as you've never heard it told and incredible events that you never knew existed.

HISTORY AS IT'S SUPPOSED TO BE TOLD: TRUE AND THRILLING.

Thomas Edison was a bad guy—and bad guys usually lose in the end.

World War II radio host "Tokyo Rose" was branded as a traitor by the US government and served time in prison. In reality, she was a hero to many.

Twenty US soldiers received medals of honor at the Battle of Wounded Knee—yet this wasn't a battle at all; it was a massacre.

Paul Revere's midnight ride was nothing compared to the ride made by a guy named Jack whom you've probably never heard of.

History is about so much more than memorizing facts. It is, as more than half of the word suggests, about the story. And, told in the right way, it is the greatest one ever written: Good and evil, triumph and tragedy, despicable acts of barbarism and courageous acts of heroism.

The things you've never learned about our past will shock you. The reason why gun control is so important to government elites can be found in a story about Athens that no one dares teach. Not the city in ancient Greece, but the one in 1946 Tennessee. The power of an individual who trusts his gut can be found in the story of the man who stopped the twentieth hijacker from being part of 9/11. And a lesson on what happens when an all-powerful president is in need of positive headlines is revealed in a story about eight saboteurs who invaded America during World War II.

If the truth shall set you free, then your freedom begins on page one of this book. By the end, your understanding of the lies and half-truths you've been taught may change, but your perception of who we are as Americans and where our country is headed definitely will.
Praise For Miracles and Massacres: True and Untold Stories of the Making of America…
"To me, the best history books bring the past to life. And the very best ones appreciate the true complexity of that process. Miracles & Massacres does exactly that. Glenn gives you triumphs AND tragedy. Heroes AND villains. And along the way, he'll inspire you and bring tears to your eyes. Get ready, you're about to see why history is the greatest story of all."
— BRAD MELTZER,  bestselling author of The Fifth Assassin and History Decoded

"Glenn's story-telling in Miracles and Massacres is moving, provocative, and masterful. Each chapter reads like a non-fiction novelette. The book shows how the good, the bad, and the ugly of American history should be narrated: vividly and unflinchingly. These true-life tales also serve as stand-alone study guides -- inviting further discussion, debate, and action. It's perfect for homeschoolers, classical educators, and history buffs of all ages. I can guarantee you two things: 1) Once you pick up Miracles and Massacres, you won't be able to put down; and 2) You won't be able to read it just once!"


— MICHELLE MALKIN, bestselling author of Culture of Corruption
Threshold Editions, 9781476764740, 304pp.
Publication Date: November 19, 2013
About the Author
Glenn Beck, the nationally syndicated radio host and founder of TheBlaze television network, has written thirteen #1 bestselling books and is one of the few authors in history to have had #1 national bestsellers in the fiction, nonfiction, self-help, and children's picture book genres. His recent fiction works include the thrillers Agenda 21, The Overton Window, and its sequel, The Eye of Moloch; his many nonfiction titles include Conform, Miracles and Massacres, Control, and Being George Washington. For more information about Glenn Beck, his books, and TheBlaze television network, visit GlennBeck.com and TheBlaze.com.
or
Not Currently Available for Direct Purchase