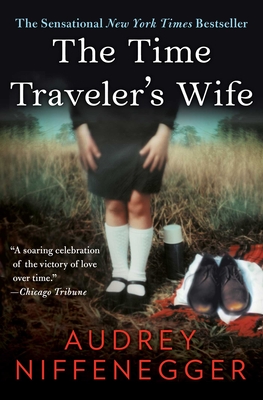 The Time Traveler's Wife
Paperback

* Individual store prices may vary.
Other Editions of This Title:
Digital Audiobook (4/27/2015)
Paperback, Large Print (9/1/2009)
Hardcover (11/22/2010)
Hardcover (9/1/2003)
Prebound (7/1/2004)
CD-Audio (5/13/2008)
Hardcover (9/1/2003)
Paperback (7/5/2004)
CD-Audio (4/20/2011)
Paperback (3/1/2010)
Hardcover (10/1/2005)
Paperback (9/1/2005)
CD-Audio (1/23/2006)
Pre-Recorded Audio Player (5/1/2006)
CD-Audio (4/28/2015)
Paperback (8/1/2011)
Description
The beloved, mega bestselling first novel from Audrey Niffenegger, "a soaring celebration of the victory of love over time" (Chicago Tribune).

A MOST UNTRADITIONAL LOVE STORY, this is the celebrated tale of Henry DeTamble, a dashing, adventuresome librarian who inadvertently travels through time, and Clare Abshire, an artist whose life takes a natural sequential course. Henry and Clare's passionate affair endures across a sea of time and captures them in an impossibly romantic trap that tests the strength of fate and basks in the bonds of love.
Praise For The Time Traveler's Wife…
"[A] time-travel love story par excellence…It will be a hard-hearted reader who is not moved to tears by the dangers Henry and Clare ultimately face, and by the author's soaring celebration of the victory of love over time."
— Chicago Tribune

"As Clare and Henry take turns telling the story, revealing the depth of their bond despite everything a sci-fi premise becomes a powerfully original love story."
— People (Top Ten Books of the Year)

"Spirited…Niffenegger plays ingeniously in her temporal hall of mirrors."
— The New Yorker

"Readers will recall in Love in the Time of Cholera a love that works despite all travails and impediments…Marquez, like Niffenegger here, means to tell us that for such exalted love there is no tragedy and never any constraints."
— The Washington Post Book World

"Niffenegger's inventive and poignant writing is well worth a trip."
— Entertainment Weekly

"Moving, razor-edged prose…Niffenegger writes with the unflinching yet detached clarity of a war correspondent standing at the sidelines of an unfolding battle."
— USA Today

"A singular tale of a charming man with a funny condition (he slips in and out of time) and the woman who loves him. The setting, the city of Chicago, is luminous."
— San Francisco Chronicle

"As if love weren't complicated enough, debut author Niffenegger dreams up a happy couple plagued by a peculiar problem…It is to Niffenegger's credit that she avoids cheap shots and develops her innovative concept in some exceptionally strange and witty ways."
— Time Out New York

"Contrary to appearances, The Time Traveler's Wife is a very old love story: wonky, sexy, incredible…charmingly, inventively retold and none the worse for it."
— The Times (London)

"An extraordinary novel with a unique premise…Niffenegger compassionately develops her unique characters, with the grace to accept their difficult circumstances, as well as their blessings. Don't be deceived by the easy charm of Henry and Clare's relationship; they will draw you into their small circle, make you complicit with their dreams and disappointments. They will break your heart."
— Curledup.com

"A soaring love story illuminated by dozens of finely observed details and scenes, and one that skates nimbly around a huge conundrum at the heart of the book…Leaves a reader with a sense of life's riches and strangeness."
— Publishers Weekly (starred review)

"Intricately woven…Exceedingly literate."
— Kirkus Reviews

"Compelling…Skillfully written with a blend of distinct characters and heartfelt emotions that hopscotch through time, begging interpretation on many levels."
— Library Journal (starred review)

"To those who say there are no new love stories, I heartily recommend The Time Traveler's Wife, an enchanting novel, beautifully crafted and as dazzlingly imaginative as it is dizzyingly romantic."
— Scott Turow, author of Reversible Errors and Presumed Innocent

"Haunting, original, and so smart it took my breath away…in short, the rare kind of book that I finish and jealously wish that I'd written."
— Jodi Picoult, author of Plain Truth and Second Glance
"The Time Traveler's Wife is a Houdini box of a novel, filled with spring latches and trap doors. Henry and Clare's love affair zigs and zags across decades – at times touching, childish, sexy, tragic but always true. It is an exhilarating ride, and I was grateful to travel along."
— Caroline Preston, author of Lucy Crocker 2.0 and Jackie by Josie

"Audrey Niffenegger imagines this story of an accidental time-traveler and the love of his life with grace and humanity. Fiercely inventive, slyly ambitious, and lovingly told, The Time Traveler's Wife sparkles as it fearlessly explores the delicate interplay of love and time. This novel is a joy."
— Anne Ursu, author of The Disapparition of James and Spilling Clarence
Scribner, 9781476764832, 592pp.
Publication Date: May 6, 2014
About the Author
Audrey Niffenegger is a visual artist and a guide at Highgate Cemetery. In addition to the bestselling novels The Time Traveler's Wife and Her Fearful Symmetry, she is the author of three illustrated novels, The Three Incestuous Sisters, The Adventuress, and The Night Bookmobile, and the editor of Ghostly. She lives in Chicago.