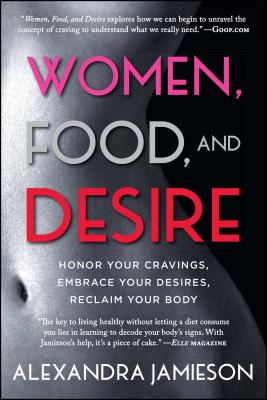 Women, Food, and Desire (Paperback)
Honor Your Cravings, Embrace Your Desires, Reclaim Your Body
Gallery Books, 9781476765068, 256pp.
Publication Date: September 22, 2015
Other Editions of This Title:
Digital Audiobook (1/5/2015)
Hardcover (1/6/2015)
Hardcover, Large Print (4/15/2015)
* Individual store prices may vary.
Description
A holistic health counselor and co-star of the award-winning documentary Super Size Me explores women's cravings--for food, sleep, sex, movement, companionship, inspiration--and teaches them to listen to their bodies for a healthier, fuller life. "Desire is the basis for new conception, new growth, new life. We're born with it. And often talked out of it. When you tap it, you have access to your inner guidance. Women, Food, and Desire will show you how. Sweet." (Dr. Christiane Northrup, author of New York Times bestsellers Women's Bodies, Women's Wisdom and The Wisdom Of Menopause) Transformational health expert Alexandra Jamieson is a woman on a mission. Having overcome her own food addictions and the weight and health problems these habits caused, she learned something life-altering: when we listen to our cravings, they will lead us onto the path of deep healing. Since her own personal breakthrough more than a decade ago, Alexandra has dedicated her life to helping other women learn to listen to the wisdom of their cravings and make food their greatest ally as they step into their lives with authentic passion. With love, deep compassion, and fearless honesty, she calls upon all of us to boldly use food as a tool to cleanse ourselves of the nutritional, emotional, physical, and mental blocks that limit our ability to live full, meaningful, and joyful lives. In this book she'll show us how our cravings are the gatekeepers of our deepest longings and desires; how transforming habits set us free; and how detoxing unclutters our bodies and minds so we may engage in our lives with more power and authenticity. She also helps us embrace our sexual selves, trust our instincts, and form a nurturing community that is essential for a vital, healthy, hot life.