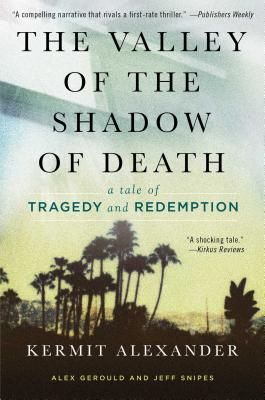 The Valley of the Shadow of Death
A Tale of Tragedy and Redemption
Hardcover

* Individual store prices may vary.
Other Editions of This Title:
Paperback (10/25/2016)
Description
"A must-read for anyone concerned with how drugs and gangs ravaged Los Angeles." —Los Angeles Times

"A deeply moving story of one man's pain and hard-won peace...This is a special book." —Booklist (starred review)

In this heart-wrenching memoir, former NFL star Kermit Alexander tells the devastating true story of the horrific massacre of his family and his subsequent years of despair, followed by a spiritual renewal that showed him a way to rebuild his family and reclaim his life.

On the morning of August 31, 1984, in the South Central section of Los Angeles, three armed men broke into a house, brutally murdering two women and two young boys.

The victims were Ebora Alexander, Dietra Alexander, Damani Garner, and Damon Bonner—the mother, sister, and nephews of retired All-Pro cornerback for the San Francisco 49ers Kermit Alexander.

In his own words, Kermit Alexander finally shares the full story of what happened to his loved ones and the aftermath of that tragic day. He recounts the hours leading up to the massacre, and how afterward he lost himself in the LA underworld, pleading, bribing, and threatening in a search for answers. He describes his journey through the "wilderness" of despair—the years of isolation living out of his car, broke, depressed, and sick. We also learn about his coming-of-age in 1950s LA, the following decade he spent in the NFL, the events leading up to that fateful August day, and finally the shocking truth behind the murders. Kermit opens up about his darkest hours, but also what it took to turn his life around, rebuild his family, and ultimately find peace.

Ominous and intense, powerful and uplifting, tragic and triumphant, The Valley of the Shadow of Death is more than a rendering of one man's adversity; it's testament to the value of family and the resilience of the human spirit in the face of overwhelming loss.
Praise For The Valley of the Shadow of Death: A Tale of Tragedy and Redemption…
"A compelling narrative that rivals a first-rate thriller . . . . Relevant, concise histories of L.A. gang warfare and capital punishment add context."

"A shocking tale of a mistaken-identity multiple murder and its aftermath."

"Strength marks the NFL, but it takes a rare kind of power to endure the slaughter of one's family, battle through relentless grief, and then stare deeply enough into the mayhem to write a book tough and moving as this. Mr. Alexander scores where it counts."
— Mara Leveritt, author of Devil's Knot and Dark Spell

"Kermit Alexander has turned unspeakable tragedy into the most speakable memoir possible. His message is a must read. To lose a family is to lose yourself. But to re-discover yourself over the course of decades takes guts, love, sacrifice and trust. Kermit, one of the most honorable men I've ever known, has given us the blueprint of how to overcome."
— Tom Friend, ESPN Senior Writer

"An incredible saga of a former NFL star's journey from unspeakable family tragedy to a family and life renewed. Kermit Alexander's character and values ultimately make this a very inspirational story."
— NFL Commissioner Roger Goodell

"Alexander is a realist, a man with the decency and courage to share wisdom that is sorely needed by a nation."
— Pete Wilson, former Governor of California

"We all have moments in our lives where we need to overcome great adversity and reading Kermit's story shows the depth and courage he explored and conquered. Dealing with this much adversity and climbing so high is to see the glory and capacity of the kind of man Kermit is. I thank God for putting Kermit in my life and Kermit I thank you for sharing your inspiring journey. This is a must read!"
— Ronnie Lott, Pro Football Hall of Fame Defensive Back of the San Francisco 49ers

"This superbly written book took me on a 30 year journey I never expected."
— Greg Suhr, Chief of Police, San Francisco, CA

"Kermit's personal story is one of strength, endurance and redemption. I believe that telling his story will inspire others toward overcoming their own obstacles along life's path of truly knowing and loving themselves, and their Creator."
— Rusty Bailey, Mayor of Riverside, CA
Atria Books, 9781476765761, 368pp.
Publication Date: September 22, 2015
About the Author
Kermit Alexander is a retired NFL All-Pro cornerback who played for the San Francisco 49ers, Los Angeles Rams, and the Philadelphia Eagles. He is also the past president of the NFL Players Association. He lives in California with his family.

Alex Gerould is a professor of criminal justice at San Francisco State University. He has over twenty years of experience in the field, and has worked extensively with law enforcement agencies locally and internationally.

Jeff Snipes is a professor of criminal justice at San Francisco State University. He has over twenty years of experience in the field, and has worked extensively with law enforcement agencies locally and internationally.
or
Not Currently Available for Direct Purchase