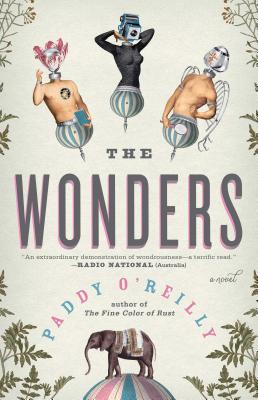 The Wonders
A Novel
Paperback

* Individual store prices may vary.
Description
From the author of the "funny, irreverent, and highly entertaining" (Liane Moriarty, author of The Husband's Secret) Fine Color of Rust comes a brilliant new novel about a misfit trio who become instant international reality stars, probing the nature of celebrity, disability, and the value of human life.

Perhaps every human being was a freak. Hadn't he read somewhere that every person has at least a handful of damaged genes? That all humans embody a myriad of nature's mistakes?

Meet Leon (stage name: Clockwork Man), a nervous, introverted thirty-year-old man with a brass heart; Kathryn (stage name: Lady Lamb), a brash, sexy woman covered almost entirely with black, tightly furled wool; and Christos (stage name: Seraphiel), a vain performance artist who plays a winged god with the help of ceramic implants inserted between his shoulder blades. These are The Wonders, three extraordinary people whose medical treatments have tested the limits of the human body. When they are brought together by a canny entrepreneur, their glamorous, genre-defying, twenty-first-century circus act becomes a global sensation. But what makes them objects of fascination also places them in danger.

With warmth, humor, and astonishing insight, Paddy O'Reilly has written a wonderful novel that will appeal to fans of Sara Gruen's Ape House, Karen Joy Fowler's We Are All Completely Beside Ourselves, and Teddy Wayne's The Love Song of Jonny Valentine—or anyone who's ever questioned the nature of fame, our kinship with the animal kingdom, and the delicate balancing act of life and death.
Praise For The Wonders: A Novel…
Praise for The Wonders:

"In a novel that feels both sharply realistic and wildly, indelibly imaginative, O'Reilly offers a story about the stars of a glamorous freak show that sidesteps any expectations of sentimental quirk with wit and deep feeling…The impossible slides skillfully into the believable here; O'Reilly's delightful novel never shirks its responsibility to emotional truth as it tells a story about being known and being different."
— Kirkus Reviews (starred review)

"Full of the humour and quick wit that attracted readers to O'Reilly's previous novel, The Fine Color of Rust.... The Wonders asks how and why those who differ from the norm are desired or condemned by those who sit comfortably within it. This insight into the private lives of extraordinary people is reminiscent of Sara Gruen's Water for Elephants, and The Wonders has a similarly broad appeal."
— Books + Publishing Reviews (Australia)

"In The Wonders, O'Reilly uses difference to not only tell a great story, but to show us things that are so familiar we forget to notice them."
— Kill Your Darlings Journal (Australia)

"The Wonders is a surreal and exotic thing, a finely wrought interrogation of the ways we navigate being human and the presumptuous shambles we make of much of it.... Here, then, are basic human sensations played out against a backdrop of over-the-top circumstance and performance, and O'Reilly controls their intricacies with the sureness of a tightrope walker."
— Weekend Australian

"O'Reilly makes Leon, the man with the metal heart, her primary focus. How he came by that heart and his need to reconnect with its maker add a level of mystery and intrigue to this thoroughly unpredictable modern day fantasy.... [She] has a light touch when it comes to irony, allowing her to explore themes of difference, disability and celebrity in a way that is both playful and profound before changing gear and ramping up the psychological tension.... O'Reilly pulls off a unique brand of magical realism with flourish."
— Booktopia (Australia)

"An extraordinary demonstration of wondrousness – a terrific read."
— Radio National (Australia)

"Bold and highly imaginative."
— Australian Book Review

"O'Reilly's skills are deployed in making the bizarre come to seem ordinary, and then jolting us into re-examining such a perception."
— The Age (Australia)

"It's a brilliant conceit, dystopian but not unimaginable, and the ideas Paddy O'Reilly explores are vital: the value of life, the nature of ability and disability, and the crushing importance of celebrity in our culture."
— The Saturday Paper (Australia)

"A whimsical story ofcelebrity, trauma and self-acceptance"
— Shelf Awareness

"The Wonders captures the fickleness and dark side of fame…[forming] a story that makes a reader question their own heroes' longevity, and what fate awaits us all. The Wonders makes you wonder not at the miraculous characters, but at the ephemeral fame of our heroes."
— The Daily (University of Washington)

Praise for The Fine Color of Rust:

"Delightful, laugh-out-loud funny, and unforgettable. I love this book."
— Toni Jordan, author of Addition

"I adored The Fine Color of Rust. It's funny, irreverent and highly entertaining. I was sad to finish it, and I still miss Loretta!"
— Liane Moriarty, author of The Husband's Secret

"Loretta is one entertaining, compelling narrator, funny and self-deprecating, with an acerbic wit and occasional histrionics that belie a deep love of the people around her, whether she likes them or not.... A truly moving surprise at the end reveals O'Reilly's point all along, that there is value in things that don't cost anything and true beauty in a pile of junk."
— Booklist (starred review)

"O'Reilly's tale of a backwater Australian town seen through the eyes of Loretta Boskovic, who struggles to make ends meet and do good for her community, is hilarious and tenderly moving."
— Publishers Weekly (starred review)

"Paddy O'Reilly is a significant talent all readers should be aware of."
— The Australian

"The Fine Color of Rust is a story about love: where we look for it, what we do with it, and how it shows up in the most unexpected packages."
— Big Issue (Australia)

"...[a] deliciously humorous, rural anti-romance."
— Booktopia (Australia)
Washington Square Press, 9781476766362, 288pp.
Publication Date: February 10, 2015
About the Author
Paddy O'Reilly is the award-winning author of the novels The Factory and The Fine Color of Rust, as well as the short story collection The End of the World. She lives in Victoria, Australia. Find out more at PaddyOReilly.com.au or follow her on Twitter @Paddy_OReilly.
or
Not Currently Available for Direct Purchase