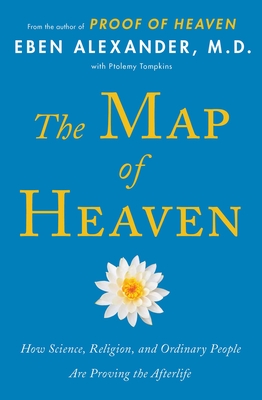 The Map of Heaven
How Science, Religion, and Ordinary People Are Proving the Afterlife
Paperback

* Individual store prices may vary.
Other Editions of This Title:
Digital Audiobook (10/6/2014)
Hardcover (10/7/2014)
CD-Audio (10/7/2014)
Description
The author of the #1 New York Times bestseller Proof of Heaven teams up with the sages of times past, modern scientists, and with ordinary people who have had profound spiritual experiences to show the reality of heaven and our true identities as spiritual beings.

When Dr. Eben Alexander told the story of his near-death experience and his vivid journey to the other side, many readers wrote to say it resonated with them profoundly. Thanks to them, Dr. Alexander realized that sharing his story allowed people to rediscover what so many in ancient times knew: there is more to life, and to the universe, than this single earthly life.

Dr. Alexander and his coauthor Ptolemy Tompkins were surprised to see how often his readers' visions of the afterlife synced up with each other and with those of the world's spiritual leaders, as well as its philosophers and scientists. In The Map of Heaven, he shares the stories people have told him and shows how they are echoed both in the world's faiths and in its latest scientific insights. It turns out there is much agreement, across time and terrain, about the journey of the soul and its survival beyond death.

In this book, Dr. Alexander makes the case for heaven as a genuine place, showing how we have forgotten, but are now at last remembering, who we really are and what our destiny truly is. The Map of Heaven takes the broad view to reveal how modern science is on the verge of the most profound revolution in recorded history—all around the phenomenon of consciousness itself!
Praise For The Map of Heaven: How Science, Religion, and Ordinary People Are Proving the Afterlife…
"Eben Alexander proves to us once again that experience is the greatest source of knowledge. Relying on his own near death experience and those of others who have written to him, Eben takes us from the wisdom of the Greek philosophers through to modern medical researchers to give us an overview of that mysterious place known as the afterlife. . . . A courageous book that tackles the question of life after life with science, philosophy and the heart rending experiences of many who have gone to the other side."
— Raymond A. Moody, Jr., M.D., Ph.D., author of Life After Life

"Neurosurgeon Eben Alexander generated enormous interest in what happens when we die in Proof of Heaven, his many-splendored account of his near-death experience. In The Map of Heaven, he expands his account by relating similar experiences of others, and by a rich analysis of supporting views from scientists and philosophers. The evidence Alexander offers suggests that the day is approaching when it will be considered irrational and unscientific not to believe in the survival of consciousness following physical death. This day cannot come too soon, for it will restore meaning and hope in a world besotted with the morbid fictions of materialism. Thank you, Dr. Alexander."
— Larry Dossey, MD, author of One Mind: How Our Individual Mind Is Part of a Greater Consciousness and Why It Matters

"Dr. Alexander does it again. He brings his unique and considerable scientific knowledge and illuminates the world of spirituality. He creates a geography of science and faith that shows us a larger world filled with hope and dignity."
— Allan J. Hamiton, MD, FACS, author of The Scalpel & The Soul and Zen Mind, Zen Horse

"In this important book, Eben Alexander describes how his own life-changing NDE was a personal example of what scientists, spiritual leaders and ordinary people throughout the world have been reporting, especially in the last two decades. This book makes it wonderfully clear how these mind-blowing experiences can have an enormous positive impact on the way we live our lives."
— Pim van Lommel, M.D., author of Consciousness beyond Life

"Moving beyond Proof of Heaven, Eben Alexander here draws upon his own coma experience in combination with related accounts from a wide variety of sources to advance an ecumenical vision, which I strongly support, of recovering humanity's lost wisdom through creative synthesis of the best in contemporary science and religion."
— Edward F. Kelly, PhD, author of Irreducible Mind and Beyond Physicalism
Simon & Schuster, 9781476766409, 208pp.
Publication Date: October 7, 2014
About the Author
Eben Alexander, MD, has been an academic neurosurgeon for the last twenty-five years, including fifteen years at the Brigham & Women's and the Children's Hospitals and Harvard Medical School in Boston. He is the author of Proof of Heaven and The Map of Heaven. Visit him at EbenAlexander.com.

Ptolemy Tompkins is a former editor at Guideposts Magazine and the author of seven books. His writing has been featured in Beliefnet, Harper's, The New York Times, the Los Angeles Times, The Best Spiritual Writing, and The Best American Spiritual Writing.