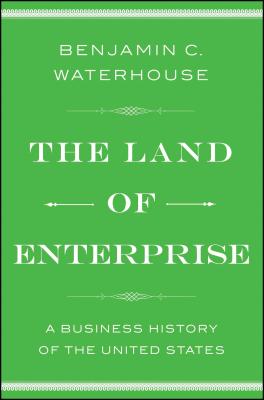 The Land of Enterprise
A Business History of the United States
Paperback

* Individual store prices may vary.
Other Editions of This Title:
Digital Audiobook (4/10/2017)
Hardcover (4/11/2017)
Description
This groundbreaking account of the development of American business from the colonial period to the present explains that the history of the United States can best be understood not as a search for freedom—but as a search for wealth and prosperity.

The Land of Enterprise charts the development of American business from the colonial period to the present. It explores the nation's evolving economic, social, and political landscape by examining how different types of enterprising activities rose and fell, how new labor and production technologies supplanted old ones—and at what costs—and how Americans of all stripes responded to the tumultuous world of business. In particular, historian Benjamin Waterhouse highlights the changes in business practices, the development of different industries and sectors, and the complex relationship between business and national politics.

From executives and bankers to farmers and sailors, from union leaders to politicians to slaves, business history is American history, and Waterhouse pays tribute to the unnamed millions who traded their labor (sometimes by choice, often not) or decided what products to consume (sometimes informed, often not). Their story includes those who fought against what they saw as an oppressive system of exploitation as well as those who defended free markets from any outside intervention. The Land of Enterprise is not only a comprehensive look into our past achievements, but offers clues as to how to confront the challenges of today's world: globalization, income inequality, and technological change.
Praise For The Land of Enterprise: A Business History of the United States…
"Teachers trying to meet the growing demand for sweeping surveys on American business history have long lamented the lack of a readable overview on the subject. Benjamin Waterhouse's book more than fits the bill. This fast-paced, lively and concise narrative is the perfect place to begin for anyone interested in the history of capitalism in the United States."—Stephen Mihm, author of Crisis Economics and A Nation of Counterfeiters

"Waterhouse's new history is my go-to book for understanding the long sweep of American business. Want to understand how we got from the Massachusetts Bay Company to Wal-Mart? This is your book."—Louis Hyman, author of Debtor Nation and American Capitalism

"An invaluable overview of the central role business has played in American history, from conquest and enslavement to the financial crisis of 2008. Waterhouse adroitly synthesizes the most significant scholarship in business history into a brisk, engaging narrative. He's an admirably clear guide both to the shifting organization of American enterprise and to the legal, financial, and managerial ecologies that have enabled it."—Bethany E. Moreton, author of To Serve God and Wal-Mart: The Making of Christian Free Enterprise


Simon & Schuster, 9781476766652, 288pp.
Publication Date: April 24, 2018
About the Author
Benjamin C. Waterhouse is a historian of American politics, business, and capitalism. Waterhouse graduated from Princeton University and received his PhD in history from Harvard University. He is currently an associate professor and Grauer Scholar at the University of North Carolina. He lives in Chapel Hill with his wife Daniela and their two children. He is the author of Lobbying America: The Politics of Business from Nixon to NAFTA and The Land of Enterprise: A Business History of the United States.