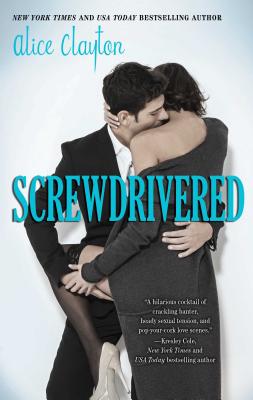 Screwdrivered (The Cocktail Series #2)
Paperback

* Individual store prices may vary.
Other Editions of This Title:
Digital Audiobook (9/1/2014)
Description
Readers back for a third round of the bestselling Cocktail series will enjoy a madcap romantic comedy about bodice ripping and chest heaving, fiery passion and love everlasting. Plus a dash of paperwork filing and horseshi—wait, what?

By day, Viv Franklin is a tough-as-nails software engineer who designs programs and loves hospital corners. By night, Vivian's a secret romance-novel junkie who longs for a knight in shining armor, or a cowboy on a wild stallion, or a strapping firefighter to sweep her off her feet. And she gets to wear the bodice—don't forget the bodice.

When a phone call brings news that she's inherited a beautiful old home in Mendocino, California from a long-forgotten aunt, she moves her entire life across the country to embark on what she sees as a great, romance-novel-worthy adventure. But romance novels always have a twist, don't they?

There's a cowboy, one that ignites her loins. Because Cowboy Hank is totally loin-ignition worthy. But there's also a librarian, Clark Barrow. And he calls her Vivian. Can tweed jackets and elbow patches compete with chaps and spurs? You bet your sweet cow pie.

In Screwdrivered, Alice Clayton pits Superman against Clark in a hilarious and hot battle that delights a swooning Viv/Vivian. Also within this book, an answer to the question of the ages: Why ride a cowboy when you can ride a librarian?
Praise For Screwdrivered (The Cocktail Series #2)…
"We want to bask in this afterglow: giddy, blushing, and utterly in love with this book".
— Christina Lauren, NYT/USA Today & International Bestselling authors of The Beautiful Bastard Series, on RUSTY NAILED

"Wallbanger is an instant classic, with plenty of laugh out loud moments and riveting characters-highly recommended."
— NYT and USA Today best-selling author Jennifer Probst

"Fun and frothy, with a bawdy undercurrent and a hero guaranteed to make your knees wobbly, WALLBANGER will keep you up all night. In a good way. Hilarious, romantic, and compulsively readable, WALLBANGER delivers the perfect blend of sex, romance, and baked goods."
— Ruthie Knox, best-selling author of About Last Night

Caroline Reynolds. Finally a woman who knows her way around a man and a KitchenAid Mixer. She had us at zucchini bread!
— Curvy Girl Guide on Wallbanger

A funny, madcap, smexy romantic contemporary that had me reading straight through. Fast pacing and a smooth flowing storyline will keep you in stitches as Wallbanger and Nightie Girl begin the battle of the headboard. Filled with plenty of humor, sarcasm, engaging dialogue, and well developed characters-I didn't stop laughing till the end.
— Smexy Books on Wallbanger
Gallery Books, 9781476766720, 256pp.
Publication Date: September 2, 2014
About the Author
Alice Clayton worked in the cosmetics industry for over a decade before picking up a pen (read: laptop). She enjoys gardening but not weeding, baking but not cleaning up, and finally convinced her long-time boyfriend to marry her. And she finally got her Bernese Mountain Dog.