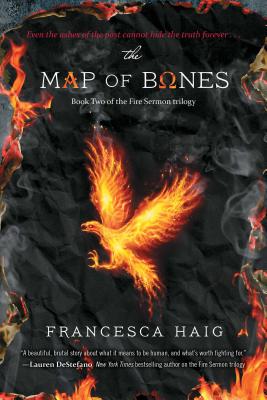 The Map of Bones (The Fire Sermon)
Paperback

* Individual store prices may vary.
Other Editions of This Title:
Hardcover (5/3/2016)
MP3 CD (9/27/2016)
Description
Book Two in the critically acclaimed Fire Sermon post-apocalyptic trilogy, "with its well-built world, vivid characters and suspenseful plot" (Kirkus Reviews, starred review), is an exciting and thought-provoking continuation of this epic social commentary written by award-winning poet Francesca Haig.

Four hundred years after a nuclear apocalypse, all humans are born in pairs: the Alphas, and their deformed Omega twins, who are ruthlessly oppressed. But despite their claims of superiority, the Alphas cannot escape one harsh fact: Whenever one twin dies, so does the other.

Following the events of The Fire Sermon, the Omega resistance has been brutally attacked, its members dead or in hiding. The Alpha Council's plan for permanently containing the Omegas has begun. But all is not entirely lost: the Council's seer, the Confessor, is dead, killed by her twin's sacrifice.

Cass is left haunted by visions of the past, while her brother Zach's cruelty and obsession push her to the edge and threaten to destroy everything she hopes for. As the country moves closer to all-out civil war, Cass will learn that to change the future she will need to uncover the past. But nothing can prepare her for what she discovers: a deeply buried secret that raises the stakes higher than ever before.
Praise For The Map of Bones (The Fire Sermon)…
"A beautiful, brutal story about what it means to be human, and what's worth fighting for."
— Lauren DeStefano, New York Times Bestselling author of The Chemical Garden trilogy

"A powerful post-apocalyptic story with unusual emotional depth and clear, often beautiful language, this is one genre fans won't want to miss."
— Kirkus Reviews, starred review of THE MAP OF BONES

"Thrilling, emotionally engaging, booby-trapped with some incredibly inventive twists and turns and some excellent action sequences and, from beginning to end, it is intensely moving…Francesca Haig's writing is exquisite, loaded with turns of phrase and lines of dialogue that are so perfect and so beautifully realized, it reminds us how powerful the written word can be…You have got to read these books, they are storytelling at its absolute finest."
— Starburst Magazine on THE MAP OF BONES

"With captivating storytelling and an equally captivating heroine in Cass, Haig's latest in her Fire Sermon trilogy truly excites. An intricately crafted plot with intense conflict and distinctive, flawed characters make this story hard to put down."
— RT Book Reviews on THE MAP OF BONES

"[An] atmospheric tale featuring unpleasant decisions and morally compromised characters."
— Publishers Weekly on THE MAP OF BONES

"Incredibly unique premise… a juicy tale in which to spend a couple of hours…looking forward to book 3."
— Geeks of Doom on THE MAP OF BONES

"Readers who enjoy the Hunger Games series, Pierce Brown's Red Rising, and like-minded dystopian literature will enjoy this first title in a trilogy."
— Library Journal, starred review of THE FIRE SERMON

"As an award-winning poet, Haig's prose is gorgeous and engaging, particularly when she describes the desolate landscape, now peppered with ruins from the Before. Fans of dystopias will appreciate this adventure filled yet character-focused tale that offers hope and explores (in a refreshingly nuanced way) the moral complexities involved in defeating an oppressive and backward government structure."
— Booklist, starred review of THE FIRE SERMON

"Debut novelist Haig builds a richly textured world and creates characters who immediately feel real. The suspense of the plot, driven by the fear and anger underlying this unbreakable bond between twins, never flags. Haig's experience as a poet shows in her writing, which is clear, forceful and laced with bright threads of beauty. With its well-built world, vivid characters and suspenseful plot, this book, the first in a planned trilogy, is poised to become the next must-read hit."
— Kirkus, starred review of THE FIRE SERMON

"Set in a vividly realised world of elite Alphas and their 'weaker' Omega twins, [this series] holds a mirror up to our obsession with perfection."
— Guardian

"A potential heir to the Hunger Games."
— Vulture

"The Fire Sermon is an undeniable page-turner... At the heart of Haig's worldbuilding is a precious love story between Cass and a fellow Omega on the run named Kip. The writing surrounding these two beautifully demonstrates Haig's craft. If you thought Peeta Mellark had a big fan club, just you wait. There will be copious amounts of kissy fan art and montage videos. You can count on it."
— Bookshots (LitReactor)

"Fantasy and sci-fi fans finally have a book they can bond over. This is going to be a series to watch."
— RT Book Reviews

"The best post-apocalyptic novel I've read in years – it's dark, deep, and doesn't conform to the dystopian tropes we've all come to expect."
— The Mary Sue on THE FIRE SERMON

"A beautifully written tale of a dark and often unforgiving post-apocalyptic world . . . a spectacular introduction to the series."
— Fresh Fiction on THE FIRE SERMON

"Words like 'masterpiece' and 'instant classic' are cliché, but in the case of Francesca Haig's astounding The Fire Sermon, they're the only words to use. It's a breath-taking, passionate, absolutely sensational work of imagination, perfectly structured, beautifully written, populated with fabulous characters and packed with intrigue, violence, compassion and underlined by a very important human message that is always present without ever becoming homily. The Fire Sermon is completely without equal – it leaves Hunger Games, Divergence, Twilight blah blah-yawn twitching in the dust."
— Starburst Magazine

"A hell of a ride. I would recommend it to anyone I can, regardless of age."
— James Oswald, author of Natural Causes
Gallery Books, 9781476767222, 416pp.
Publication Date: December 6, 2016
About the Author
Francesca Haig grew up in Tasmania, gained her PhD from the University of Melbourne, and was a senior lecturer at the University of Chester. Her poetry has been published in literary journals and anthologies in both Australia and England, and her first collection of poetry, Bodies of Water, was published in 2006. In 2010 she was awarded a Hawthornden Fellowship. She is also the author of the Fire Sermon series, which includesThe Fire Sermon, The Map of Bones, and The Forever Ship. She lives in London with her husband and son. Visit FrancescaHaig.com and follow her on Twitter @FrancescaHaig.
or
Not Currently Available for Direct Purchase