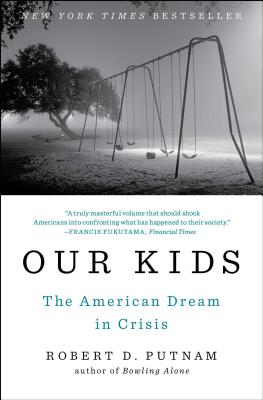 Our Kids
The American Dream in Crisis
Paperback

* Individual store prices may vary.
Other Editions of This Title:
Digital Audiobook (3/9/2015)
Hardcover (3/10/2015)
Description
A New York Times bestseller and "a passionate, urgent" (The New Yorker) examination of the growing inequality gap from the bestselling author of Bowling Alone: why fewer Americans today have the opportunity for upward mobility.

Central to the very idea of America is the principle that we are a nation of opportunity. But over the last quarter century we have seen a disturbing "opportunity gap" emerge. We Americans have always believed that those who have talent and try hard will succeed, but this central tenet of the American Dream seems no longer true or at the least, much less true than it was.

In Our Kids, Robert Putnam offers a personal and authoritative look at this new American crisis, beginning with the example of his high school class of 1959 in Port Clinton, Ohio. The vast majority of those students went on to lives better than those of their parents. But their children and grandchildren have faced diminishing prospects. Putnam tells the tale of lessening opportunity through poignant life stories of rich, middle class, and poor kids from cities and suburbs across the country, brilliantly blended with the latest social-science research.

"A truly masterful volume" (Financial Times), Our Kids provides a disturbing account of the American dream that is "thoughtful and persuasive" (The Economist). Our Kids offers a rare combination of individual testimony and rigorous evidence: "No one can finish this book and feel complacent about equal opportunity" (The New York Times Book Review).
Praise For Our Kids: The American Dream in Crisis…
"There are just a few essential reads if you want to understand the American social and political landscape today. Robert Putnam's Our Kids . . . deserve[s] to be on that list."
— David Brooks

"Robert D. Putnam is technically a Harvard social scientist, but a better description might be poet laureate of civil society. In Our Kids, Putnam brings his talent for launching a high-level discussion to a timely topic. . . . No one can finish Our Kids and feel complacent about equal opportunity."
— Jason DeParle

"Putman's new book is an eye-opener. When serious political candidates maintain that there are no classes in America, Putnam shows us the reality — and it is anything but reassuring."
— Alan Wolfe

"Much of the current debate about inequality has a strangely abstract quality, focusing on the excesses of the 1 per cent without really coming to terms with what has happened to the American middle class over the past two generations. Into this void steps the political scientist Robert Putnam, with a truly masterful volume that should shock Americans into confronting what has happened to their society."
— Francis Fukuyama

"Robert D. Putnam vividly captures a dynamic change in American society—the widening class-based opportunity gap among young people. The diminishing life chances of lower-class families and the expanding resources of the upper-class are contrasted in sharp relief in Our Kids, which also includes compelling suggestions of what we as a nation should do about this trend. Putnam's new book is a must-read for all Americans concerned about the future of our children."
— William Julius Wilson, Lewis P. and Linda L. Geyser University Professor, Harvard University

"Robert Putnam weaves together scholarship and storytelling to paint a truly troubling picture of our country and its future. Our Kids makes it absolutely clear that we need to put aside our political bickering and fix how this country provides opportunity for its millions of poor children. This book should be required reading for every policymaker in America, if not every American."
— Geoffrey Canada, President, the Harlem Children's Zone

"In yet another path-breaking book about America's changing social landscape, Robert Putnam investigates how growing income gaps have shaped our children so differently. His conclusion is chilling: social mobility 'seems poised to plunge in the years ahead, shattering the American dream.' Must reading from the White House to your house."
— David Gergen

"With clarity and compassion, Robert Putnam tells the story of the great social issue of our time: the growing gap between the lives of rich and poor children, and the diminishing prospects of children born into disadvantage. A profoundly important book and a powerful reminder that we can and must do better."
— Paul Tough, author of How Children Succeed: Grit, Curiosity, and the Hidden Power of Character

"The book's chief and authoritative contribution is its careful presentation for a popular audience of important work on the erosion, in the past half century, of so many forms of social, economic, and political support for families, schools, and communities. . . . Our Kids is a passionate, urgent book."
— Jill Lepore

"A thoughtful and persuasive book."
— The Economist

"Highly readable. . . . An insightful book that paints a disturbing picture of the collapse of the working class and the growth of an upper class that seems to be largely unaware of the other's precarious existence."
— Kirkus Reviews (starred review)
Simon & Schuster, 9781476769905, 400pp.
Publication Date: March 29, 2016
About the Author
Robert D. Putnam is the Malkin Research Professor of Public Policy at Harvard University and a former Dean of the John F. Kennedy School of Government. Nationally honored as a leading humanist and a renowned scientist, he has written fourteen books, including the bestselling Our Kids and Bowling Alone, and has consulted for the last four US Presidents. In 2012, President Obama awarded him the National Humanities Medal, the nation's highest honor for contributions to the humanities. His research program, the Saguaro Seminar, is dedicated to fostering civic engagement in America. Visit RobertDPutnam.com.