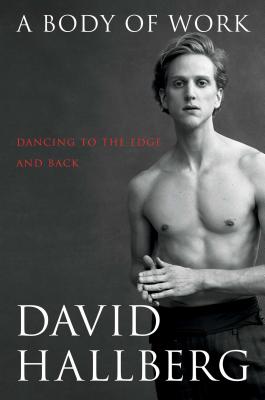 A Body of Work (Hardcover)
Dancing to the Edge and Back
Atria Books, 9781476771151, 432pp.
Publication Date: November 7, 2017
* Individual store prices may vary.
Description
David Hallberg, the first American to join the famed Bolshoi Ballet as a principal dancer and the dazzling artist The New Yorker described as "the most exciting male dancer in the western world," presents a look at his artistic life—up to the moment he returns to the stage after a devastating injury that almost cost him his career.

Beginning with his real-life Billy Elliot childhood—an all-American story marred by intense bullying—and culminating in his hard-won comeback, Hallberg's "moving and intelligent" (Daniel Mendelsohn) memoir dives deep into life as an artist as he wrestles with ego, pushes the limits of his body, and searches for ecstatic perfection and fulfillment as one of the world's most acclaimed ballet dancers.

Rich in detail ballet fans will adore, Hallberg presents an "unsparing…inside look" (The New York Times) and also reflects on universal and relatable themes like inspiration, self-doubt, and perfectionism as he takes readers into daily class, rigorous rehearsals, and triumphant performances, searching for new interpretations of ballet's greatest roles. He reveals the loneliness he felt as a teenager leaving America to join the Paris Opera Ballet School, the ambition he had to tame as a new member of American Ballet Theatre, and the reasons behind his headline-grabbing decision to be the first American to join the top rank of Bolshoi Ballet, tendered by the Artistic Director who would later be the victim of a vicious acid attack. Then, as Hallberg performed throughout the world at the peak of his abilities, he suffered a crippling ankle injury and botched surgery leading to an agonizing retreat from ballet and an honest reexamination of his entire life.

Combining his powers of observation and memory with emotional honesty and artistic insight, Hallberg has written a great ballet memoir and an intimate portrait of an artist in all his vulnerability, passion, and wisdom. "Candid and engrossing" (The Washington Post), A Body of Work is a memoir "for everyone with a heart" (DC Metro Theater Arts).
About the Author
David Hallberg is a Principal Dancer with American Ballet Theatre in New York. He was the first American to join the Bolshoi Ballet in Moscow as a Principal Dancer. He continues to dance around the world and is a Resident Guest Artist with The Australian Ballet. He has also started the David Hallberg Scholarship, mentoring young aspiring boys in a career in ballet, and the Innovation Initiative, a platform for emerging choreographers, both at American Ballet Theatre. A Body of Work is his first book.
Praise For A Body of Work: Dancing to the Edge and Back…
"Candid and engrossing...It's about love--crazy, confusing love, an artist's obsessive love for his art."

"Elegant...fascinating...inspiring...Anyone interested in the creative process will appreciate this thoughtful account of the life of an accomplished artist."

"It comes as no surprise that David Hallberg's moving and intelligent memoir should display the extraordinary qualities—of intelligence, elegance, liveliness and, yes, wit—that have marked his extraordinary dancing over the past decade. This tale of an artist's crisis and astonishing recovery eschews any self-pity, instead taking power from the strengths characteristic of the best dancers: resilience, unsentimental self-awareness, and an inextinguishable joy. A wonderful book for balletomanes and everyone else."
— Daniel Mendelsohn

"David demonstrates well the emotional as well as physical demands of dance."
— Twyla Tharp

"Unsparing...an inside look at...the endless hours of rehearsal, the preparation that informs the tiniest of details, the constant traveling, the brief thrill of performance."

"An inspiring story of Hallberg's rise to the pinnacle of his profession and his battle to reclaim his career. A moving…account of every dancer's worst nightmare and the sacrifices required to overcome it."

"Performing as effortlessly on the page as he does on the stage, Hallberg, who returned to ABT in top form this year, writes about the technicalities of his craft with clarity and precision. Readers of every taste will find much to relish in his inspiring book (balletomanes will consume it in a couple of sittings). Should Hallberg choose to take it on when he retires, a new role may await him: writer."

"What makes A Body of Work a must-read is the raw honesty with which Hallberg describes the intense lonliness of a jet-setting career, his oscillation between extreme perfectionism and uninspired listlessness, and his harrowing mindset as he faced, and ultimately overcame, what was nearly a career-ending injury."

"Compelling...for anyone who would like to get to an intimate view of the creative process and the challenges, dedication, and euphoria of being an artist....It's a book for everyone with a heart."

"Well, if you don't tear up when he describes performing again for the first time, then you, my friend, have no heart."

"This book invites readers into the world of ballet and reminds us what it takes to truly live our lives for a love."

"This is a book not simply about ballet. It is about the dedication, physical and emotional toil, devotion to beauty, and extraordinary drudgery that lies behind the production of so much of the art around us. Highly recommended."

"Serious balletomanes will revel in behind-the-scenes dance descriptions. The author's struggle to balance the physical and psychological pressures of a demanding career will resonate with many readers. VERDICT Hallberg's writing, which has the all-or-nothing intensity of his dancing, will find readers among those who appreciate learning more about the lives of dancers, artists, and athletes."

"His candor about being bullied for his sexuality, his loneliness and vulnerability as a performer, his fears about being judged and his need to trust himself more will resonate even with readers who don't know a plié from a barré. Ballet fans, however, will appreciate Hallberg's insider's view of the world stages and companies, his Prince roles and name-dropping of dance greats."