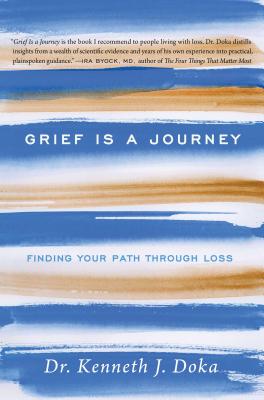 Grief Is a Journey
Finding Your Path Through Loss
Hardcover

* Individual store prices may vary.
Other Editions of This Title:
Paperback (4/18/2017)
Hardcover, Large Print (7/20/2016)
Description
In this groundbreaking book, Dr. Kenneth Doka explores a new, compassionate way to grieve, explaining that grief is not an illness to get over but an individual and ongoing journey.

There is no "one-size-fits-all" way to cope with loss. The vital bonds that we form with those we love in life continue long after death—in very different ways. Grief Is a Journey is the first book to overturn the prevailing, often judgmental, ideas about grief, and replace them with a hopeful, inclusive, personalized, and research-backed approach. New science and studies behind Dr. Doka's teaching upend the dominant but incorrect view that grief proceeds by stages.

In doing so, he helps us realize that our experiences following a death are far more individual and much less predictable than the conventional "five stages" model would have us believe. Common patterns of experiencing and expressing grief still prevail, yet many other life changes accompany a primary loss. For example, the deaths of parents, even for adults, modify family patterns, change relationships, and alter old family rituals.

Unique to this book, Dr. Doka also explains how to cope with disenfranchised grief—the types of loss that are not so readily recognized or supported by society. These include the death of ex-spouses, as well as non-fatal losses such as divorce, the end of a friendship, job loss, or infertility. In addition, Dr. Doka considers losses that might be stigmatized, including death by suicide or from disease or self-destructive behaviors such as smoking or alcoholism.

Since no two people experience grief in the exact same way, Grief Is a Journey offers a variety of self-help strategies for coping with grief. It delineates the many ways we can create personal and private therapeutic rituals throughout our grief journey. This book also offers counsel on when—and where—to seek professional assistance. And finally, Dr. Doka reminds us that, however painful, grief provides opportunities for growth.
Praise For Grief Is a Journey: Finding Your Path Through Loss…
"Grief Is a Journey is more than a collection of wise guidance and advice. Rather, this is a volume of rare sensitivity, penetrating understanding, and profound insights written by a foremost interpreter of grief and loss. It is a must read book for the bereaved and those who counsel them."
— Rabbi Earl A. Grollman, author of Living When A Loved One Dies

"Grief Is a Journey is the book I recommend to people living with loss. Dr. Doka distills insights from a wealth of scientific evidence and years of his own experience into practical, plainspoken guidance. His authoritative voice in chaotic times makes one feel as comfortable as if sitting on a grandfather's knee."
— Ira Byock, MD, director of the Providence Institute for Human Caring; professor, Dartmouth's Geisel School of Medicine; author of Dying Well and The Four Things That Matter Most

"A particularly inspiring book, deeply informative both for those who are actively grieving and those who seek to support them."
— Omega: The Journal of Death and Dying

"If grief is a journey,Ken Doka's gem of a book is both the best GPS helping you locate where you are, as well as a five-star travel guidebook instructing how to navigate your unique trip. Well-written and richly illustrated with examples of normal people contending with all sorts of loss-related issues, the book not only clearly explains the terrain of bereavement, but identifies the vehicles to take you through it and shows you personally how to operate in ways that work best for you. Separating myths from realities, Doka presents information that provides practical guidance that pinpoints ways you can help yourself and others. A must-have resource for any mourner. I highly recommend it."
— Therese A. Rando, Ph.D., BCETS, BCBT, Author, Coping With the Sudden Death of Your Loved One: A Self-Help Handbook for Traumatic Bereavement

"Sensible, helpful, time-tested advice from a wise, compassionate counselor. Dr. Doka provides uniquely useful insights into this universal (yet widely misunderstood) human experience."
— Brendan Reilly, MD
Atria Books, 9781476771489, 304pp.
Publication Date: April 12, 2016
About the Author
Dr. Kenneth J. Doka is a licensed mental health counselor and preeminent expert in grief. He is Professor of Gerontology at the Graduate School of the College of New Rochelle as well as Senior Consultant to the Hospice Foundation of America and an ordained Lutheran minister. Dr. Doka speaks around the world on dying, death, and bereavement, and his work has been featured in national publications and media outlets such as Time, The Wall Street Journal, CNN, and Nightline.
or
Not Currently Available for Direct Purchase