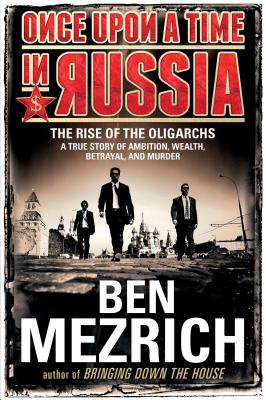 Once Upon a Time in Russia (Hardcover)
The Rise of the Oligarchs—A True Story of Ambition, Wealth, Betrayal, and Murder
Atria Books, 9781476771892, 288pp.
Publication Date: June 2, 2015
Other Editions of This Title:
Digital Audiobook (6/1/2015)
Paperback (6/14/2016)
CD-Audio (6/2/2015)
Hardcover, Large Print (6/17/2015)
* Individual store prices may vary.
Description
One of the Wall Street Journal's Best Business Books of 2015

The bestselling author of Bringing Down the House (sixty-three weeks on the New York Times bestseller list and the basis for the hit movie 21) and The Accidental Billionaires (the basis for the Academy Award–winning film The Social Network) delivers an epic drama of wealth, rivalry, and betrayal among mega-wealthy Russian oligarchs—and its international repercussions.

Once Upon a Time in Russia is the untold true story of the larger-than-life billionaire oligarchs who surfed the waves of privatization to reap riches after the fall of the Soviet regime: "Godfather of the Kremlin" Boris Berezovsky, a former mathematician whose first entrepreneurial venture was running an automobile reselling business, and Roman Abramovich, his dashing young protégé who built a multi-billion-dollar empire of oil and aluminum. Locked in a complex, uniquely Russian partnership, Berezovsky and Abramovich battled their way through the "Wild East" of Russia with Berezovsky acting as the younger man's krysha—literally, his roof, his protector.

Written with the heart-stopping pacing of a thriller—but even more compelling because it is true—this story of amassing obscene wealth and power depicts a rarefied world seldom seen up close. Under Berezovsky's krysha, Abramovich built one of Russia's largest oil companies from the ground up and in exchange made cash deliveries—including 491 million dollars in just one year. But their relationship frayed when Berezovsky attacked President Vladimir Putin in the media—and had to flee to the UK. Abramovich continued to prosper. Dead bodies trailed Berezovsky's footsteps, and threats followed him to London, where an associate of his died painfully and famously of Polonium poisoning. Then Berezovsky himself was later found dead, declared a suicide.

Exclusively sourced, capturing a momentous period in recent world history, Once Upon a Time in Russia is at once personal and political, offering an unprecedented look into the wealth, corruption, and power behind what Graydon Carter called "the story of our age."
About the Author
Ben Mezrich graduated magna cum laude from Harvard. He has published seventeen books, including the New York Times bestsellers The Accidental Billionaires, which was adapted into the Academy Award–winning film The Social Network, and Bringing Down the House, which was the basis for the hit movie 21. He lives in Boston.
Praise For Once Upon a Time in Russia: The Rise of the Oligarchs—A True Story of Ambition, Wealth, Betrayal, and Murder…
"A harrowing and truly Russian tale about the river of greed and corruption that gushed out of post-Communist Russia, carried men to power and opulence, drowned them in murder and betrayal, and led to the rise of Vladimir Putin."
— Lev Golinkin, author of A Backpack, a Bear, and Eight Crates of Vodka
"Mezrich turns his keen journalistic eye to Russia...and...the oligarchs... Mezrich focuses on two such men, a mentor and his young protégé, who accumulated staggering wealth before personal differences tore apart their relationship... Mezrich's ability to tell a true (and well-documented) story in a way that makes it look and feel like the most involving of narratives is nearly unparalleled. He is one of the few writers whose name on a piece of nonfiction guarantees not only quality but also interest, no matter the subject, and this fine book is one more example of just how talented a storyteller he is."
"Mezrich relates the story in the form of a true-life novel. The bestselling author has used the device before, including in
The Accidental Billionaires
, which provided the basis for
The Social Network..
. Interviews, first-person sources, court documents, and newspaper accounts as the basis for his narrative... make the story more accessible."
"With his knack for turning narrative nonfiction into stories worthy of the best thriller fiction, Ben Mezrich is one of our favorite writers."
"Wolf Hall on the Moskva!"
"Assassination plots, intimidation tactics, political maneuvering and money in unfeasibly large quantities… Based on a year of interviews with high-profile sources, it fleshes out almost 20 years of history with journalistic color and anecdotes."


"[A] fascinating and often chilling read."
"Unputdownable."
"Ben Mezrich knows how to find a good story. In his latest, the Boston-based writer has a corker."
"The real-life tale of ... Putin's ascendency to power. After the fall of communism in Russia, a small new class developed, that of the oligarchs... the ambitious and opportunistic businessmen who led the wild and lawless economic conversion from state-run industries to market capitalism.... Mezrich's well-written account of this era of Russian history illuminates the tumultuous conversion of communism to capitalism."
Mezrich's most incredible story yet. A true-life thriller... a fascinating read.
"Compelling..."
"Undeniably readable."