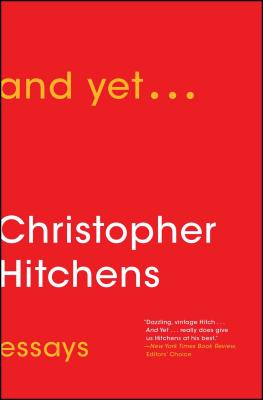 And Yet...
Essays
Paperback

* Individual store prices may vary.
Other Editions of This Title:
Digital Audiobook (11/23/2015)
Hardcover (11/24/2015)
Description
The seminal, uncollected essays—lauded as "dazzling" (The New York Times Book Review)—by the late Christopher Hitchens, author of the #1 New York Times bestseller God Is Not Great, showcase the notorious contrarian's genius for rhetoric and his sharp rebukes to tyrants and the ill-informed everywhere.

For more than forty years, Christopher Hitchens delivered essays to numerous publications on both sides of the Atlantic that were astonishingly wide-ranging and provocative. His death in December 2011 from esophageal cancer prematurely silenced a voice that was among the most admired of contemporary voices—writers, readers, pundits and critics the world over mourned his loss.

At the time of his death, Hitchens left nearly 250,000 words of essays not yet published in book form. "Another great book of essays from a writer who we wish were still alive to produce more copy" (National Review), And Yet… ranges from the literary to the political and is a banquet of entertaining and instructive delights, including essays on Orwell, Lermontov, Chesterton, Fleming, Naipaul, Rushdie, Orhan Pamuk, and Dickens, among others, as well as his laugh-out-loud self-mocking "makeover." The range and quality of Hitchens's essays transcend the particular occasions for which they were originally written, yielding "a bounty of famous scalps, thunder-blasted targets, and a few love letters from the notorious provocateur-in-chief's erudite and scathing assessments of American culture" (Vanity Fair). Often prescient, always pugnacious, formidably learned, Hitchens was a polemicist for the ages. With this posthumous volume, he remains, "America's foremost rhetorical pugilist" (The Village Voice).
Praise For And Yet...: Essays…
"Christopher Hitchens is sorely missed, 'And Yet…', reading his new book – a bounty of famous scalps, thunder-blasted targets, and a few love letters – is such a powerful reminder of the late V.F. contributing editor and notorious provocateur in chief's erudite and scathing assessments of American culture, it's almost as if he's here."
--Vanity Fair

"A very good new collection…The best reason to read 'And Yet…' may be its inclusion of a three-part essay, 'On the Limits of Self-Improvement,' that Mr. Hitchens wrote for Vanity Fair about trying to get himself in shape. It is as hilarious as it is wise, and I predict it will be published before long as its own pocket-size book… The moment when Mr. Hitchens undergoes the male version of a Brazilian bikini wax… has yet to be recognized, but surely will be, as among the funniest passages in this country's literature."
--Dwight Garner, New York Times

"Dazzling, vintage Hitch… essays in which he simply opens his eyes, describes what he sees and ends up hitting on more human truth than you're likely to find in a score of more properly scientific studies… 'And Yet…' really does give us Hitchens at his best."
--New York Times Book Review, Editors' Choice

"'And Yet …' gives us one more taste of this devilishly smart and cantankerous writer, with a set of essays on politics, literature and society that have never appeared in book form…the overwhelming feeling this collection leaves is of a voice extinguished just when it was needed most — that of a matchless, uncompromising observer."
--Seattle Times

"Hitchens leaves a trail of brilliant, brawling and provocative quotes and ideas to consider, admire or deplore."
--USA Today (3.5/4 stars)

"This hefty collection of pieces… shows no falling-off from his previous collections. Hitchens was that rare critic who, like Irving Howe or Dwight MacDonald, wrote seriously and well about both politics and literature, combining strong intellectual beliefs with fine aesthetic taste and judgment…Everything Hitchens touches is treated in a style that's actively probing, often fiercely critical, but always infused with ironic wit."
--Boston Globe

"Whether his subject is Charles Dickens or Arthur Schlesinger, Ian Fleming or Mikhail Lermontov, Hitchens always manages to fit a dense dose of research and reference into an essay without overburdening it. Though the subjects in this collection are heterogeneous … something does unify the pieces: the raging, querulous, eloquent voice of a restless, wide-ranging critic."
--Chicago Tribune
Simon & Schuster, 9781476772073, 352pp.
Publication Date: October 25, 2016
About the Author
Christopher Hitchens was born April 13, 1949, in England and graduated from Balliol College at Oxford University. The father of three children, he was the author of more than twenty books and pamphlets, including collections of essays, criticism, and reportage. His book God Is Not Great: How Religion Poisons Everything was a finalist for the 2007 National Book Award and an international bestseller. His bestselling memoir, Hitch-22, was a finalist for the 2010 National Book Critics Circle Award for autobiography. The New York Times named his bestselling omnibus Arguably one of the ten best books of the year. A visiting professor of liberal studies at the New School in New York City, he was also the I.F. Stone professor at the Graduate School of Journalism at the University of California, Berkeley. He was a columnist, literary critic, and contributing editor at Vanity Fair, The Atlantic, Slate, The Times Literary Supplement, The Nation, New Statesman, World Affairs, and Free Inquiry, among other publications. Following his death, Yoko Ono awarded him the Lennon-Ono Grant for Peace.