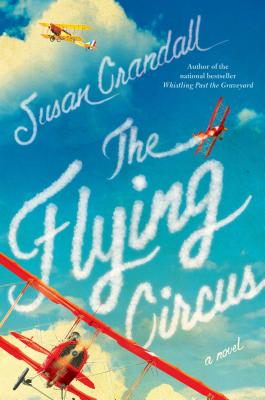 The Flying Circus (Hardcover)
Gallery Books, 9781476772141, 368pp.
Publication Date: July 7, 2015
* Individual store prices may vary.
Description
From the bestselling and award-winning author of Whistling Past the Graveyard comes an adventure tale about two daredevils and a farm boy who embark on the journey of a lifetime across America's heartland in the Roaring Twenties.

Set in the rapidly changing world of 1920s America, this is a story of three people from very different backgrounds: Henry "Schuler" Jefferson, son of German immigrants from Midwestern farm country; Cora Rose Haviland, a young woman of privilege whose family has lost their fortune; and Charles "Gil" Gilchrist, an emotionally damaged WWI veteran pilot. Set adrift by life-altering circumstances, they find themselves bound together by need and torn apart by blind obsessions and conflicting goals. Each one holds a secret that, if exposed, would destroy their friendship. But their journey of adventure and self-discovery has a price—and one of them won't be able to survive it.

As they crisscross the heartland, exploring the rapidly expanding role of aviation from barnstorming to bootlegging, from a flying circus to the dangerous sport of air racing, the three companions form a makeshift family. It's a one-of-a-kind family, with members as adventurous as they are vulnerable, and as fascinating as they are flawed. But whatever adventure—worldly or private—they find themselves on, they're guaranteed to be a family you won't forget.
About the Author
Susan Crandall is a critically acclaimed author of women's fiction, romance, and suspense. She has written several award-winning novels including her first book, Back Roads, which won the RITA award for best first book, as well as Whistling Past the Graveyard, which won the SIBA 2014 Book Award for Fiction. Susan lives in Noblesville, Indiana, with her family.
Praise For The Flying Circus…
Praise for THE FLYING CIRCUS

"Susan Crandall's The Flying Circus is a fascinating story of love and loss set against the colorful background of barnstorming 1920s America. Every detail sings, and every character will touch your heart in this rip-roaring tale of three daredevils on the run, each with something to hide, drawn together by a desire to conquer the skies as well as their own demons. Romance, suspense, aerial thrills and spills—what more is there to ask for?"
— Melanie Benjamin, New York Times bestselling author of THE AVIATOR'S WIFE

"The Flying Circus is Susan Crandall at her best—a colorful, rich and historical tale of the early years of flight. Heroes and villains and an achingly sweet romance will pull at the reader's heart long after the last page is turned. I loved this book!"
— New York Times bestselling author Karen White

"An exhilarating, memorable flight into the world of barnstorming in the 1920's, with all the twists and turns of an aerial acrobat. Compelling characters and a fascinating setting make this journey a sheer joyride. Satisfying and delightful!"
— Lynn Cullen, national bestselling author of MRS. POE

"Exciting adventures abound when three unlikely misfits take to the skies. Friendships are challenged, lives are risked, and dark secrets threaten to tear the trio apart as they barnstorm across America's heartland. A spirited, big-hearted tale."
— Beth Hoffman, New York Times bestselling author of LOOKING FOR ME

"Deeply moving. A richly drawn story of love, loss, and redemption with characters as finely tuned as the planes they fly."
— Wendy Wax, USA Today bestselling author of A WEEK AT THE LAKE

"An engaging road saga."

"An entertaining surprise… this old-fashioned novel plays like a refreshed mash-up of William Faulkner's Pylon and the 1970s Robert Redford vehicle The Great Waldo Pepper."

"Historical fiction with appeal to both romance and adventure fans."

"Crandall has crafted a wonderfully charming, memorable and thought-provoking read."

"Crandall has written an absorbing and frequently touching story that reminds us of the challenges of forming new communities with different people—and the rewards."

"A big-hearted novel of three outcasts who build a death-defying 'barnstorming' show and form an unusual family."

"Crandall has fashioned a flight of fancy, a read that will take you out of the usual everyday and cast you into a long-ago world that will offer you some awesome downtime."

Praise for WHISTLING PAST THE GRAVEYARD

"A coming-of-age story as well as a luminous portrait of courage and the bonds of friendship. . . Susan Crandall tells young Starla's story with pitch-perfect tone, evoking 1963 Mississippi and its struggles with a deft hand. I laughed and cried at Starla's keen observances of life and family and the sometimes blurred edges of justice. Like Harper Lee's To Kill a Mockingbird and Kathryn Stockett's The Help, Whistling Past the Graveyard is destined to become a classic."
— New York Times bestselling author Karen White

"Crandall delivers big with a coming-of-age story set in Mississippi in 1963 and narrated by a precocious 9-year-old…Young Starla is an endearing character whose spirited observations propel this nicely crafted story."

"Starla's fiery independence makes her a likable narrator."

"A delightfully complex story about defying the odds to find the gifts we have tucked inside us."

"This is a work of imagination in the mind of a 9-year-old child that might remind you of Harper Lee's To Kill a Mockingbird or Kathryn Stockett's The Help... It's a real winner!"
— Liz Smith

"It's not easy to keep such a young narrator convincing for more than 300 pages... Readers will take to Starla and be caught up in her story."
— Mary Ellen Quinn

"Crandall threads historical detail throughout the book as the struggles of the civil rights movement are vividly portrayed…Crandall's young narrator captures the reader's heart."

"Whistling Past the Graveyard is a multi-layered saga that can be enjoyed by teens and adults alike. It has a cinematic quality that will make readers wish for a screen version. And you can't say better than that."
or
Not Currently Available for Direct Purchase