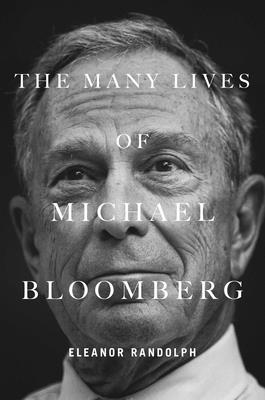 The Many Lives of Michael Bloomberg (Hardcover)
Simon & Schuster, 9781476772202, 480pp.
Publication Date: September 10, 2019
Other Editions of This Title:
Compact Disc (9/10/2019)
Paperback (9/1/2020)
* Individual store prices may vary.
Description
The authoritative biography of Michael Bloomberg: business genius, inventor, innovator, publisher, philanthropist, activist, and presidential candidate. With unprecedented access, a veteran New York Times reporter and editorial writer who covered New York City and state politics offers a revealing portrait of one of the richest and famously private/public figures in the country.

Michael Bloomberg's life sounds like an exaggerated version of The American Story, except his adventures are real.

From modest Jewish middle class (and Eagle Scout) to Harvard MBA to Salomon Brothers hot shot (where he gets "sent upstairs" and later fired) to creator of the machine that would change Wall Street and the rest of the world and make him a billionaire (a description by the author makes the invention clear to non-engineers).

Randolph's account of Bloomberg's life and time reads almost like a novel, a quintessentially American story. She explains the "machine" he invented that gave and continues to give instant access to an infinite amount of information to bankers and investors on how, what, and where to invest, and how it changed the financial universe.

Randolph recounts one day not long ago when the Bloomberg machine briefly blipped and the whole world's financial marketplace came to a halt.

Randolph recounts Mayor Bloomberg's vigorous approach to New York city's care—including his attempts at education reform, contract control, anti-smoking and anti-obesity campaigns, green climate control, and his political adventures with both aides and opponents.

After a surprising third term as Mayor, Bloomberg returned to his business and doubles its already tremendous worth. The chapter that describes this is one of the most revealing of his temperament and energy and vision as well as how he spends his "private" time—private but convivial.

Bloomberg's philanthropies are education, anti-NRA, and supporting a cleaner environment. He is a moderate liberal in a time when that quality holds the future of the Democratic Party and the country to account.
About the Author
Eleanor Randolph is a veteran journalist who has covered national politics and the media for The Washington Post, the Los Angeles Times, and other newspapers. Her articles have appeared in Vogue, Esquire, the New Republic, and other magazines. A member of the New York Times editorial staff from 1998 to 2018, she focused on city and state politics, media, and Russia. The author of The Many Lives of Michael Bloomberg, she lives in Manhattan with her husband.
Praise For The Many Lives of Michael Bloomberg…
"It is long overdue that a serious biographer appraises this very important and interesting man, as a political leader and administrator, too real for what the major parties today are willing to offer us. Eleanor Randolph, an authoritative, insightful and lively biographer introduces a man who, in a different political climate, might be headed for the White House."—Gay Talese, author of The Kingdom and the Power

"This masterful work not only paints a riveting portrait of a fascinating man; it is an absolutely first-rate study of leadership in business, politics and philanthropy."—Doris Kearns Goodwin, Pulitzer Prize-winner and author of Leadership

"Billionaire, New York city mayor, publisher—Michael Bloomberg has managed to be a towering figure in business, politics and journalism. How he navigated these often conflicting roles—with amazing success, even if the presidency eluded him—is a riveting tale, brought to vivid life by veteran journalist and Bloomberg observer Eleanor Randolph.—James B. Stewart, Pulitzer Prize-winner and author of Tangled Webs

"Only three Mayors merit being enshrined in a mayoral Hall of Fame -- Fiorello La Guardia, Ed Koch, and Michael Bloomberg. But none had a broader impact outside the city. Eleanor Randolph's vivid biography of Bloomberg traces the impact of his Bloomberg terminals on the stock market, his much copied innovative management, the spread of his smoke-free restaurants, his early environmental and parks innovations, his fierce championing of education reform, his once lonely assault on the NRA, the deployment of his fortune to help elect a Democratic Congress in 2018, and his generous and targeted worldwide philanthropy. Bloomberg is no saint, as Randolph makes clear. His vanity can be Trumpian. But nothing about Michael Bloomberg is fake. The former Mayor and his associates opened the vault to Eleanor Randolph, and readers of this anecdote-rich book are in for a treat."—Ken Auletta, bestselling author and writer, The New Yorker

"A vivid, timely study of Bloomberg's brand of plutocracy."—Publishers Weekly

"The Many Lives of Michael Bloomberg is a smart and engaging book about one of the most important men in our time. Anyone interested in how to become a billionaire, how to run a major metropolis, and how to make the world a better place will want to read it."—Chris McNickle, urban historian, treasurer, American Historical Society and author of Bloomberg: A Billionaire's Ambition