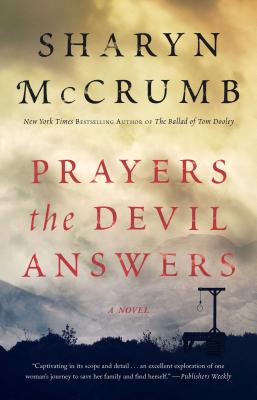 Prayers the Devil Answers
A Novel
Paperback

* Individual store prices may vary.
Other Editions of This Title:
Digital Audiobook (5/9/2016)
Hardcover (5/10/2016)
Library Binding, Large Print (7/1/2016)
Description
In Depression-era Appalachia, a desperate sheriff's widow takes on her late husband's job and discovers that a prayer the devil answers comes at a terrible price.

The year is 1936 and society provides no safety net for newly widowed Ellie Robbins, a woman in a small mountain town who suddenly has to support her family on her own. She's not trained to be a teacher or a nurse, the only respectable careers for a woman. So in order to care for her children, Ellie takes the only job available: that of her late husband, the sheriff.

Ellie has long proven that she can handle herself, and her role as sheriff is largely symbolic. Yet the wariness of her male subordinates and the townspeople is palpable. Soon, as dark secrets come to light, Ellie is forced to grapple with the tenuous ties she shares with a convicted killer and the small-town superstitions that have plagued her for years.

When a condemned killer is sentenced to death for his crime, her opportunity to do so presents itself in a way she never expected. There's one task that only a sheriff can carry out: the execution of a convicted prisoner.

Atmospheric and suspenseful, Prayers the Devil Answers is rich with the same masterful attention to historical detail and captivating folklore that you cherished in McCrumb's renowned Ballad novels. Her luscious writing brings her unforgettable characters to life with the "pure poetry" (The New York Times Book Review) that defines her astounding novels. Prayers the Devil Answers is a mesmerizing depiction of one woman's tenacity and strength in even the most harrowing of circumstances.
Praise For Prayers the Devil Answers: A Novel…
"The writing in Prayers the Devil Answers is like the tale it tells: straight-forward, unadorned, and powerful. Set during the deep Depression, in an area very familiar to readers of Sharon McCrumb's previous novels, this story of an ordinary woman thrust into the extraordinary role of sheriff moves forward with relentless momentum and stark beauty. McCrumb continues to mine gold from the hard-rock lives of those who call Appalachia home."
— William Kent Krueger, New York Times Bestselling Author

"Prayers the Devil Answers is a rich, astonishing, marvelous book. With a superb eye for detail, Sharyn McCrumb masterfully captures the essence of Depression-era Appalachia, its rough beauty, its folklore, and most of all, its people. Suspenseful and gritty, this compelling tale of a determined young widow confronting heartbreak and impossible choices will resonate long after the final page."
— —Jennifer Chiaverini, author of Mrs. Lincoln's Dressmaker

"Not only is McCrumb a masterful storyteller in the classic sense of the word, but her deep love and historical background of her native Appalachian ancestry create a tapestry to be relished by her readers...In PRAYERS THE DEVIL ANSWERS, we get caught up in a vibrant and suspenseful tale of a woman's courage, in a time and place we won't soon forget."
— Book Reporter

"Captivating in its scope and detail…an excellent exploration of one woman's journey to save her family and find herself."
— Publishers Weekly

"Prayers theDevil Answers" is both an indictment of those who would hold a woman backsimply because of her gender and, at the same time, a celebration of what aperson can do when faced with difficult circumstances and seeminglyunsurmountable odds. McCrumb has given us just the woman to overcome those oddsin the character of Ellie Robbins."
— A! MAGAZINE FOR THE ARTS
Atria Books, 9781476772844, 352pp.
Publication Date: April 25, 2017
About the Author
Sharyn McCrumb is the New York Times bestselling author of the acclaimed Ballad novels. She has received numerous honors for her work, including the Mary Frances Hobson Prize for Southern Literature, the AWA Book of the Year, and Notable Books in both The New York Times and Los Angeles Times. She was also named a Virginia Woman of History for Achievement in Literature. She lives and writes in Virginia's Blue Ridge Mountains, fewer than one hundred miles from where her family settled in 1790.