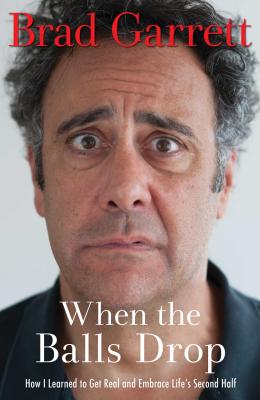 When the Balls Drop (Hardcover)
Gallery Books, 9781476772905, 288pp.
Publication Date: May 5, 2015
Other Editions of This Title:
Digital Audiobook (5/4/2015)
Paperback (10/6/2015)
CD-Audio (5/5/2015)
* Individual store prices may vary.
Description
A refreshingly candid and wickedly funny look at life's second half from Everybody Loves Raymond TV sitcom star and comic Brad Garrett.

In this no-holds-barred book of comedic and personal essays, Brad Garrett waxes hilarious—and irreverently honest—about the gaffes, challenges, and ultimately the joys of middle age as he advises us on how to best approach the dreaded "second half" of life.

Ranging in topics from genetics to genitals, weight to women, and dating to diarrhea, Brad leaves no stone unturned in this laugh-out-loud look at getting older. With pieces such as "No Scales in Heaven," in which Brad points out the essential pointlessness of overthinking diet and exercise, and "Celebrating Your E.D. (erectile dysfunction) During Your Mid-Life Crisis," the star comedian encourages you to forget the overwhelming concerns that accompany middle age and to welcome the laughs—even if you have a fifty-fifty chance of throwing your back out in doing so.

Penned in Brad's signature witty, conversational, no-nonsense style that has cemented his status as an icon in the comedy industry, this autobiographical book will teach you the most important thing: that, no matter what, we're all in this together. So embrace it.
About the Author
Lifelong stand-up comic and writer Brad Garrett began performing comedy in the 1980s and appearing on film and television. He landed the part of Robert Barone on the iconic TV show Everybody Loves Raymond (CBS) in 1996, eventually winning three Emmy Awards for Best Supporting Actor in a Comedy Series throughout the show's nine-season run. After the show ended in 2005, Brad went on to appear on Broadway in Neil Simon's The Odd Couple, and has opened his own successful comedy club at the MGM Grand in Las Vegas, where he performs several times monthly. Brad is also an accomplished voice actor, with parts in major feature films such as Finding Nemo and Ratatouille.
Praise For When the Balls Drop…
"Dear Brad, I just read the book. If you were this funny on the show we coulda done another year. What the fuck? Seriously though, everyone should buy Brad's book. It's a win-win. You'll relate, you'll laugh, and if he does well as a writer he'll give up television."
— Ray Romano

"Little does Brad Garrett know but his balls never dropped. He had none to begin with. This is not a 'mid-life' memoir, this is a 'life-support' memoir. Do us all a favor and pull the plug."
— Kevin Nealon

"Of all the balls in all the nut sacks in all the world, Brad Garrett's are the last pair I'd want to think about. But not unlike most of his dates, Brad has forced them on us. So before this winds up in the Costco remainder bin, be the first and only on your block to buy a copy. He's just a sex tape and an appearance on Dancing With The Stars away from reviving his career."
— Nathan Lane
or
Not Currently Available for Direct Purchase