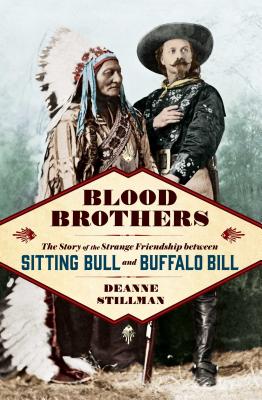 Blood Brothers
The Story of the Strange Friendship between Sitting Bull and Buffalo Bill
Hardcover

* Individual store prices may vary.
Other Editions of This Title:
Digital Audiobook (10/23/2017)
Paperback (10/23/2018)
Description
Winner of the 2018 Ohioana Book Award for Nonfiction

"Deanne Stillman's splendid Blood Brothers eloquently explores the clash of cultures on the Great Plains that initially united the two legends and how this shared experience contributed to the creation of their ironic political alliance." —Bobby Bridger, Austin Chronicle

The little known story of the unlikely friendship of two famous figures of the American West—Buffalo Bill Cody and Sitting Bull—told through their time in Cody's Wild West show in the 1880s.

It was in Brooklyn, New York, in 1883 that William F. Cody—known across the land as Buffalo Bill—conceived of his Wild West show, an "equestrian extravaganza" featuring cowboys and Indians. The idea took off. For four months in 1885 the Lakota chief Sitting Bull appeared in the show. Blood Brothers tells the story of these two iconic figures through their brief but important collaboration.

Blood Brothers flashes back to 1876, when the Lakota wiped out Custer's 7th Cavalry unit at the Little Big Horn. Sitting Bull did not participate in the "last stand," but was nearby—and blamed for killing Custer. The book also flashes forward to 1890, when Sitting Bull was assassinated. Hours before, Cody rushed to Sitting Bull's cabin at Standing Rock, dispatched by the army to avert a disaster.

Deanne Stillman unearths little told details about the two men and their tumultuous times. Their alliance was eased by none other than Annie Oakley. When Sitting Bull joined the Wild West, the event spawned one of the earliest advertising slogans: "Foes in '76, Friends in '85"—referring to the Little Big Horn. Cody paid his performers well, and he treated the Indians no differently from white performers. During this time, the Native American rights movement began to flourish. But with their way of life in tatters, the Lakota and others availed themselves of the chance to perform in the Wild West. When Cody died in 1917, a large contingent of Native Americans attended his public funeral.

An iconic friendship tale like no other, Blood Brothers is truly a timeless story of people from different cultures who crossed barriers to engage each other as human beings. And it foretells today's battle on the Great Plains.
Praise For Blood Brothers: The Story of the Strange Friendship between Sitting Bull and Buffalo Bill…
"Stillman gives an account of the tragic murder of Sitting Bull that's as good as any in the literature. . . . Thoughtful and thoroughly well-told—just the right treatment for a subject about which many books have been written before, few so successfully."
— Kirkus Reviews (starred review)

"Best of the West 2018. . . . Not to miss."
— Stuart Rosebrook

"Two years ago I published an essay here called 'How the West Was Lost.' In it, a handful of gifted writers—Ivan Doig, Joan Didion, Edward Abbey, and Jim Harrison—offered their takes on how Americans have despoiled their frontier. . . . Now I would like to nominate Deanne Stillman for admission to this distinguished group."
— Bill Morris

"A compelling narrative that reads like a novel."
— Cynthia Romanowski

"Splendid. . . . A strong sense of the spiritual power of place streams throughout. . . . [Stillman] has done a superb job capturing the essence of these two great Americans."
— Bobby Bridger

"Deanne Stillman's work is like one of Georgia O'Keeffe's landscapes, forcing a different perspective on the American West. Stillman re-catechizes our national mythology by putting symbols and personas that we already think we know into new light."
— Heather Scott Partington

"Deanne Stillman explores a historical anomaly with a researcher's skill and a storyteller's style."
— Tom McGowan

"Deanne Stillman's Blood Brothers is a thrilling and elegantly written saga anchored around the strange friendship between Sitting Bull and Buffalo Bill Cody. By puncturing the mythology of the Wild West, Stillman proves once again that fact is always more surprising than fiction. A landmark achievement in American history!"
— Douglas Brinkley, Professor of History at Rice University, CNN Presidential Historian, and author of The Wilderness Warrior: Theodore Roosevelt and the Crusade for America

"Blood Brothers is a story of sorrow and triumph — the sorrow of Sitting Bull's murder in 1890 and the triumph, barely understood at the time, of Buffalo Bill Cody's central role in preserving the robust culture of the Lakota and Cheyenne people whom Sitting Bull had led in war. Deanne Stillman tells the dramatic story of these two men — enemies first, then showmen, and friends at the last."

— Thomas Powers, author of The Killing of Crazy Horse

"Like a latter-day Joan Didion, Deanne Stillman has carved out an aspect of the American West. Not empty but populated by spirits, human and animal, the ghosts of lost tribes and now a fascinating culture clash only she could have offered."
— Ron Rosenbaum, author of Explaining Hitler and The Shakespeare Wars

"A well-researched, well-told story of two of America's bright icons, set against the background of the closing of the West."
— Robert M. Utley, author of The Lance and the Shield: the Life and Times of Sitting Bull

"Embedded near the heart of this surprising friendship lies an amazing portrait of the man who is arguably the greatest military/civilian leader in all American history—Tatanka Iyotake, Sitting Bull."


— Doug Peacock, author of In the Shadow of the Sabertooth

"The lives of two of the most iconic figures in American history intersect in a sad but fitting setting -- a traveling Wild West show that gave both Buffalo Bill and Sitting Bull second lives after their frontier days had ended. Deanne Stillman authentically recreates the lives and times of the killer of buffalo and the 'killer of Custer' who joined forces as popular entertainers."
— Tom Clavin, coauthor of The Heart of Everything That Is

"Thoroughly researched, Stillman's account of this period in American history is elucidating as well as entertaining."
— Booklist

"We've all heard of Sitting Bull and Buffalo Bill Cody, but how many of us know about the friendship shared by these two historical figures? Deanne Stillman is here to fix that with her riveting new book Blood Brothers."
— Bookish.com

"After hundreds of books and magazine articles published over nearly 150 years, one would think there would be little, if anything, left to be said about either Sitting Bull and Buffalo Bill. Leave it to Deanne Stillman to prove that notion wrong. Blood Brothers: The Story of the Strange Friendship between Sitting Bull and Buffalo Bill casts these two icons of American history in a refreshing new light. As with all Stillman's books, Blood Brothers is thoroughly researched and exquisitely written. Her telling of the friendship of these two titans of the West makes for compelling reading from the very first page."
— W.K. Stratton, author of Chasing the Rodeo, Floyd Patterson, and Ranchero Ford/Dying in Red Dirt Country; Fellow of the Texas Institute of Letters

"Like a hybrid lovechild of Pete Dexter's great novel Deadwood and T.J. Stiles's nonfiction masterpiece Jesse James: Last Rebel of the Civil War, Deanne Stillman's Blood Brothers is both a celebration of the American West and a paean to its myths, similar to Evan S. Connell's bestseller about Custer and the Little Bighorn, Son of the Morning Star. Compelling and compassionate, Blood Brothers expands our understanding of two Western legends, Sitting Bull and Buffalo Bill Cody, and is a high-spirited, entertaining read to boot."
— William J. Cobb, author of The Bird Saviors
Simon & Schuster, 9781476773520, 304pp.
Publication Date: October 24, 2017
About the Author
Deanne Stillman is a widely published, critically acclaimed writer. Her books include Blood Brothers (Ohioana Book Award Winner; Kirkus Reviews, starred review; "Best of the West 2018," True West Magazine); Desert Reckoning (winner of the Spur and LA Press Club Awards for Nonfiction, an Amazon Editors Pick, based on a Rolling Stone piece), and Mustang, a Los Angeles Times Best Book of the Year. In addition, she wrote the cult classic,Twentynine Palms, a Los Angeles Times bestseller that Hunter Thompson called "A strange and brilliant story by an important American writer." She writes the "Letter from the West" column for the Los Angeles Review of Books and her plays have been produced and won prizes around the country. She's a member of the core faculty at the UC Riverside-Palm Desert MFA Low Residency Creative Writing Program, where she teaches nonfiction.
or
Not Currently Available for Direct Purchase