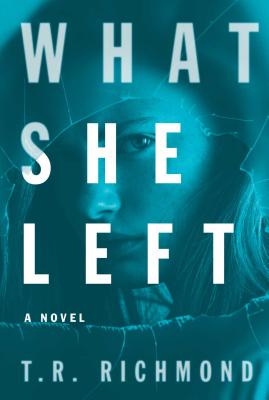 What She Left
A Novel
Hardcover

* Individual store prices may vary.
Other Editions of This Title:
Digital Audiobook (1/11/2016)
Paperback (11/8/2016)
Description
In this brilliantly modern novel of love, obsession, and revenge, a professor pieces together the life and mysterious death of a former student—and unearths a shocking revelation about her final days.

On a snowy February morning, the body of twenty-five-year-old journalist Alice Salmon washes up on a riverbank south of London. The sudden, shocking death of this beloved local girl becomes a media sensation, and those who knew her struggle to understand what happened to lively, smart, and savvy Alice Salmon. Was it suicide? A tragic accident? Or…murder?

Professor Jeremy Cooke, known around campus as Old Cookie, is an anthropologist nearing the end of his unremarkable academic career. Alice is his former student, and the object of his unhealthy obsession. After her death, he embarks on a final project—a book documenting Alice's life through the digital and paper trails that survive her: her diaries, letters, Facebook posts, Tweets, and text messages. He collects news articles by and about her; he transcribes old voicemails; he interviews her friends, family, and boyfriends.

Bit by bit, the real Alice—a complicated and vulnerable young woman—springs fully formed from the pages of Cookie's book…along with a labyrinth of misunderstandings, lies, and secrets that cast suspicion on everyone in her circle—including Jeremy himself.
Praise For What She Left: A Novel…
"An extraordinary and bold creation." —The Guardian (UK) "Best Recent Crime Novels"

"In What She Left, T.R. Richmond leads the reader down a dark and twisty path of suspense and intrigue. This gripping and stylishly written novel left me chilled to the bone and captivated me from beginning to end." —Heather Gudenkauf, New York Times bestselling author of The Weight of Silence

"This is how books should be written: full of trust and respect for the reader, allowing you to follow the darker paths and investigate yourself. A book of immense accomplishment, thrilling and clever." —Elizabeth Haynes, New York Times bestselling author of Human Remains

"Strikingly modern." —The Sunday Times (UK)

"What She Left is bold and inventive storytelling. The reader becomes the investigator, sorting through diary entries, letters, tweets, and emails to discover the truth beneath the tales of an entire cast of potentially unreliable narrators. This is not only a clever thriller, but an insightful exploration of identity and the personae we create in the social-media era." —Alafair Burke, New York Times bestselling author of The Ex

"A deliciously modern take on the psychological thriller. A shifting, mesmerising, mysterious story. Very well-written and intelligently realised, occupying a territory half way between literary novel and thriller. Amemorable debut."—Daily Telegraph (UK)

"Beautifully written and incredibly suspenseful."—Emilia Clarke (Daenerys Targaryen on HBO's Game of Thrones)

"A classic whodunnit, given a modern twist." —Huffington Post

"Thought-provoking." —Fort Worth Star Telegram

"Every month brings another book billed the new Gone Girl, but we think we've found a winner."—Marie Claire

"What a wonderful new voice. What a pleasure to read a thriller that's so ambitious and so full of emotion and suspense. Bravo!"—Nicci French, author of The Memory Game and Blue Monday

"Absorbing, intricate and extremely original. Immensely clever and intriguing. It kept making me recall how I'd felt watching Twin Peaks. The kind of immediate shock and grief I felt for Laura Palmer was what I felt for Alice. The process of piecing together the heroine's life is so absorbing. I mourned her more and more powerfully as the story went on. The multiple voices and different types of texts give the narrative an unusual liveliness that is very emotionally involving. I hope that it garners all of the commercial and critical success it deserves." —Claire Kendal, author of The Book of You

"Highly original, fascinating and completely compelling. I was hooked on Alice's story from the very first page. A novel guaranteed to make you look back and question your social media footprint, and how accurately it tells your own story."—Dani Atkins, author of Fractured and The Story of Us

"T.R. Richmond has created a tight, clever, compelling story. The reader must act as detective, rebuilding Alice Salmon from the digital footprint she leaves behind."—Paula Daly, author of Just What Kind of Mother Are You
Simon & Schuster, 9781476773841, 336pp.
Publication Date: January 12, 2016
About the Author
T.R. Richmond is an award-winning author and journalist living in London.
or
Not Currently Available for Direct Purchase