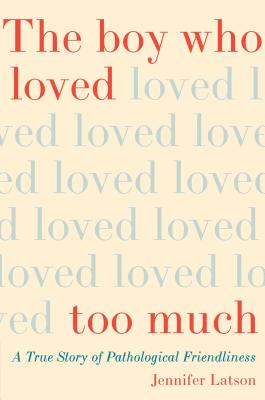 The Boy Who Loved Too Much (Hardcover)
A True Story of Pathological Friendliness
Simon & Schuster, 9781476774046, 304pp.
Publication Date: June 20, 2017
Other Editions of This Title:
Paperback (6/19/2018)
MP3 CD (6/20/2017)
Compact Disc (6/20/2017)
* Individual store prices may vary.
Description
The poignant story of a boy's coming-of-age complicated by Williams syndrome, a genetic disorder that makes people biologically incapable of distrust.

What would it be like to see everyone as a friend? Twelve-year-old Eli D'Angelo has a genetic disorder that obliterates social inhibitions, making him irrepressibly friendly, indiscriminately trusting, and unconditionally loving toward everyone he meets. It also makes him enormously vulnerable. Eli lacks the innate skepticism that will help his peers navigate adolescence more safely—and vastly more successfully.

Journalist Jennifer Latson follows Eli over three critical years of his life as his mother, Gayle, must decide whether to shield Eli entirely from the world and its dangers or give him the freedom to find his own way and become his own person.

By intertwining Eli and Gayle's story with the science and history of Williams syndrome, the book explores the genetic basis of behavior and the quirks of human nature. More than a case study of a rare disorder, however, The Boy Who Loved Too Much is a universal tale about the joys and struggles of raising a child, of growing up, and of being different.
About the Author
Jennifer Latson has written for The Boston Globe, the Houston Chronicle, and Time. She received an MFA in creative nonfiction from the University of New Hampshire and was a recipient of the Norman Mailer Fellowship for nonfiction in 2013. The Boy Who Loved Too Much is her first book.
Praise For The Boy Who Loved Too Much: A True Story of Pathological Friendliness…
"[Latson's] prose is fresh and engaging, her story leavened with humor to take the edge off the ongoing struggle of characters we have come to care about deeply. It would be a mistake to squeeze this book into the "disease narrative" genre. It transcends that niche, partly through the author's reflections on what our reactions to people with Williams Syndrome have to say about the human condition."
---HOUSTON CHRONICLE


"[Jennifer Latson] skillfully interweaves the science—what we do and don't know about genetic disorders such as Williams—with a powerful story line. Eli and especially Gayle are beautifully drawn, and their struggles with an unknown future are both unique to their situation and universal to all parents. As the book's perspective deliberately pans out to include teachers, counselors, family, friends, and, finally, Eli's entire eighth-grade class, Latson delivers some unforgettable lessons about inclusion and parenthood."
---PUBLISHERS WEEKLY


"[Latson's] book provides a thorough overview of Williams syndrome and its thought-provoking paradox. No doubt life for people with Williams (and those who love them) has its difficulties. But given the state of the world today -- the hate attacks, the divisiveness, the vitriol -- it's hard not to wish that we all had more kind-heartedness and openness, even if our embrace of other humans is only metaphorical."
---THE NEW YORK TIMES


"The narrative is alternately moving and heartbreaking, as Latson walks readers through the tumultuous obstacles that Eli and Gayle face daily. Throughout, Latson demonstrates a sharp, journalistic eye for telling detail and the ability to capture poignant moments without resorting to cliché or overly sappy writing...In this balanced, readable work, Latson effectively and sympathetically captures Eli's essential humanity and opens a clear window on a little-understood genetic disorder."
---THE BOSTON GLOBE

"Latson blends life concerns and hard medical facts in this widely appealing chronicle of a fascinating disorder."
---BOOKLIST


"The book could have been exploitative, but instead it's a moving portrait of a mother facing the fact that her child has a different future from the one she imagined...The fascinating journey shows D'Angelo's mother learning to accept Eli's differences – and those differences lessening as he matures. I only wish I could find out how their story pans out."
---NEW SCIENTIST


"Latson tells [this] story with great sympathy and eloquence, giving voice to the frustration, anguish, and despair a parent feels when their child struggles with a rare disorder. A well-researched, perceptive exploration of a rare genetic disorder seen through the eyes of a mother and son."
—KIRKUS REVIEWS

"The Boy Who Loved Too Much is an astonishing debut. Before the book crossed my desk, I'd never heard of Williams syndrome, and once I started reading, I could think of little else. This is narrative nonfiction of the highest order—rigorously reported, elegantly told, and nearly impossible to put down. Always empathetic and consistently insightful, Jennifer Latson's deep dive into Eli's life not only illuminates an under-known condition but made me rethink the very nature of human connection. I cannot recommend this book highly enough."
—Kate Bolick, author of SPINSTER: Making a Life of One's Own

"What is the opposite of autism? What's it like to be born with an insatiable drive to connect, to love others without shyness or reserve? In this humane and fascinating book, Jennifer Latson introduces us to Eli, a boy with the rare genetic disorder of Williams Syndrome. She marvels at his capacity for love but is sensitive as well to the difficulties of raising such a child in an often cruel and unloving world, and the challenges that arise with the emergence of sexual desire. This is a book about a very unusual child, but it's also a thoughtful and moving exploration into the very nature of affection and love."
—Paul Bloom, Professor of Psychology at Yale University, and author of AGAINST EMPATHY: The Case for Rational Compassion

"Latson's haunting book is an intimate look at the relationship between a boy with a rare and fascinating genetic disability and his mother, as she learns over time to stop overprotecting him and allow him to take his own path toward independence. There are valuable lessons for all parents here."
—Steve Silberman, author of NEUROTRIBES: The Legacy of Autism and the Future of Neurodiversity

"Jennifer Latson has written a book of uncommon empathy, a powerful narrative that speaks not only to the love of a mother for her son but to a genetic disorder that poses questions about the nature and limits of love itself."
—Mimi Swartz, author of POWER FAILURE: The Inside Story of the Collapse of Enron
or
Not Currently Available for Direct Purchase