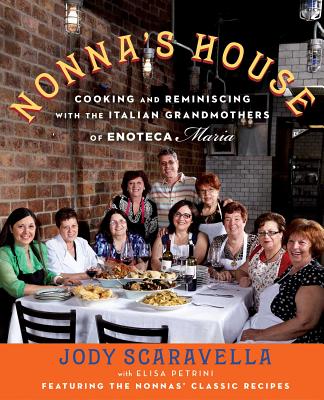 Nonna's House
Cooking and Reminiscing with the Italian Grandmothers of Enoteca Maria
Hardcover

* Individual store prices may vary.
Description
This beautiful collection of food and nostalgia features great traditions from the heart of Italy, with delicious recipes and colorful stories from the internationally celebrated grandmothers of Enoteca Maria—a one-of-a-kind Italian restaurant where a rotating cast of nonnas are the star chefs.

Enoteca Maria takes great home cooking seriously. At this intimate, hospitable restaurant on Staten Island, all the cooking is done by ten nonnas (grandmothers), drawing on their own family recipes, handed down for generations, which reflect their regional traditions. Here are their delicious homemade pastas, risottos, desserts, and more, which have foodies from all over the world taking the ferry to the forgotten borough for an authentic taste of Italy.

Beautiful full-color photography captures the fresh, distinctive flavors of these surprising dishes. Nonna Cristina shares her beautiful Risotto with Strawberries, Black Pepper, and Parmesan; Nonna Margherita offers delectable Stuffed Peppers with Pine Nuts and Raisins; and Nonna Teresa shows off her prize-winning Meat and Cheese Lasagna. Nonna Elvira whips up her peerless Linguine with Cuttlefish and Ink; Adelina creates a savory Tagliatelle with Pumpkin, Sausage, and Chestnuts; and Rosaria makes handmade Spaghetti alla Chitarra with Cherry Tomatoes and Porcini Mushrooms. Nonna Carmelina shares her classic Potato Pie with Ham, Salami, and Mozzarella; Rosa confides her nonna's secret recipe for Rabbit with Sage; and Nina sautés Chicken alla Capricciosa, with prosciutto and mushrooms. Nonna Francesca launches the book with advice on the time-honored art of preserving everything from olives to soppressata.

With its utterly delicious tastes of grandmother's kitchen, Nonna's House is a legacy of flavors passed down through generations, now captured here forever. Restaurant founder Jody Scaravella says it best: "If I have a choice between a three-star Michelin chef's restaurant and Grandma's, I'm going to Grandma's. I'm going to the source."
Praise For Nonna's House: Cooking and Reminiscing with the Italian Grandmothers of Enoteca Maria…
"This was much more than just a cookbook. It is a filled with wonderful recipes and memories that will make you wish you grew up in a big Italian family… So grab your family, gather around the table, and get ready to enjoy some of the most mouth-watering food ever!"
— Rita Reviews

"There isn't another place quite like Enoteca Maria on either island—Manhattan or Staten. I certainly can't think of another restaurant whose specials are prepared by women hired to work only one night at week, making their own favorite dishes."
— The Wall Street Journal

One of "The Most Anticipated Cookbooks of Spring 2015"
— EATER.COM

"There are hundreds (thousands?!) of Italian cookbooks in print... But life stories of Italian grandmothers are a rarer read, and that is what we get in most of the memoirs sections about the grandmothers who cook at Enoteca Maria (named for the restaurateur's grandmother), life stories of real personalities, real people."
— Italophile Book Reviews

"There is no better gimmick than legitimacy, and Staten Island restaurateur Scaravella has found a way to multiply authentic Italian cuisine by a factor of 10. Behind the scenes of his eight-year-old eatery, Enoteca Maria, there are no award-winning celebrity chefs, but a rotation of 10 real-life Italian grandmothers (nonnas) serving up their ages-old family recipes. This rustic collection showcases over 100 of those dishes and also provides each chef's life story, told in her own words."
— Publishers Weekly

"It goes without saying, that having an Italian grandma in the kitchen is an essential resource. This book will be the one we turn to when we want authentic, home-style Italian cooking…a nostalgia-tinged book…[with] moving personal stories."
— Tastebook.com

"Real Italian grandmothers—nonnas—sharing their most delicious recipes and favorite stories about food and family."
— PARADE Magazine
Atria Books, 9781476774114, 288pp.
Publication Date: April 7, 2015
About the Author
Jody Scaravella, or "Joe," is the creator of Enoteca Maria, which opened in 2007 on Staten Island, with its signature cooking by Italian grandmothers. The "nonnas" have captivated the media, not only in New York but nationally and abroad, and have appeared on the Today show, Rachael Ray, Fox & Friends, and CNN's Eatocracy, among other media.