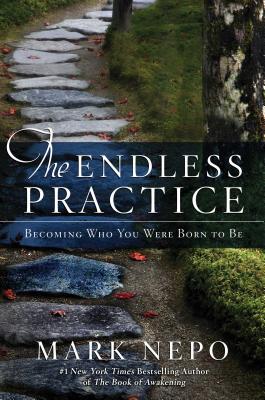 The Endless Practice (Hardcover)
Becoming Who You Were Born to Be
Atria Books, 9781476774640, 336pp.
Publication Date: August 19, 2014
Other Editions of This Title:
Digital Audiobook (8/18/2014)
Paperback (7/14/2015)
* Individual store prices may vary.
Description
As a poet, philosopher, and cancer survivor, Mark Nepo has been breaking a path of spiritual inquiry for more than thirty years. In his new book, the #1 New York Times bestselling author explores how the soul works in the world.

Called "one of the finest spiritual guides of our time," this beloved teacher explores what it means to become our truest self through the ongoing and timeless journey of awakening to the dynamic wholeness of life, which is messy and unpredictable.

Nepo navigates some of the soul's deepest and most ancient questions, such as: What does it mean to inhabit the world? How do we stay vital and buoyant amid the storms of life? What is the secret to coming alive? Nepo affirms that not only is the soul's journey inevitable, it is essential to our survival. The human journey is how the force of life grows us, and no matter where we go we can't escape this foundational truth: What's in the way is the way. As Nepo writes, "The point of experience is not to escape life but to live it."

Featured on Oprah's Super Soul Sunday program, Nepo's Seven Thousand Ways to Listen has inspired millions of people to redefine themselves in the face of life's challenges. Comforting, moving, and spiritually practical, The Endless Practice is filled with universal insights and stories woven with guidance and practice, which will bring the reader closer to living life to the fullest.
About the Author
Mark Nepo is the author of twenty books, including Seven Thousand Ways to Listen, The Endless Practice, and the #1 New York Times bestseller, The Book of Awakening. His work has been translated into more than twenty languages. Mark traveled the country with Oprah Winfrey on her sold-out 2014 "The Life You Want" tour and has appeared several times with Oprah on her Super Soul Sunday program (OWN TV). He lives in southwest Michigan. Visit him online at MarkNepo.com and ThreeIntentions.com.
Praise For The Endless Practice: Becoming Who You Were Born to Be…
"Navigational tips for the journey--ways to grow and expand, ways of handling mess and sorrow, and ways of finding love and beauty and joy. The Endless Practice brings Mark Nepo's many years of teaching and writing and musing into one potent offering. I recommend it heartily."
— Elizabeth Lesser, cofounder of Omega Institute and author of Broken Open: How Difficult Times Can Help Us Grow

"In The Endless Practice, Mark Nepo is a kind friend, sage mentor, and curious fellow journeyer, walking alongside us as he observes the magnificent complexities of the human experience. The notion of an endless practice gives us hope and encouragement—that even when we trip, struggle, grieve, or feel lost, we have an opportunity to expand, and that it's through this lived experience, with all its ups and downs, that we come closer to the heart of who we were born to be."
— Kris Carr

"In his deep understanding of our complicated lives, Mark Nepo says, "Love the task and work the light." I've done this ten thousand times as the curtain lifted on stage, never thinking to try to live that way after the curtain dropped, in my everyday life. It wasn't until I fought my addiction and won that I realized I was in my own way, and until I put something else in front of me, the life I wanted wouldn't show up. And then one day, along with all the blessings I received, I picked up a copy of The Book of Awakening. And fourteen years later, I'm on my third copy, because as I read each day I underscore and leave my own notes. But the journey ain't over as Mark's new book, The Endless Practice, is yet another candle to light our understanding along the spiritual path called Life."
— Steven Tyler

"I have spent my life searching for the reason I was born. I think anyone in middle age does. Mark Nepo has been my guide in the quest. Simple and yet wildly profound, his words of clarity and, most importantly, connection, his ideas and suggestions, are ones I inculcate and metabolize daily."
— Jamie Lee Curtis

"This book held me in its warm embrace. Mark is a true poet of the soul, using fresh, vivid language to capture realities that are too often cast as mere cliches. What a blessing!"
— Tosha Silver, author of Outrageous Openness: Letting the Divine Take the Lead

"A poetic and marvelous invitation into presence and love. Let this book quiet your mind and open your heart, and help you live from the rhythms of your soul."
— Jack Kornfield author of A Path With Heart

"Mark Nepo has created and encoded a work of wisdom, love, truth and beauty. Reading his words will open your heart, expand your mind, and nourish your soul. Just holding this book shifted me into a state of grace."
— Arielle Ford, author of, Wabi Sabi Love: The Ancient Art of Finding Perfect Love in Imperfect Relationships

"Nepo writes reflectively and poetically about the lifelong spiritual journey. His tone is intimate, his perspective mature. Mystics will delight."
— Publishers Weekly

"Mark Nepo's The Endless Practice is the kind of spiritual book you will want to read slowly so that the wisdom and the epiphanies can simmer in your consciousness."
— Spirituality & Practice

"Nepo knows that remaining present -- both to the good and bad -- is vital to living an authentic life."
— Unity

"One of the best spiritual books of the year"
— Spirituality & Practice
or
Not Currently Available for Direct Purchase