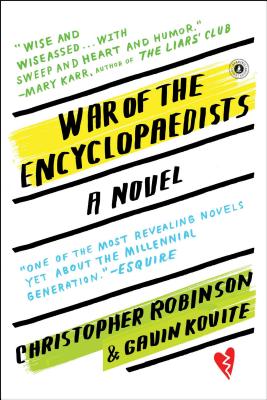 War of the Encyclopaedists (Paperback)
A Novel
Scribner, 9781476775432, 464pp.
Publication Date: January 5, 2016
Other Editions of This Title:
Digital Audiobook (5/18/2015)
* Individual store prices may vary.
Description
"A captivating coming-of-age novel that is, by turns, funny and sad and elegiac" (Michiko Kakutani, The New York Times) about two best friends as their post-grad lives diverge—one into liberal academia, the other into the American military occupation of Iraq.

On a summer night in 2004, prepping for another blowout party in the arty Seattle enclave of Capitol Hill, Mickey Montauk has just learned that he won't be joining his best friend, Halifax Corderoy, for grad school in Boston. Global events have intervened, and Mickey's National Guard unit will soon deploy to Baghdad. But before he can make this stunning revelation, events spiral beyond their control. In the bleary-eyed dawn, Mickey and Hal glimpse their radically altered future, the start of a year that will transform them all.

Months later, Mickey struggles to lead his platoon safely through an increasingly violent and confusing war. In Boston, Hal finds himself unable to play the game of intellectual one-upmanship with the ease of his new classmates. When Hal's new roommate, Tricia, and ex-girlfriend, Mani, come between the best friends, Hal and Mickey find that cool irony and youthful self-regard cannot insulate them from the damages of love and conflict and the messiness of living. As Mickey and Hal's lives move further away from their shared dream, they keep in touch by editing a Wikipedia article about themselves: absurd and hilarious updates that morph and deepen throughout the year, culminating in a document that is both devastatingly tragic and profoundly poetic.

"One of the most revealing novels yet about the millennial generation" (Esquire), War of the Encyclopaedists beats with the energetic pulse of idealistic youth on the threshold of adult reality. It is the vital, urgent, and utterly absorbing lament of searching for meaning and hope in a fractured world: "A love story, a war story, and also a generational one, about coming of age in the time of Wikipedia and YouTube…darkly funny and absurd and terrifying at the same time" (The Wall Street Journal).
About the Author
Christopher Robinson, a Boston University and Hunter College MFA graduate, is a MacDowell Colony fellow and a Yale Younger Poets Prize finalist. His writing has appeared in many publications, including The Kenyon Review and McSweeney's.

Gavin Kovite was an infantry platoon leader in Baghdad from 2004-2005. He attended NYU Law and served as an Army prosecutor. His writing has appeared in literary magazines and in Fire and Forget, an anthology of war fiction. He lives in Seattle.
Praise For War of the Encyclopaedists: A Novel…
"Mr. Robinson and Mr. Kovite have…written a captivating coming-of-age novel that is, by turns, funny and sad and elegiac — a novel that leaves us with some revealing snapshots of America, both at war and in denial, and some telling portraits of a couple of millennials trying to grope their way toward adulthood.
— Michiko Kakutani

"One of the most revealing novels yet about the millennial generation…Recent war fiction—like Kevin Powers's The Yellow Birds, Phil Klay's Redeployment, and Ben Fountain's Billy Lynn's Long Halftime Walk—has accounted for the battleground overseas and at home, but none has focused so incisively on the choice between serving and shopping. Getting drunk at brunch and releasing your gun's safety. Montauk and Corderoy keep in touch by editing a Wikipedia entry about themselves. What starts off as a fun, absurd exercise grows more poetic and deadly serious…The millennials have gotten a bad reputation for a bewildering sense of self-regard and privilege, their dreams encouraged by their protective parents and discouraged by the recession. And this might be their defining novel—what feels like a human encyclopedia, its opposing entries revealing characters and a
country in a confused state of revision following a nonsensical war."
— Benjamin Percy

"The book is a love story, a war story and also a generational one, about coming of age in the time of Wikipedia and YouTube… darkly funny and absurd and terrifying at the same time."

"Only a poet and a soldier—like these collaborating authors—are mad enough or ambitious enough to conceive of this smart, wise and wise-assed first novel. Seattle hipsterville to Baghdad, Cambridge theory nerds and Army grunts, this book has sweep and heart and humor. It captures coming of age during foreign wars and domestic malaise, and it does so with electrifying insight."
— Mary Karr

"As bizarre, hilarious and devastating as the past decade, War of the Encyclopaedists offers a brilliant portrait of America in the early years of the Iraq War. A startling, original accomplishment, Christopher Robinson and Gavin Kovite's novel is simultaneously a coming-of-age story, a war story, and a story of the disaffected millennial generation for whom the war hardly happened at all."
— Phil Klay

"The 429-page novel races, thanks to its accessible emotional depth. The distorted Wikipedia page tracks Montauk and Corderoy's peaks and valleys with a poetic eye that warrants a deeper, careful reading that Corderoy and Montauk themselves might mock (or laud) depending on their mood."

"[A] likable, highly readable, double-bylined coming-of-age first novel…Chapters alternate between Corderoy's ill-prepared and humorous immersion in lit-crit seminars and his friend's hard-edged life amid the threats and slaughter of insurgency. Both areas have fun with the lingo…There are many nice touches in the writing…Smart and entertaining."

"[Robinson and Kovite] have taken their individual histories and attitudes and invested them in their two main characters, who are deftly portrayed and a perfect fit for each other. Their story unfolds rapidly, humorously, and convincingly from page one."

"Kovite and Robinson perfectly capture the mistakes, confusion and vulnerability of early adulthood, as well as the bravado used to mask them...Bittersweet but ultimately redemptive, the Encyclopaedists' adventures in growing up, romantic failures and gaining perspective may remind readers of the pains and possibilities that are encountered when one makes a way in the world."

"An epic for the 9/11 generation, War of the Encyclopaedists chronicles the churning uncertainties of new adults, when everything represents possibility or peril."


"A gripping, thoughtful read…Moving and memorable."

"A breath of fresh air. War of the Encyclopaedists is the extraordinary product of a collaboration between two writers… more entertaining than your standard important-yet-dreary war novel… By placing Mickey and Halifax in separate locations, enduring distinct experiences, their voices can do something amazing: have a completely unpedantic intra-generational conversation."

or
Not Currently Available for Direct Purchase