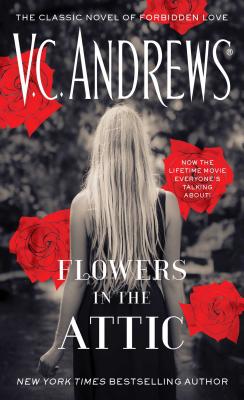 Flowers in the Attic (Dollanganger #1)
Mass Market

* Individual store prices may vary.
Other Editions of This Title:
Digital Audiobook (11/11/2019)
Paperback (11/12/2019)
Compact Disc (11/12/2019)
Paperback (1/7/2014)
Description
Nominated as one of America's best-loved novels by PBS's The Great American Read.

Now a major Lifetime movie event—the classic story of forbidden love that captured the world's imagination and earned V.C. Andrews a fiercely devoted fanbase. Book One of the Dollanganger family saga.

At the top of the stairs there are four secrets hidden. Blond, beautiful, innocent, and struggling to stay alive . . .

They were a perfect family, golden and carefree—until a heartbreaking tragedy shattered their happiness. Now, for the sake of an inheritance that will ensure their future, the children must be hidden away out of sight, as if they never existed. Kept on the top floor of their grandmother's vast mansion, their loving mother assures them it will be just for a little while. But as brutal days swell into agonizing months and years, Cathy, Chris, and twins Cory and Carrie, realize their survival is at the mercy of their cruel and superstitious grandmother . . . and this cramped and helpless world may be the only one they ever know.

Book One of the Dollanganger series, the sequels include Petals in the Wind, If There Be Thorns, Seeds of Yesterday, and Garden of Shadows. Then experience the attic from Christopher's point of view in Christopher's Diary: Secrets of Foxworth and Christopher's Diary: Echoes of Dollanganger.
Praise For Flowers in the Attic (Dollanganger #1)…
"At age 13, I survived almost entirely on green apple Jolly Ranchers and Flowers in the Attic, and to this day I can't look at the book without my mouth watering. My much loved copy must have come from a supermarket (it was impossible to go to a supermarket in the '80s to, say, secretly stock up on green apple Jolly Ranchers, without a V.C. Andrews book lurking by checkout)... I loved that book.

The narrator, Cathy, who ages from 12 to 15 over the course of the story, is part princess (she is locked in a tower; she is beset by cruel foes; she has long, perfect hair until the grandmother tars it one night), and part witch (she's tantrum-prone, pessimistic, cynical). Basically, I adored her because she is like all girls around the age of 13: at turns sulky, giving, selfish, charming, nasty and heroic.

Flowers in the Attic is most famous for the fact that Cathy and her brother fall in love. It's a weird, strangely old-fashioned love story (and is Chris ever the stuff of teenage dreams: handsome, brilliant, extravagantly chivalrous), but it's not what hooked me. What kept me circling around to the beginning was that hyper-Gothic female evil. The emotionally cold, physically abusive grandmother. The cloying, manipulative, mind-warping mother. It felt so new and stunning to me — these witches who seemed quite real. I devoured the sequels less to learn about Cathy's tragic love story than to see what kind of woman Cathy became — princess, witch, a bit of both? — and what she'd do with all those awful urges she inherited."
— Gillian Flynn, author of Gone Girl, as related on NPR's All Things Considered
Pocket Books, 9781476775869, 416pp.
Publication Date: January 7, 2014
About the Author
One of the most popular authors of all time, V.C. Andrews® has been a bestselling phenomenon since the publication of Flowers in the Attic, first in the renowned Dollanganger family series, which includes Petals on the Wind, If There Be Thorns, Seeds of Yesterday, and Garden of Shadows. The family saga continues with Christopher's Diary: Secrets of Foxworth, Christopher's Diary: Echoes of Dollanganger, and Secret Brother, as well as Beneath the Attic, Out of the Attic, and Shadows of Foxworth as part of the fortieth anniversary celebration. There are more than ninety V.C. Andrews novels, which have sold over 107 million copies worldwide and have been translated into twenty-five foreign languages. Join the conversation about the world of V.C. Andrews at Facebook.com/OfficialVCAndrews.
or
Not Currently Available for Direct Purchase