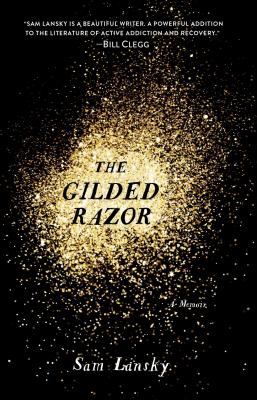 The Gilded Razor (Paperback)
A Book Club Recommendation!
Gallery Books, 9781476776156, 320pp.
Publication Date: August 2, 2016
Other Editions of This Title:
Hardcover (1/12/2016)
Pre-Recorded Audio Player (3/1/2016)
MP3 CD (8/2/2016)
Compact Disc (8/2/2016)
Compact Disc (1/12/2016)
MP3 CD (1/12/2016)
Compact Disc (1/12/2016)
* Individual store prices may vary.
Description
Sharply funny and compulsively readable, The Gilded Razor is a "powerful addition to the literature of active addiction and recovery" (New York Times bestselling author Bill Clegg) from debut author Sam Lansky.

The Gilded Razor is the true story of a double life that New York Times bestselling author George Hodgman called "virtuosic." By the age of seventeen, Sam Lansky was an all-star student with Ivy League aspirations in his final year at an elite New York City prep school. But a nasty addiction to prescription pills spiraled rapidly out of control, compounded by a string of reckless affairs with older men, leaving his bright future in jeopardy. After a terrifying overdose, he tried to straighten out. Yet as he journeyed from the glittering streets of Manhattan, to a wilderness boot camp in Utah, to a psych ward in New Orleans, he only found more opportunities to create chaos—until finally, he began to face himself.

In the vein of Elizabeth Wurtzel and Augusten Burroughs, Lansky scrapes away at his own life as a young addict and exposes profoundly universal anxieties. Told with remarkable sensitivity, biting humor, and unrelenting self-awareness, The Gilded Razor is a coming-of-age story of searing honesty and lyricism and "one of the best portraits about the implacable power of addiction" (Susan Cheever, bestselling author of Drinking in America).
About the Author
Sam Lansky is an editor at TIME. He has written for New York magazine, The Atlantic, Esquire, Out, and Grantland.
Praise For The Gilded Razor: A Book Club Recommendation!…
"Sam Lansky is a beautiful writer. If he weren't an addict, his first book would be about something else, but I have no doubt it would be great, as is his memoir The Gilded Razor. But Sam Lansky is an addict, and he has made something fine and useful and lasting from his struggle. His account of using, hitting bottom and getting sober at an astonishingly young age is a powerful addition to the literature of active addiction and recovery. I look forward to seeing what more he makes."
— Bill Clegg, New York Times bestselling author of Did You Ever Have a Family and Portrait of the Addict as a Young Man

"This raw, beautifully observed memoir both terrifies and inspires."
— People Magazine

"A gut-wrenching exposé...The writing is raw and haunting, encouraging readers to keep turning the pages as the author describes countless situations where he shouldn't have made it through the night but did... A candid, eye-opening memoir."
— Kirkus

"In this wonderful, compelling book, Sam Lansky has created a charismatic teenage narrator who shows that addiction is no respecter of class, education or intelligence. If you're a parent this book will scare you, even as you enjoy its charming, spritely brilliance. The Gilded Razor is one of the best portraits I've read about the implacable power of addiction."
— Susan Cheever, bestselling author of Drinking in America: Our Secret History

"Sam Lansky in his memoir The Gilded Razor--a peripatetic tale of pills and promiscuity--turns Manhattan into a kind of Bret Easton Ellis Island. Lansky guides us, with a voice all his own, through the chaos of his addiction into a clearing where sobriety awaits him. It is a book filled with, to quote Lansky at one point in his narrative, 'too many beautiful people doing too many ugly things.' Yet, through the beauty of Lansky's writing, the ugliness subsides and a kind of hard-won hope takes its place. 'You're a miracle,' his mother tells him at one point. He is."
— Kevin Sessums, New York Times bestselling author of I Left It on the Mountain

"Sam Lansky is too young to have lived through all he's lived through—and too young to have written about it with such insight. The Gilded Razor takes the reader on a painfully evocative journey from which too many never return. With virtuosic prose, he shows you how he tries and fails and tries and tries until he finally survives--at age 19. His story moves and compels, but it's the writing that keeps you reading."
— George Hodgman, New York Times bestselling author of Bettyville


"From the first page I was so staggered by this young man's extraordinary voice I burst into tears. The Gilded Razor is so exquisitely crafted, so devastatingly moving, so brutally honest I found myself torn between overwhelming admiration and seething jealousy that I didn't write it. This is far from your average addiction memoir. It's just a goddamn brilliant book."
— Kristen Johnston, New York Times bestselling author of Guts: The Endless Follies and Tiny Triumphs of a Giant Disaster

"The Gilded Razor is Lansky's searing, savagely honest memoir of his wild days… harrowing throughout — and undeniably hopeful in the end."
— The New York Daily News

"At just 27 years old, Sam Lansky has lived three lifetimes...[An] eye-opening new memoir."
— NY1 (Book of the Week)

"There is something in Lansky's story that—wait for it—can be called addictive....Lansky's command of language never wavers....Even those who find another addiction memoir a bitter pill to swallow can't deny Lansky's writing chops or storytelling skills."
— Publishers Weekly